Back in February of this year, Statistics Canada reported that "capital spending (in Canada) is expected to increase in 2019 for the third consecutive year". This forward-looking view was based on its (2018-19) Non-residential Capital and Repair Expenditures (CAPEX) Survey.
Conducted between September 2018 and 2019, the survey of 25,000 private and public organizations projected that following gains of 4.3% and 2.5% in 2017 and 2018 respectively, capital expenditures would increase by 2.5% in 2019. This gain was projected to be driven by increases in both private (+2.8%) and public (+2.0%) sector capital spending.
The positive outlook for total non-res investment in 2019 indicated by the CAPEX survey was consistent with the Bank of Canada's Autumn 2018 Business Outlook Survey. In it, the Bank reported that firms' intentions to increase their investment in machinery and equipment in the coming year (2019) "rebounded to a high level" of 33. This was just slightly below the record high of 36 it reached in 2010.
Based on actual capital spending during the first half of the year, the investment picture painted by both of these forward-looking surveys appears to be unrealistically optimistic.
Year-to-date, total non-residential fixed investment in Canada is down by -4.6% after posting a year-over-year gain of 6.7% during the first half of 2018. During the first half, both private and public sector nonresidential spending trended lower.
However, the major contributor to the first half weakness was a -4.5% drop in private sector CAPEX which accounts for 75% of total capital spending.
Across the three major categories of capital spending (non-residential building, engineering structures, machinery and equipment), almost three-quarters of the overall decline was due to a -10.1% year-to-date drop in spending on engineering structures, which in Canada is dominated by oil and gas exploration, recovery and transmission.
Given Canada's extremely hostile energy investment climate, exacerbated by the recent passage of Bill 69, this weak pattern of engineering capital spending appears likely to weigh on total capital spending over the medium term.
Following a year-over-year increase of 6% in 2018 that was fueled by a strong gain in capacity utilization late in 2017, firms scaled back spending on machinery and equipment by -0.4% in the first half of this year.
Looking forward, after a brief pause early this year, capacity utilization rates rose sharply (+2.7%) in the second quarter due to gains in manufacturing and mining.
At first glance, this rebound points to a brighter outlook for capital spending on machinery and equipment investment. However, this prospect is severely overshadowed by the uncertain outlook for global growth in general and the United States in particular.
Over the past six months, capital spending on non-residential structures, which includes industrial, commercial and institutional buildings, rose by a modest 0.7%, largely due to a 6.9% increase in commercial building and a 3.5% rise in industrial building that more than offset an 11.4% drop in spending on institutional construction.
Across the country, spending on non-residential building has increased in five of the ten provinces year to date led by British Columbia (+ 26.3%), Quebec (+14.1%) and Newfoundland and Labrador (+37.7%).
As noted above, the outlook for spending on both engineering construction and machinery and equipment is problematic given the persisting retreat of foreign direct investment into Canada exacerbated by an outflow of foreign direct investment from Canada to other countries.
While the prospect for both engineering construction and spending on machinery and equipment appears weak, the outlook for non-residential building is less so.
This prospect is based on the fact that over the past six months the value of non-residential building is up by 12.6%, well ahead of the just under 4% y/y rise in value during 2018 as a whole.
The provinces making the largest contribution to this increase are British Columbia (+54%), Ontario (+36%) and Quebec (20.6%).
John Clinkard has over 35 years' experience as an economist in international, national and regional research and analysis with leading financial institutions and media outlets in Canada.
Capital Spending in Canada (year-over-year per cent change)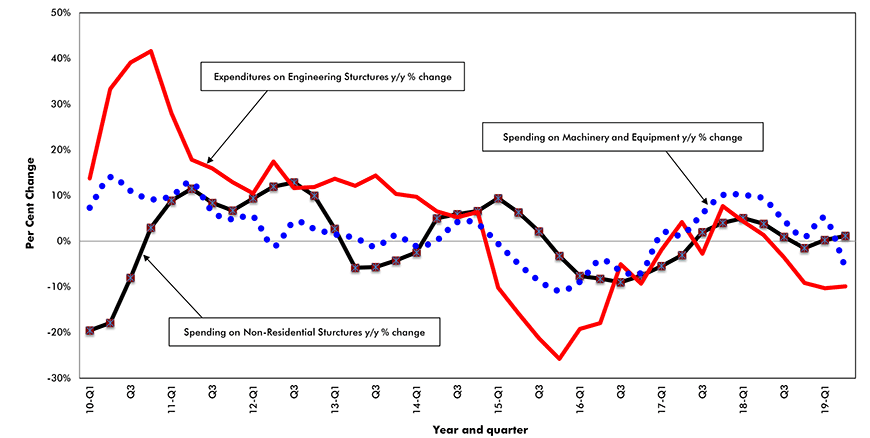 Data Source: Statistics Canada.
Chart: ConstructConnect – CanaData.