ConstructConnect announced today that the latest month's volume of construction starts, excluding residential work, was $34.0 billion, -5.3% versus November's figure of $35.9 billion (originally reported as $34.3 billion). December's month-to-month decline was in line with usual 'seasonality'. Read the complete December 2019 Industry Snapshot article here: December's Nonresidential Construction Starts -5% M/M but +9% Ytd.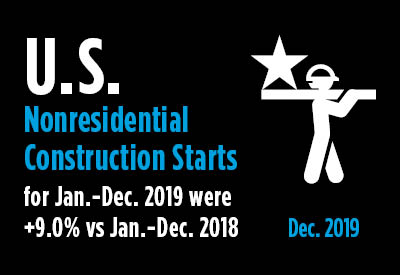 Long-term, from the last full month of fall (November) to the month that kicks off winter (December), total nonresidential starts have fallen on average -5.0%.
December's drop would have been steeper without the support of several large engineering projects.
Four mega projects (i.e., of $1.0 billion or more each) arose in the latest month, summing to $5.0 billion. Three of the four were heavy engineering jobs (see Top 10 Project Starts in the U.S. – December 2019).
Total nonresidential starts were +4.3% in December 2019 compared with December 2018. On a year-to-date basis, total nonresidential starts in the latest month were +9.0% compared with January-December 2018. In other words, they were +9.0 for full-year 2019 versus full-year 2018.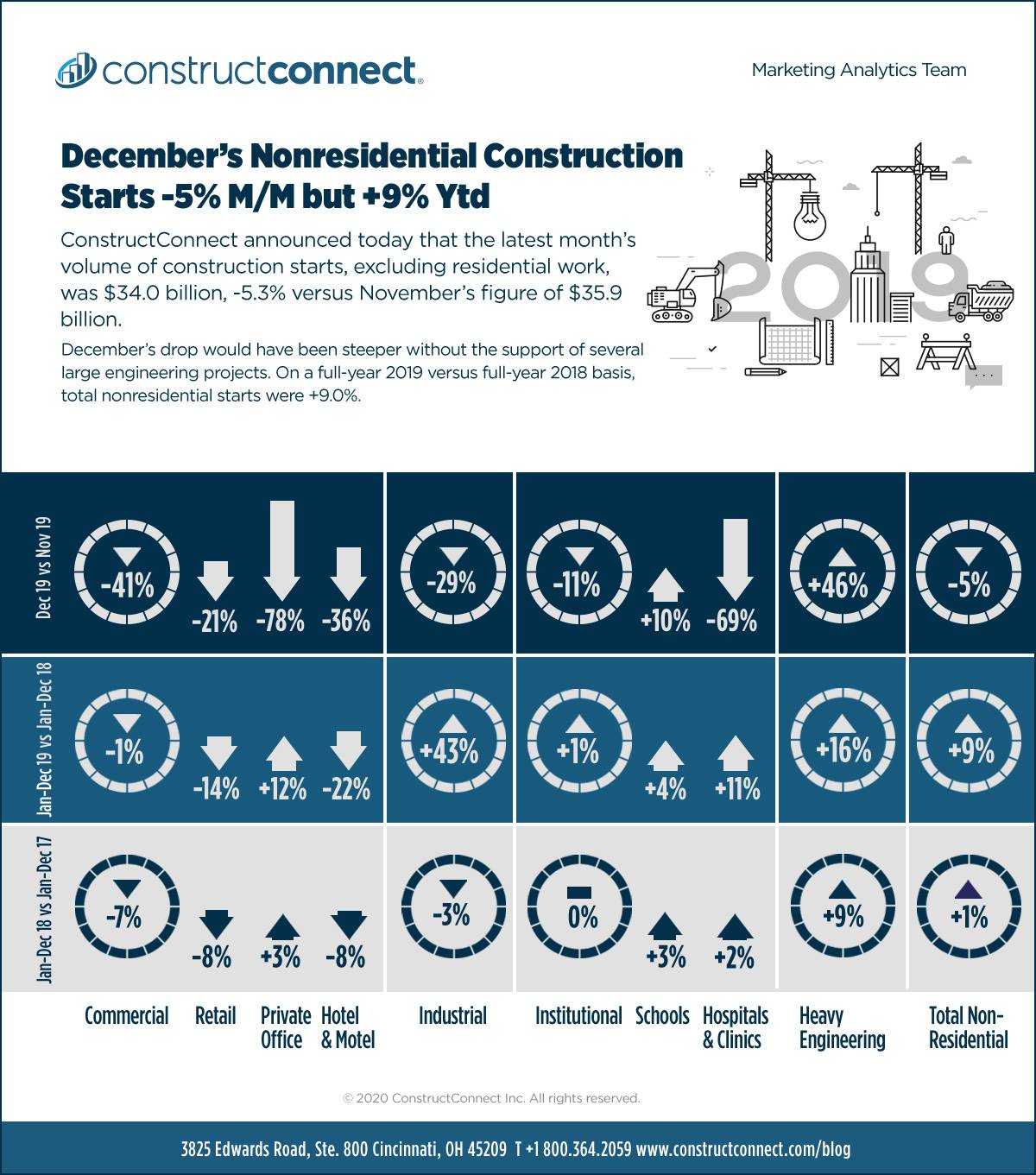 View this information as an infographic.
Construction Overview – Monthly Average Jobs Down by Half
U.S. construction employment climbed by a substantial +20,000 jobs in December. The average monthly gain for the sector in 2019, however, has been only half of what it was in 2018 ‒ +13,000 versus +26,000. The NSA unemployment rate for construction in December 2019 was 5.0%, up from 4.4% in November. But 5.0% was about on a par with year-ago December's 5.1%. Construction's lowest NSA jobless rates occurred in May and September of 2019, at 3.2%.
Construction's year-over-year jobs climb of +2.0% is now in third place among major industrial sectors, falling behind 'education and health', +2.7%, and 'leisure and hospitality', +2.3%. The 'all jobs' year-over-year employment increase for the whole U.S. economy now sits at +1.4%.
Click here to download the Construction Industry Snapshot Package – December 2019 PDF.
Click here for the Top 10 Project Starts in the U.S. – December 2019.
Click here for the Nonresidential Construction Starts Trend Graphs – December 2019.
---
Alex Carrick is Chief Economist for ConstructConnect. He has delivered presentations throughout North America on the U.S., Canadian and world construction outlooks. Mr. Carrick has been with the company since 1985. Links to his numerous articles are featured on Twitter @ConstructConnx, which has 50,000 followers.