While Quebec, the province hardest by COVID-19, has had to temper its plans in order to unlock its economy, several forward-looking indicators suggest the province's economic pulse is quickening as it moves into the second half of this year.
Stage 1 unlocking gave a major boost to housing starts and home sales
First, after locking down much of the province, including the construction industry on March 25 to prevent the spread of COVID-19, the province on April 20 initially allowed work to restart on residential construction projects with a July 31 occupancy date. Then on May 11, the government fully unlocked the industry.
As a result, May housing starts spiked higher to their second-highest level since March of 2019. All types of dwellings posted gains, led by a +92% m/m jump in starts of semi-detached units, followed by starts of single-family units (+43% y/y), row units (+31%) and apartments (+15%).
Sales of existing homes also rebounded sharply (+107%) in May. Sellers also entered the market in increasing numbers pushing the volume of new listings up by +202% m/m. However, the fact that the average price of homes sold in the province rose by a country-leading +8% y/y is a clear indication that unlocking the economy has unleashed significant pent-up demand.
Hiring in construction, manufacturing and retail rebounds in May
The above-noted reopening of the economy in early May had a dramatic impact on the province's labour market. After dropping by 556,000 jobs in April, total employment rebounded by 231,000 in May. This job gain, which was more than five times the 43k rise reported in British Columbia, the province which posted the second-largest increase in hiring, was driven in large part by the full opening of the construction industry.
Other industries making major contributions to the month's hiring gain included manufacturing (+56k), retail and wholesale trade (+54k) and education (+35k). Almost all jobs added in May were full time and in the private sector, which highlights a rebound in business confidence.
Employment gains and rising consumer confidence to fuel consumer spending and underpin residential construction
The government's plans to ease COVID-19 restrictions and the surge in mostly full-time hiring, noted above, had a marked positive impact on consumer confidence in May. The Conference Board in Canada's index of consumer confidence increased to 91, after hitting a record low of 77 in April. While the index is still well below pre-COVID-19 levels, and there are lingering concerns about a second wave of COVID-19, the improvement in consumer buying plans, stronger growth of wages, a slight improvement in personal financial health and the increase in May home sales collectively point to a rebound in consumer spending in general and to stronger growth of spending on house-related consumer durables in the second half of this year.
After a COVID-19 pause, non-res construction should pick up steam heading into 2021
Statistics Canada's survey of Non-residential Capital and Repair Expenditures that was carried out ahead of COVID-19, in late 2019, indicated that planned capital spending in Quebec would increase by 7.3% in 2020, the second strongest year-over-year gain among provinces in the country. Following the unlocking of the construction industry in late April, the government has announced that it intends to fast forward infrastructure work in the province by bypassing some of the usual checks and balances on major projects. Projects which would likely benefit from this reduction in red tape include the Quebec City Tramway Project, the Quebec Port Authority Container Terminal, extension of Montreal's Metro Blue Line and construction of a third bridge linking Quebec City and Île d'Orléans, as well as the building of 48 long-term care homes.
The bottom line
After posting growth in the range of +2.5% to +3.0 in 2019, there is little doubt the depressing impact of the lockdown on the economy to try and stop the spread COVID-19 in the first half of 2020, will cause the economy to contract in the range of -5.0% to -7.0% this year, to be followed by a rebound of +5.0% in 2021.
The strong forward-looking indicators noted above collectively suggest Quebec's economy is starting to recover and that it will expand at a faster pace during the remainder of 2020 and into 2021.
Regarding the letter of the alphabet which best describes the pattern of recovery, the evidence of strong pent-up demand, reinforced by the recent extension of CERB, suggest that for now a "V" is appropriate. However, given the fact the province's economic health is still very fragile, the effects of a second wave of COVID-19 could quickly change that "V" into a "W".
John Clinkard has over 35 years' experience as an economist in international, national and regional research and analysis with leading financial institutions and media outlets in Canada.
Real* Gross Domestic Product (GDP) Growth — Quebec vs Canada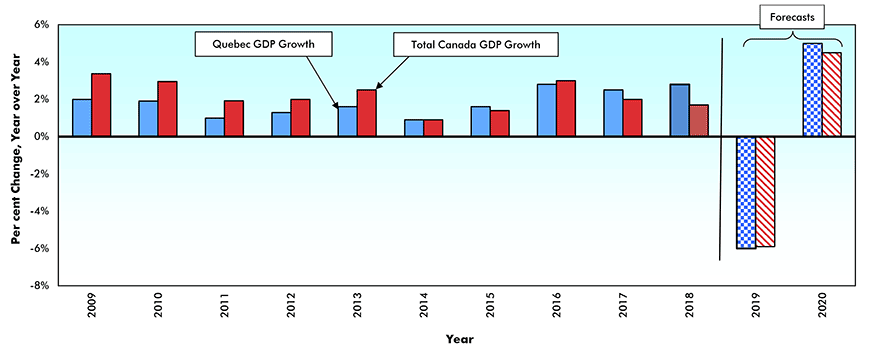 * "Real" is after adjustment for inflation.
Data Sources: Actuals — Statistics Canada; Forecasts — CanaData.
Chart: ConstructConnect — CanaData.