ConstructConnect announced today that the latest month's volume of construction starts, excluding residential work, was $28.6 billion, down nearly one-quarter (-23.1%) versus June's figure of $37.2 billion (originally reported as $37.6 billion).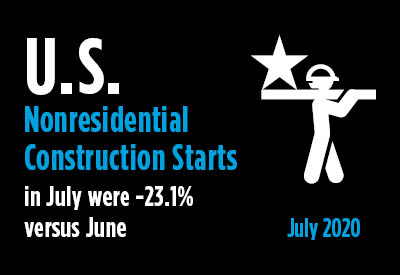 Click here to read the complete July 2019 Industry Snapshot article, July Nonresidential Construction Starts Down by a Quarter Both M/M & Ytd – below is a short excerpt.
July 2020 nonresidential starts versus July 2019 were a jaw-dropping -44.0%. Measures to combat COVID-19 have not only depressed general economic activity, including new construction undertakings, they have seriously suppressed go-aheads for mega projects (i.e., jobs valued at $1 billion or more each).
There was only one mega project start-up in July of this year ‒ $1.4 billion in rapid transit work in San Dimas California, east of Las Angeles (see Top 10 Project Starts in the U.S. – July 2020). Year to date in 2020, there have been only five mega project groundbreakings, summing to $9.45 billion. In July of last year alone, four mega projects were greenlighted for a combined $8.7 billion. (The largest was the Calcasieu Pass LNG facility in Louisiana, $4.5 billion).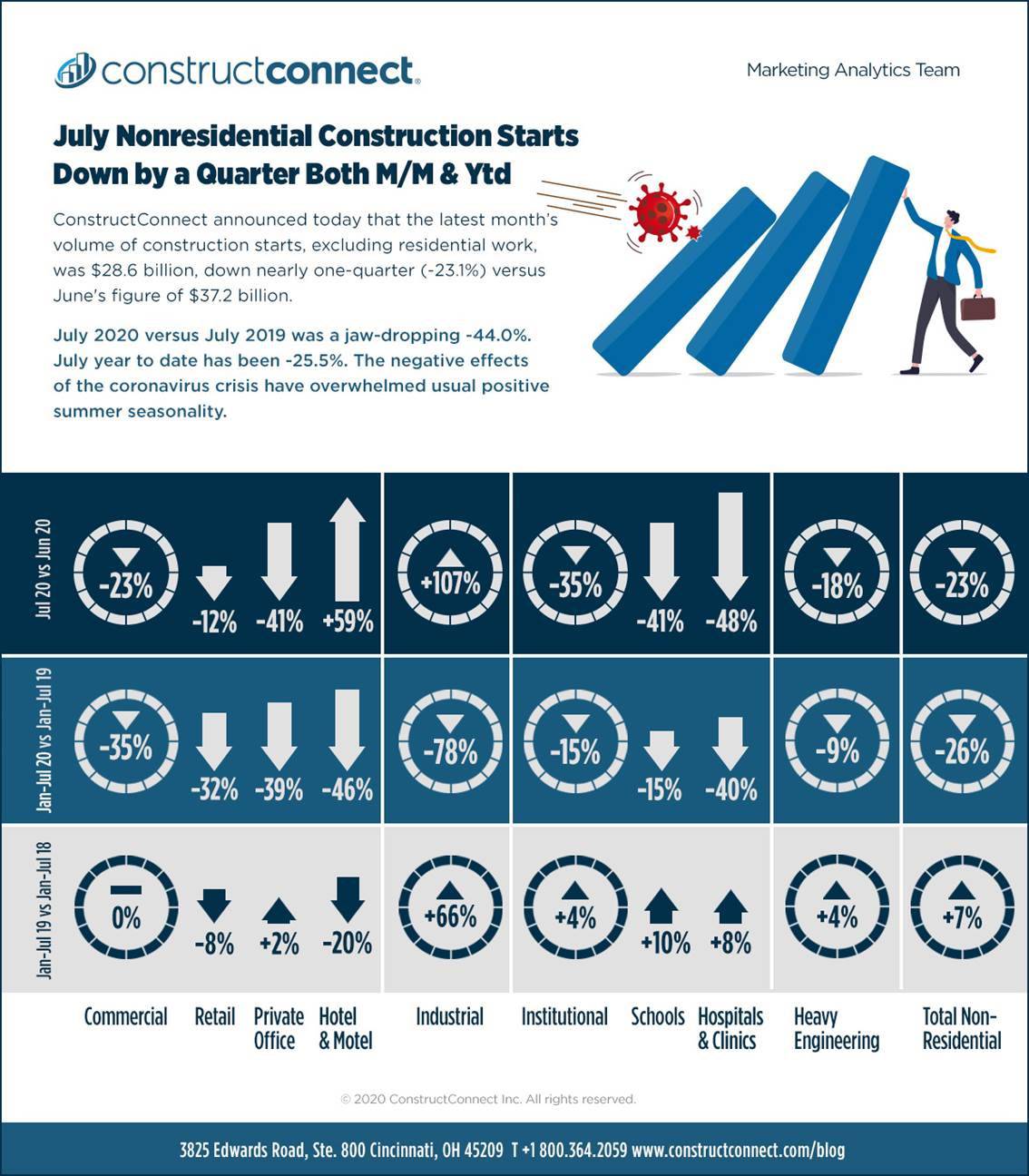 View this information as an infographic.
A recovery in starts is sure to gain momentum as 2020 wanes and a fresh new year, 2021, begins to unfold. It seems unlikely, however, that 2019's strength in mega projects will be duplicated anytime soon. The first seven months of 2019 featured 19 mega projects totaling $45.0 billion. Full-year 2019 included 35 mega project start-ups adding to $79.1 billion. To demonstrate how unique 2019 was for mega projects, 2018 saw just 20 such initiatives for $47.2 billion.
In 2020 year-to-date starts, the privately-financed categories of construction were weakest ‒ commercial, at -34.6%, and industrial, -77.5% ‒ while public/government work fell into shallower pits ‒ institutional, -15.0%, and engineering, -9.4%.
Click here to download the Construction Industry Snapshot Package – July 2020 PDF.
Click here for the Top 10 Project Starts in the U.S. – July 2020.
Click here for the Nonresidential Construction Starts Trend Graphs – July 2020.
---
Alex Carrick is Chief Economist for ConstructConnect. He has delivered presentations throughout North America on the U.S., Canadian and world construction outlooks. Mr. Carrick has been with the company since 1985. Links to his numerous articles are featured on Twitter @ConstructConnx, which has 50,000 followers.
---
Interactive Visual
---
View this video to see how to use the filters in the Interactive Visual.