Given we have survived the first wave, the impact of a second wave of COVID-19 infections is unlikely to be as severe. Nevertheless, it does pose a material near-term threat to economic activity in general and the housing market in particular.
Pent up demand drives home sales and prices
One of the most unpredictable, or more accurately "unexpected", developments following the COVID-19 lockdowns in March and April has been the rebound in housing demand reflected by the unprecedented 33.5% year-over-year increase in August existing home sales. According to the Canadian Real Estate Association (CREA), sales posted double-digit percentage increases in all but two of Canada's 26 major urban areas. The CMAs with the largest year-over-year gains in sales included Quebec City (+62%), Sherbrooke (+60%), Abbotsford (+56%), Victoria (+49%) and Saskatoon, (+48%). On a year-over-year basis, sales retreated in Thunder Bay (-3%) and were well below the national average gain in Calgary (+9%) and Sudbury (+11%).
Fuelled by this post-lockdown surge in pent-up demand, existing house prices reflected by the MLS national house price index increased by 9.4% in August, a three-year high. House prices rose in most major urban areas, led by Ottawa (+20% y/y), Montreal (+16%), St. Catharines (+15%), and Hamilton (+14%). Due in part to a depressed energy sector, prices retreated by -0.8% in Calgary and were little changed in Edmonton (0.0%), as well as in St. John's (+1%) and Regina (+3%).
Buyers most attracted to single, semi and row dwellings
The fact the average price of single-family homes in Canada's major urban centers is up by +10.7% y/y, well ahead of the +6.6% increase in the price of multiple dwelling units, strongly suggests more buyers prefer the former to the latter. There are two reasons. First, the impact of COVID-19 has encouraged a larger proportion of buyers to purchase single-family dwellings in more affordable locations where they can work from home and avoid lengthy commutes on crowded buses and subways. Second, demand for multi-family accommodation has cooled due to the drop in the number of permanent residents entering the country over the past four months, together with an increase in recently unemployed younger individuals who are moving back home or into shared accommodation.
Construction hiatus and pent-up demand send starts into orbit
Despite the persisting negative impact of COVID-19 on employment and on consumer confidence, housing starts hit a 13-year high of 262,000 units in August. Triggered in large part by a pent-up demand-driven surge in home sales, housing starts in Canada's 33 census metro areas are up by 7% y/y over the past three months. By dwelling type, multiple starts are up by 12.5%, while starts of single, semi-detached, and row dwelling units are off by 3%. CMA's postings of the largest year-over-year gains included Sherbrook (+157%), Hamilton (+125%), Saskatoon (+123%), Barrie (+115%), and Brantford (+105%). Centres that have seen a significant retreat in starts over the past three months include Guelph (-82%), Abbotsford (-48%), Edmonton (-39%) and London (-38%).
A more variable year for housing starts in 2021
After hitting a record high of 55,962 units in August, the volume of home sales will probably retreat over the next few months as pent-up demand cools and the rationing effect of higher prices and fear of a second wave of COVID-19 sideline some first-time buyers. Pressure on prices, particularly of ground-based dwelling units, is likely to remain high, however, given the record low level of months' supply of new homes for sale and the low volume of completed and unoccupied new dwellings.
At the same time, the lingering effects of the above-mentioned sharp drop in net migration and the slow decline in unemployment among younger workers, a large proportion of whom live at home or rent, should temporarily depress demand for multiple units well into the first half of 2021. Moving through 2021, the effects of stronger immigration and recovering youth employment should give a boost to both ownership and rental housing, assuming COVID-19 is kept under control. Based on this set of assumptions, we expect housing starts to total 210,000 units this year and 200,000 in 2021. In 2019 starts totalled 209,000 units.
John Clinkard has over 35 years' experience as an economist in international, national and regional research and analysis with leading financial institutions and media outlets in Canada.
Home sales vs percentage change in MLS house price index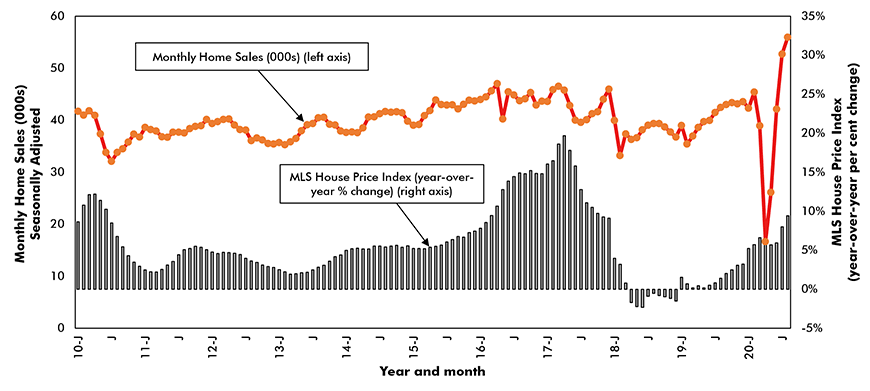 Data Source: Canadian Real Estate Association.
Chart: ConstructConnect — CanaData.