ConstructConnect announced today that the latest month's volume of construction starts, excluding residential work, was $26.2 billion, an increase of +19.3% versus December 2020's $22.0 billion (originally reported as $20.8 billion).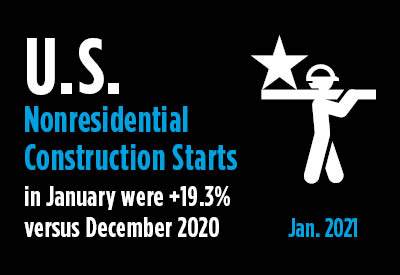 Click here to read the complete January 2021 Industry Snapshot article, January Nonresidential Construction Starts -28% Y/Y, But +19% M/M – below is a short excerpt.
The year-over-year result, though, versus January 2020, was -27.8%. Remember that the first several months of last year were still sailing along quite nicely. They hadn't yet floundered on the shoals of the coronavirus-related economywide retrenching.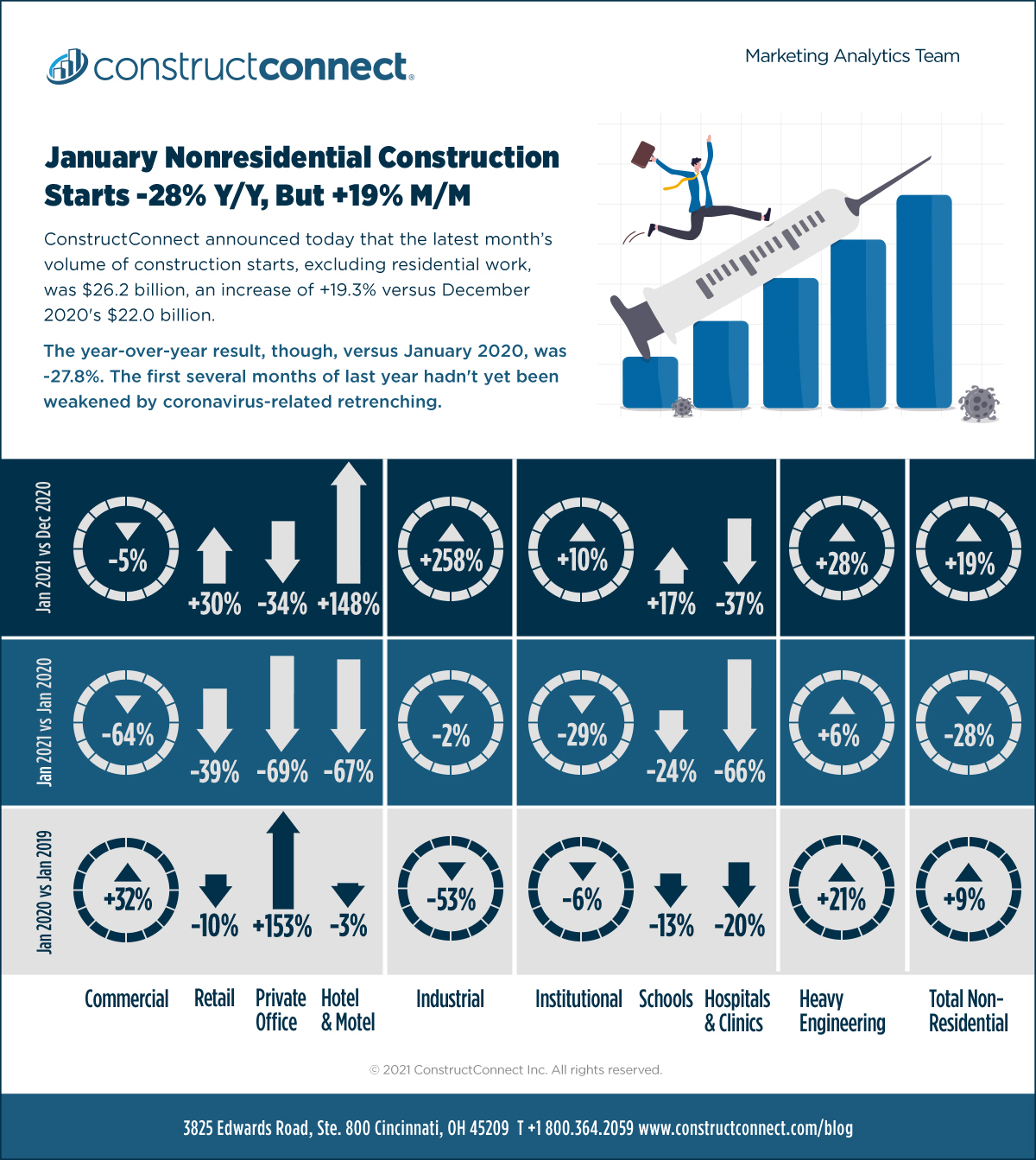 View this information as an infographic.
January 2021 relative to the five-year average for the month of January, from 2016 to 2020 inclusive, was off by about one-quarter, -23.6%.
While the focus of this report is mainly on nonresidential starts, there's value in also considering 'grand total' groundbreakings, which include residential work. Since rounding the corner into the second half of last year, single-family home building has been displaying considerable vitality. As a result, 'grand total' starts in January 2021 were +6.4% versus December 2020 and -15.3% when compared with January 2020 (i.e., the latter percentage change is not as strikingly negative as the -27.8% figure for nonresidential alone.)
Click here to download the Construction Industry Snapshot Package – January 2021 PDF.
Click here for the Top 10 Project Starts in the U.S. – January 2021.
Click here for the Nonresidential Construction Starts Trend Graphs – January 2021.
---
Alex Carrick is Chief Economist for ConstructConnect. He has delivered presentations throughout North America on the U.S., Canadian and world construction outlooks. Mr. Carrick has been with the company since 1985. Links to his numerous articles are featured on Twitter @ConstructConnx, which has 50,000 followers.
---
Interactive Visual
---
View this video to see how to use the filters in the Interactive Visual.