The Canadian office sector is undeniably in transition, say experts in development and design, but no-one should count office buildings out as an important contributor to city-building post-pandemic, they say.
Five Canadian specialists in the sector were asked to discuss the future of offices at a panel session held as part of the 2021 Land and Development Conference earlier this month. They foresee a glowing new era of "amazing places" to work as part of renewed urban revitalization and "village creation" efforts.
The tempting "cupcake" of working from home will become less attractive, one panellist said, as workers realize they are missing out on in-person mentoring, creative collaborations and opportunities to ascend the corporate ladder.
"I think we know that when people have the option to work from home, if they're going to go into the office, they better like where they work, so we really think there's going to be a flight to quality," said Alexandra Khazzam, a director at Hines Canada.
Panellist Brandon Donnelly, managing director of development at Slate Asset Management, said his firm has undertaken surveys and discovered there is a host of qualitative factors that are negatively affected by working from home.
"It's incredibly difficult to maintain the company culture remotely," he commented. "It's very difficult to onboard people…it always feels like you're shortchanging the person when you jump on Zoom for an hour or two.
"So that's a real challenge, creativity, innovation. You know a lot of what we do around tables together and collaborating and thinking together and bouncing ideas around…working virtually is just not the same."
Surveys suggesting that 25 per cent of workers want to continue to work from home are "a dream, it's not a forecast," commented Wendy Waters, vice-president of research at GWL Realty Advisors. "No one really knows how it's going to work."
Thano Lambrinos, vice-president of smart building technology at QuadReal Property Group, used the cupcake analogy.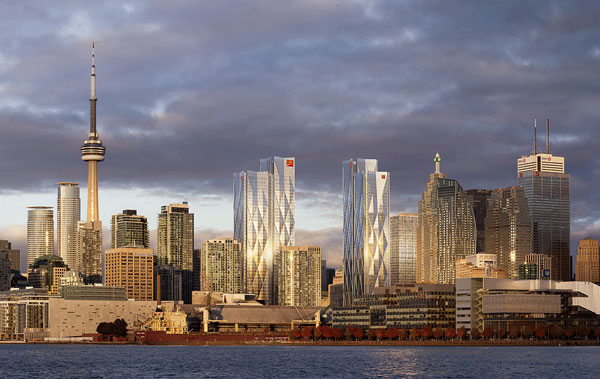 "We've been having cupcakes for the past 18 months for dinner, and that may not be the best for me. I just don't know it yet. And it's probably not the best for my company either," said Lambrinos.
FOMO — the fear of missing out — is real, he said. No one with ambition will want to be the only person on Zoom when the CEO and other senior executives are all in person having creative conversations.
The panellists discussed various strategies to differentiate between home and workplace offices, including escalation of proptech services and enhanced wellness programs. In Asia right now, Lambrinos said, the concern with healthy environments is so great that parents send their children to school with air-quality sensors in their backpacks.
"We don't think that's far off in the North American market," he said.
"If you look for a silver lining, which it's tough to do when you talk about a global pandemic and people losing their lives, it's really accelerated some trends that will hopefully result in the betterment of people's health and wellness generally speaking in indoor environments where they spend most of their time."
Khazzam said workers will be in the driver's seat as they take advantage of new leverage to ask for a better work environment. It's a trend that started before the pandemic — employees will not be content to be penned into 100-square-foot workspaces.
"The employee revolt is starting to happen whereby they're saying, 'I need to read a legal contract, I need to come up with an idea, I need to plan for this,' " she said, suggesting architects will no longer be "cramming in as many people as possible."
Architect Patrick Fejer, principal at B+H Architects, noted his industry has escalated its efforts to understand how people work in an office, shadowing workers and searching for ways to boost productivity and creativity. One idea is an actual sandbox, a circular gathering space, permitting a fireside chat style of communication.
"We're trying to explore different sorts of spatial technologies to help bring people back to the office," he explained.
Another trend is blurring indoor and outdoor, including creating balconies where outdoor meetings can take place. Data analysis is a big part of the effort, Fejer said.
With multiple innovations, the panellists said, offices will survive, though no doubt there will be new mixes of land use. Waters said investors she deals with still have a lot of conviction towards offices but in new multi-use proposals there now tends to be a dilution of the weight of offices by adding more industrial and multi-use residential to the asset mix.
But there's still a commitment to "best in class" office spaces.
As for cities themselves, Donnelly said the fundamental forces that have forged ever-larger cities throughout history are still in place. The clustering of work, the agglomeration of economies, with high per capital wealth, are big reasons why societies have centralized in cities and that hasn't changed.
"What's really changed today for us to believe that Zoom is so great that it's a perfect substitute for getting together in real life? I think we all agree, we've come to the conclusion as panellists, we just have a hard time believing this narrative."
Follow the author on Twitter @DonWall_DCN.