The latest 2021 International Construction Market Survey lists the most expensive places worldwide to build and forecasts labour and material shortages continuing to raise construction costs across many global markets to 2023.
"We are definitely seeing constrained supply both in terms of labour and in terms of getting goods from A to B because of logistical issues. All of these things have kind of created this perfect storm," said Darren Cash, director and head of cost management at Turner & Townsend (T&T) Canada.
The 12th annual report brings together data and knowledge from 90 global markets.
It examines the challenges, the opportunities and the general direction in which the global construction market is going.
"Specifically what we do is we take the average construction cost per square metre for multiple asset classes, which is based on real data from the market and the projects we are involved in," said Cash, adding it includes residential and ICI sectors.
The top 10 most expensive places to build per square metre in U.S. dollars are Tokyo ($4,002), Hong Kong ($3,894), San Francisco ($3,720), New York City ($3,511), Geneva ($3,478), Zurich ($3,387), Boston ($3,375), London ($3,203), Los Angeles ($3,186) and Macau ($3,125).
In Canada, Toronto led as the costliest city to build at $2,167 per square metre, followed by Vancouver at $2,117 and Ottawa at $2,076.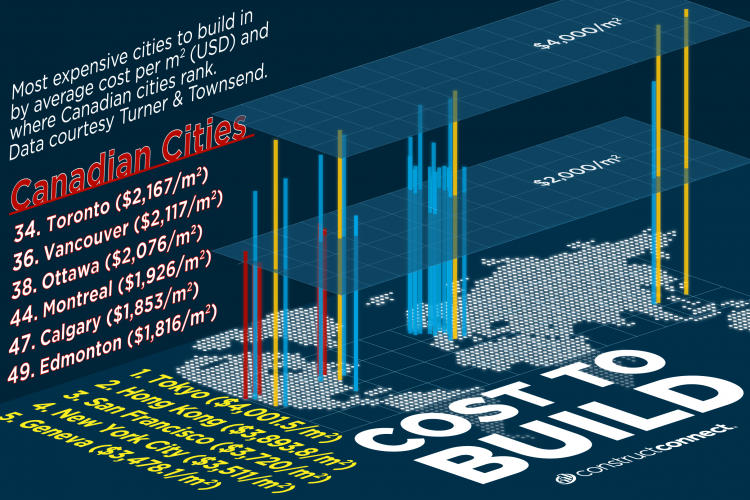 COVID-19 caused a significant shift in tendering conditions for many construction markets, the report indicates, adding typically higher price inflation occurs in hot or overheating markets. However, "the unique situation that COVID-19 has presented has meant that higher inflation is being seen in warm, lukewarm and cold markets, partly due to labour and supply constraints."
Ottawa was the only market in North America listed as a "hot market."
"When we highlighted Ottawa as being hot it's really about limitation and availability of labour to execute the project pipeline that we are seeing," said Cash, adding as well as federal projects, there are other projects in the pipeline in the city. "You've got a situation where there is only a couple of major formwork contractors, a couple of major excavation contractors. It's a real stretch on that market."
According to the report, the average cost of labour across a cross-section of job roles in Toronto is $52.9 per hour and $53.1 per hour in Vancouver. That number is double in some U.S. markets such as New York and San Francisco.
"What the survey has demonstrated is that there is a continuing shortage of skilled labour to execute the projects," Cash said.
The global construction industry, for the most part, has remained resilient throughout the pandemic but the recovery is not going to be easy, Cash said.
"We're on the road to recovery but it's going to be bumpy and turbulent," he explained. "In the construction industry we've seen globally we've got a pipeline of specific asset classes such as retail, central business district offices, the pipeline has slowed down because of the uncertainty and how patterns of office workers and consumers are going to change."
On the other hand, major investment is being seen across North America in health and life sciences, housing, data centres, logistics warehousing and transport, Cash added.
The disruption to global supply chain experienced throughout the pandemic is expected to be sustained by high demand and competition for materials such as lumber, steel and copper piping between global markets.
"The commodity market volatility, which has always been there, has really been exacerbated by everything that's been going on in the world," he said.
Timing is everything when it comes to construction, he added.
"Our messaging this year has really been remain patient, engage in robust cost and commercial practices, collaborate with the industry and really develop pro formas that you know what your level of financial viability is. If there are tweaks and ups and downs and volatility in the market, then you can easily see what impact that's going to have."
One of the drivers of the escalating construction costs is U.S. President Joe Biden's infrastructure plan to commit one per cent of GDP into areas including transport, utilities, broadband networks and renewable energy over eight years.
"President Biden's infrastructure agenda in the U.S. is driving both material and supply shortages," Cash noted. "It's a very aggressive infrastructure spend. It's something that because of the sheer volume of it and the scale across all the states it's going to soak up a lot of the labour and the material. Our countries are interlinked and what happens in the U.S. typically impacts the Canadian market."
Uncertainty in the market is expected to continue.
"We've had many conversations with clients where they say 'can we just hit pause here? Can you foresee the prices dropping?' And the answer to that is the market has a nasty habit of having deep pockets and short arms.
"There is no guarantee that the market is going to drop anytime soon."
Follow the author on Twitter @DCN_Angela.