Toronto remained the crane count leader in the third quarter of 2021 among 14 major cities in North America by a large margin.
The Rider Levett Bucknall Crane Index released in September found a total increase of 17 cranes in Toronto in the quarter, to 225, an 8.2 per cent increase since April and up 81 per cent over February 2020.
Next was Los Angeles with 51 cranes, followed by Washington, D.C. with 35 and Calgary with 32. Residential projects represented 40 per cent of projects across North America but were closer to 60 per cent of Toronto's total.
Rider Levett Bucknall principal Mel Yungblut presented the latest findings at an Urban Land Institute Toronto webinar held Sept. 23. The event featured a panel discussion that included Andrew Brethour, executive chairman with PMA Brethour Realty Group; Bader Elkhatib, vice-president of CentreCourt; Barbara Lawlor, CEO of Baker Real Estate; and Raymond Wong, vice-president, data operations, Altus Group.
"Obviously, Toronto continues to be the top of the heap," said Yungblut.
"The fact that these buildings are under construction makes quite a statement about the health of new real estate," added Lawlor. "You know that to obtain financing for construction to go ahead, developers have to sell 75 per cent of their units. And now that construction cranes are in place, they're likely more than 75-per-cent sold.
"My key takeaway from these latest cranes counts is that the pandemic has not put a stop to industry progress. Despite what the media may report, our industry is amazingly resilient."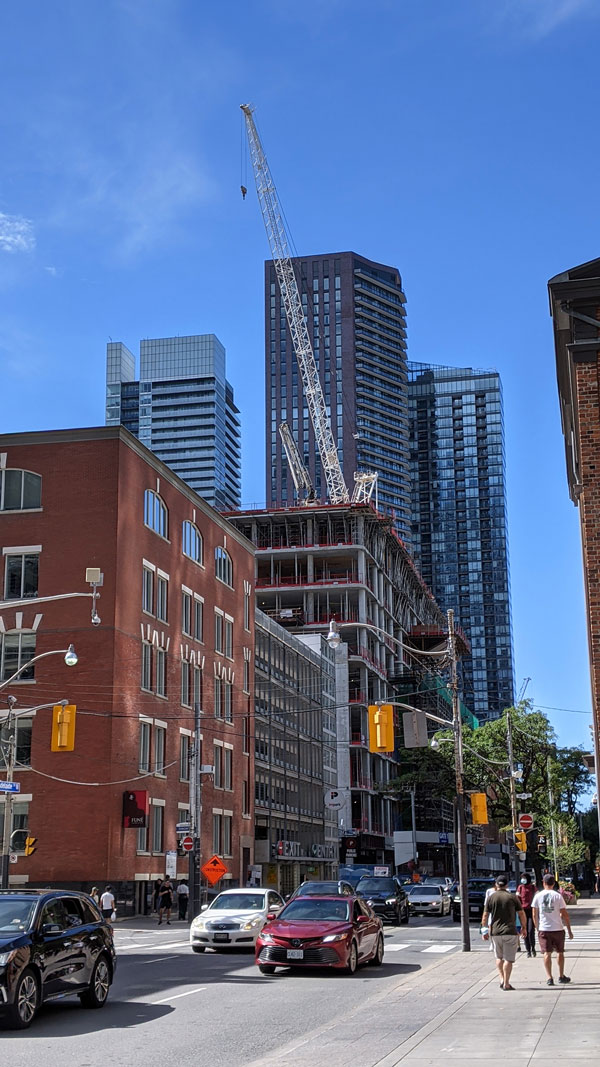 Of the new cranes counted, 15 were on mixed-use sites and five were on residential projects.
Four cranes were added on education projects in Toronto but the crane count on commercial projects dropped from 19 to 12.
The Rider Levett Bucknall numbers were supplemented in the presentation by data from Edward Skira, president of SkyriseCities.com and UrbanToronto.com, on cranes in the rest of the GTA. Skira reported that outside of Toronto proper, there were 109 other cranes, making a grand total of 336 in the GTA in the third quarter.
The leaders in the outlying region were Vaughan with 23, Mississauga with 21, Oakville with 20 and Markham with 14.
Despite the strong numbers, the panellists referred to the prominence of housing supply and affordability as a major issue during the recent election campaign and several suggested there was a need for multi-level consultation to come up with solutions.
"Most of the emphasis continues to be on the demand side of the equation and not supply," said Brethour, suggesting there's a "war on supply."
"I think that the intent should be a national conference, maybe even a royal commission. The feds could enact this with all stakeholders, and we'll call it the housing crisis of supply and see where that goes."
Wong picked up on the theme.
"This is a global issue, it's not just Canada, and Toronto, all the major global markets are having issues with affordability based on pricing, and shortages of labour," he said.
"The feds really have to work with all levels of government and like Andy's comment, having a meeting of the minds and trying to talk and figure out where the issues are and having a common goal, because right now everyone's just working independently."
Skira suggested part of the problem lies in antiquated zoning, with 70 per cent of Toronto's housing zoned for single-family dwellings when there is a dire need for more triplexes and duplexes.
Brethour also touched on density, arguing there has to be more selection available in the GTA than large single-family homes or residential towers.
"I'd expand that crane report to a supply report. It's extremely important, particularly on the low-rise or lower-density forms of housing," he said. "And when you say low density, I don't want to get pinned in the corner of single-family, 5,000 square feet, quite the opposite, it's stacks, back-to-back, towns, densities that are running at 30 or 40 units per acre, not 100 or 200 units per acre like highrise, but we need more balance within the system to stabilize prices in the long term."
Elkhatib pointed to the rising cost of trades, inhibiting developers from getting homes built at a cost-effective price point.
"Invest in skilled labour," he said. "I know, there's a lot of different programs that invest heavily. Let's not focus on Band-Aid solutions, we'll focus on long-term solutions, and do it immediately."
Follow the author on Twitter @DonWall_DCN.