The accompanying table records the 10 largest construction project starts in Canada in November 2021. Also included is the latest trend graph on starts. This looks at 12-month moving totals of the civil and non-residential building categories in Canada.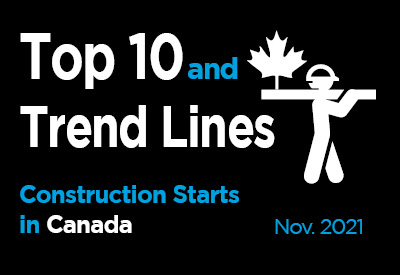 There are several reasons for highlighting upcoming large projects. Such jobs have often received a fair amount of media coverage. Therefore, people in the industry are on the lookout for when job-site work actually gets underway. And, as showcase projects, they highlight geographically where major construction projects are proceeding.
Also, total construction activity is comprised of many small and medium-sized projects and a limited number of large developments. But the largest projects, simply by their nature, can dramatically affect total dollar and square footage volumes. In other words, the timing and size of these projects have an exaggerated influence on market forecasts.
Top 10 construction projects of the month – November 2021
REGION
(East to
West)
TYPE OF
CONSTRUCTION
DESCRIPTION

Sq. Ft.
000s

Dollars
000,000s

Quebec
 
 
 
 
Terrebonne
Engineering/Civil
New Activated Sludge Wastewater Treatment Plant
*
$135
 
 
(2 structures) Boulevard De La Pinière O
 
 
 
 
Ville de Terrebonne
 
 
 
 
 
 
 
Ontario
 
 
 
 
Geraldton
Engineering/Civil
Greenstone Gold Mine
38
$1,530
 
 
(4 structures; 1 storey) Hwy 584
 
 
 
 
Equinox Gold
 
 
 
 
 
 
 
Thornhill
Residential
Promenade Park Towers – Mixed Use Residential Towers A & B
721
$144
 
 
(3 structures; 37 storeys; 757 units) 1 Promenade Cir
 
 
 
 
Liberty Development Corp
 
 
 
 
 
 
Brampton
Residential
Torbram Countryside Crossing in Mayfield Townhouses
345
$70
 
 
(2 structures; 3 storeys; 230 units) Countryside Dr & Torbram Rd
 
 
 
 
Digram Developments Ltd
 
 
 
 
 
 
 
Richmond Hill
Residential
The Hill on Bayview Stacked Townhouses
324
$65
 
 
(1 structure; 3 storeys; 226 units) 930 Elgin Mills Rd E
 
 
 
 
Armour Heights Developments Inc
 
 
 
 
 
 
 
Burlington
Engineering/Civil
Reconstruction of Dundas Street (Reg. Rd. 5) from Appleby Line (Reg. Rd. 20) to 288m West of Tremaine Road (Reg. Rd. 22)
*
$61
 
 
(1 structure) Dundas St
 
 
 
 
Halton Region
 
 
 
 
 
 
 
Alberta
 
 
 
 
Cochrane
Engineering/Civil
NGTL (Nova Gas Transmission Ltd) – West Path Delivery Program
*
$1,200
 
 
(3 structures) Multiple Locations
 
 
 
 
TC Energy (parent of NGTL)
 
 
 
 
 
 
Oyen
Engineering/Civil
Lanfine Wind Energy Project
*
$350
 
 
(1 structure) Range Rd 45 & Township Rd 274
 
 
 
 
Pattern Renewable Holdings Canada ULC
 
 
 
 
 
 
 
Hanna
Engineering/Civil
Garden Plain Wind Project
*
$195
 
 
(1 structure) 
 
 
 
 
TransAlta
 
 
 
 
 
 
 
Calgary
Residential
Uxborough Mixed Use Development – Phase 1
346
$81
 
 
(2 structures; 22 storeys; 203 units) 1941 Uxbridge Dr NW
 
 
 
 
Western Securities Ltd
 
 
TOTALS:
 
 
1,774
$3,831
*A square footage measure does not apply for alteration and engineering work.
Data source and table: ConstructConnect – CanaData.
Trend lines of construction starts in Canada – November 2021
Moving totals of the latest 12 months*
(ConstructConnect Insight Forecast Figures)

*For example, the November 2021 figure is the sum of the monthly numbers for December 2020 through November 2021.
Data source and chart: ConstructConnect Insight – CanaData.