A perfect storm of issues is curtailing concrete supplies to Ontario jobsites this season, prompting stakeholders like Concrete Ontario and the Ontario General Contractors Association (OGCA) to ramp up coping strategies.
The OGCA published a June 7 eblast from Concrete Ontario that outlined the problems in the sector, starting with the March blockade of aggregate sites by haulers that led to delays in production.
Problems were exacerbated when three of Ontario's five concrete plants went offline for repairs — all are back in production now — and also, labour shortages including a lack of truckers to get the product to jobsites have caused further disruptions.
As a result, wait times for deliveries and incomplete order fulfillment have increased significantly, said Concrete Ontario.
OGCA president Giovanni Cautillo said it's all happening at a time when Ontario's construction sector is stretched by a full workload. Securing supplies would have been a struggle even in perfect conditions.
"I am aware that the members of Concrete Ontario are doing all they can to increase the supply, but getting the final product out to sites has been challenging due primarily to the lack of labour to transport the materials," said Cautillo.
He said the disruption in the supply of the raw materials through work stoppages by hauling groups has had a cascading effect on the supply of concrete with the producers forced to implement concrete allocation, meaning some customers are only receiving a percentage of their orders.
The labour shortage has affected not only the roster of delivery drivers but also transportation of raw materials. All of the materials are obtained locally — sand, stone, admixtures — and they're all transported by truck, noted Concrete Ontario president Bart Kanters, if drivers are available.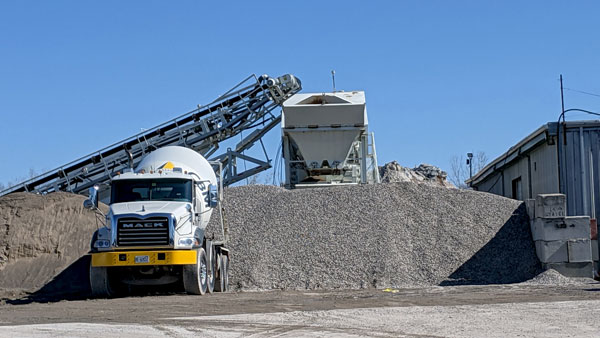 "Couple this with an increase in the projects being constructed and we have a perfect storm for further supply chain issues," said Cautillo.
Kanters also outlined another set of factors causing problems. Plants have been working full capacity since the first COVID lockouts ended but their output is finite. And with massive capital outlays required to bring another plant onstream, and a long planning, permitting and construction timeline, he estimated it would take five to 10 years to add to the province's capacity.
The last new plant in the region was the McInnis plant that came online in Quebec in 2017.
Buyers could look outside of the province for more concrete – but it's busy everywhere. Ontario is a net exporter.
Kanters said his association has 4,000 members operating with 4,000 ready-mix trucks making one million deliveries per year.
Even if they could add to the roster of drivers, it takes a year to get a new truck delivered, at $250,000 per vehicle.
"On the equipment side there's not much we can do," said Kanters. "There's no computer chips for heavy commercial motor vehicles."
Given that the concrete delivery season tends to reach full volume starting in June, the rest of 2022 looks to be difficult, Kanters said.
"We're hopeful that they can catch up but these allocations started in May, very early in the year, and the peak concrete volumes are June, July, August, September, October," said Kanters. "It doesn't slow down until November."
As for 2023, Kanters said, "We'll have to see where things shake out next year."
Concrete Ontario outlined several strategies for the remainder of 2022 in its eblast.
The construction industry should work closely with concrete suppliers to "address realistic supply schedules and to co-ordinate the deliveries of large concrete placements," the memorandum stated.
"Lead times are now often measured in months rather than days for specialty admixtures, fibres and colour."
Contractors should co-ordinate with concrete producers on a weekly basis for all concrete placement items.
The "critical path items" should be scheduled with the concrete producer at least seven to 10 days in advance of a scheduled placement date.
Cautillo said OGCA members are working closely with suppliers, and on an organizational level the OGCA continues to work with Concrete Ontario to rectify the situation.
"Our members are working with their schedules to better facilitate supply times, but that will only go so far to alleviate the situation in the short term," said Cautillo.
"For the longer-term solutions, we need to attract more labour to the concrete sector."
Unfortunately, he added, the entire construction sector is looking for workers from the same small pool so the concrete sector has competition.
Concrete Ontario has embarked on a $50,000 promotional campaign highlighting the benefits of driving in the industry, with messages on billboards and elsewhere.
Concrete producers Lafarge and Dufferin declined comment on the industry problems. Adam Auer, CEO of the Cement Association of Canada, stated cement manufacturers are facing the same supply chain challenges other manufacturers are.
"While supply pressures across the full construction value chain are creating logistical challenges, we hope and expect that these will begin to normalize over time," Auer said.
Ontario Sewer and Watermain Construction Association executive director Patrick McManus said there has certainly been increases in the cost of concrete pipe in his sector but a bigger issue has been PVC pipe.
The rising costs of concrete pipe has caused a wave of claims, he said.
McManus said the association has made recommendations to its members such as expediting project award timelines, given that most suppliers are only guaranteeing prices for two weeks.
"The faster a project is awarded, the faster the price can be locked in," he said.
Contractors should be also be vigilant to ensure project budgets and expectations are in alignment with the current materials costs before proceeding with project tendering, said McManus.
Follow the author on Twitter @DonWall_DCN.