Canadian construction economists and other stakeholders are hedging when asked whether the next 18 to 24 months will see continued growth in the sector, with the potential for a recession and rising interest rates seen as top threats to sectoral expansion.
ConstructConnect chief economist Alex Carrick believes fears of a recession in the next year are "overblown" while Altus Group's vice-president of data operations Ray Wong has cautious optimism heading into next year.
Meanwhile John Mollenhauer, president and CEO of the Toronto Construction Association, thinks a recession is possible but with Toronto's construction sector currently on fire, that would only mean a modest reduction in activity.
Nationally, the construction sector is experiencing circumstances unlike anything she has seen in her 30-year-plus career, said Sandra Skivsky, chair with the National Trade Contractors Coalition of Canada. With supply chain disruptions affecting multiple projects, trade contractors sometimes find themselves sitting at home – not because of lack of work, but because the supplier before them on a job has failed to deliver.
"One of our members has this phrase, we're busy and we're breaking all at the same time," said Skivsky. "We have so many different elements at play here that have never been in play before."
Bank projects minimal growth in 2023
In its July 13 Monetary Policy Report, the Bank of Canada stated it expects Canada's economy to grow by 3.5 per cent in 2022, 1.75 per cent in 2023 and 2.5 per cent in 2024.
The bank believes inflation will remain around eight per cent in the next few months but it's projected to decline to about three per cent by the end of 2023.
Carrick believes the top future threat to Canada's construction industry is not the supply chain, spikes in the cost of materials, rising labour costs and shortages, post-COVID realignment of the office sector, logistics problems or geopolitical disruption (as in Russian aggression), but inflation. As long as inflation persists, central banks will want to tamp it down by raising interest rates. Rising interest rates scare construction investors.
Carrick sees construction as two streams.
One is cyclical – residential and other projects where there is a strong and immediate reaction to rising interest rates and other variables.
The other is non-cyclical. That includes much of ICI and infrastructure, which is dependent on long-term variables such as commodity prices and demand for resources, and can include megaprojects that in and of themselves can guarantee a fundamental base of work for a regional construction economy.
So while higher interest rates or a short-term recession might curtail cyclical work, the coming onstream of a significant roster of billion-dollar megaprojects such as transit projects in most Canadian cities, possible natural gas projects in B.C., oncoming small nuclear reactor projects, electric vehicle and battery plants across Ontario and potential cooper and aluminum resource projects should buttress construction in the medium to long-term.
"It seems to me that there are more megaprojects around in Canada and in the United States in particular than we have seen in a very long time," said Carrick.
"It's those megaprojects that I would look to as being a sustaining force for construction."
Canada is unique in comparison to the U.S. in that there is more immigration – the target for 2022 is 410,000 – with new Canadians flocking to cities. And they all need homes.
"A lot of that population growth is occurring in Ontario," said Carrick. "Ontario is a real juggernaut for the country as a whole."
While interest rates may temporarily dampen the demand for housing, it will surely rebound, he said.
Prices of some construction materials are moderating, but Carrick said the future of gas and diesel prices is uncertain. Saudi Arabia has the ability to turn the tap on or off at any time.
"That's tied to the whole energy sector, and everything depends on getting products to market and delivering materials to construction jobsites," said Carrick. "All the heavy construction equipment works on diesel…it's hard to see where there's a lot of relief there."
CRE strong in Q1 but what's next?
Wong, a commercial real estate expert, saw strong numbers in that sector in Q1 but said that reflected some deals from 2021 and he expects volumes could slow in Q2 and Q3.
"We'll have to wait until the second and third quarter numbers to see the real impact of the interest rates and whether or not there's maybe a pause with investors based on everything that's going on," said Wong.
Long term, many CRE fundamentals are good, he said.
"I am kind of optimistic," said Wong. "I think the numbers are going to be strong this year, perhaps not as strong as last year, but it's going to come in strong because of the strong first quarter," with industrial projected to do well and retail making a modest recovery.
Mollenhauer said the biggest concern in the medium term is price volatility and the inability to accurately price a lump-sum contract. There is significant uncertainty around what the real costs will be at the time contractors order their materials and equipment.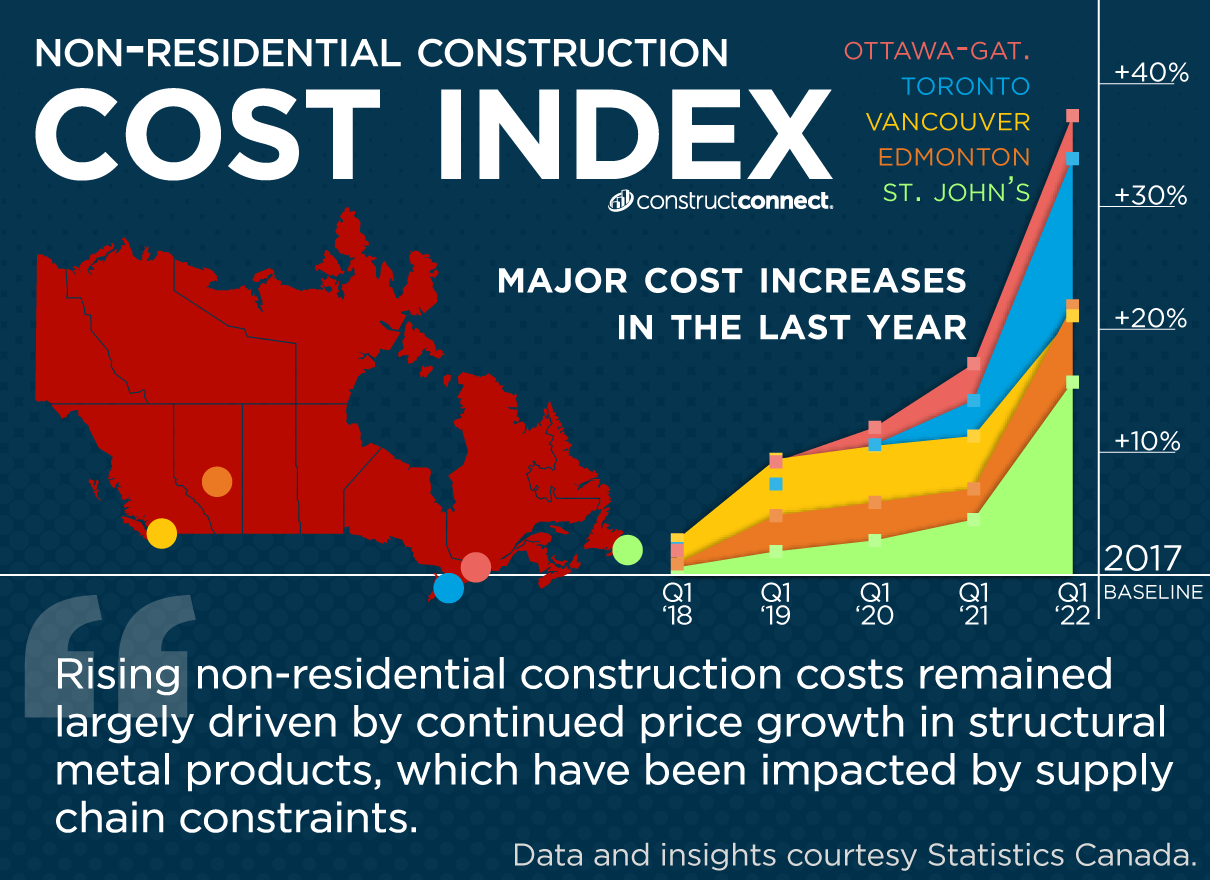 "So I would argue that in the immediate term, that's a bigger issue than the labour shortage but the labour shortage is growing in severity and becoming a bigger issue every day," he said.
Longer term, a prolonged hike in interest rates might be needed if inflation remains high, but at some point, the Bank of Canada becomes hesitant to keep raising rates because of the effect on Canadians' household debt.
"How does all that affect the construction industry? That's a good question," said Mollenhauer.
"Of course" a recession would slow construction in Toronto but it's very strong now so the damage would not be critical, Mollenhauer said.
Follow the author on Twitter @DonWall_DCN.