Labour economist Jim Stanford has responded to criticism of his October 2021 report on Ontario construction wages and productivity, saying he stands by his justification for increased compensation of unionized trades 100 per cent.
The critique was contained in the June newsletter of the Construction Employers Coordinating Council of Ontario (CECCO).
The newsletter stated that "an economist used fuzzy logic to assert that productivity in the construction industry had risen by 14 per cent (over five years), implying that the reputed gain was due to the construction workforce, and they should reap the rewards of this increase."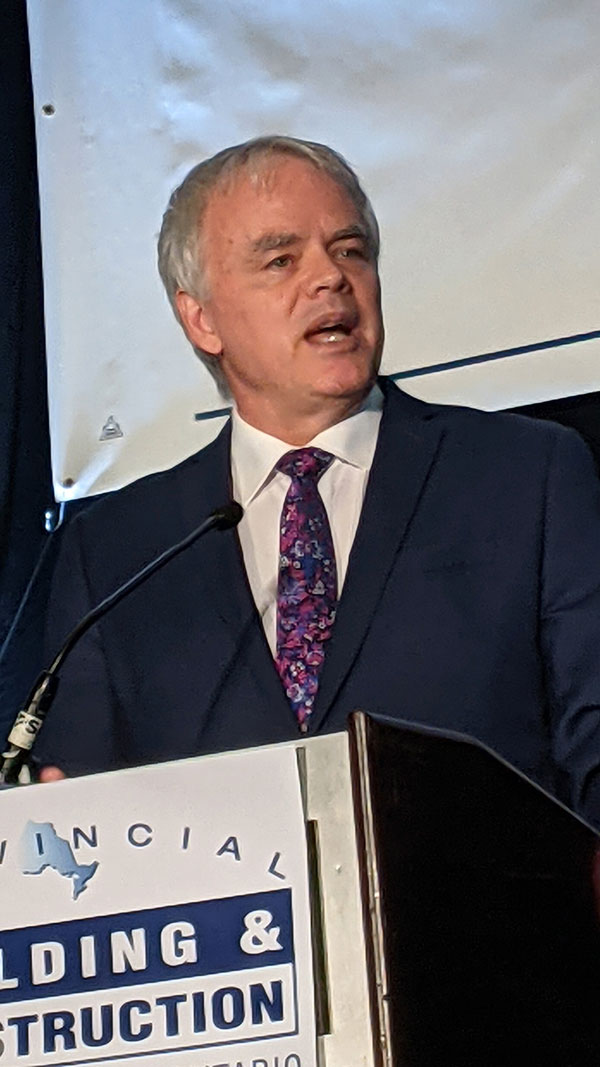 Stanford presented his report at the Provincial Building and Construction Trades Council of Ontario conference in Toronto Oct. 14.
"It can certainly be argued that this single event provided a backdrop for this round of construction contract negotiations," said the CECCO.
Contract negotiations in Ontario's ICI sector are almost complete for another three-year cycle with 23 of 25 trades either ratifying deals or agreeing to abide by an arbitrated settlement. Wage settlements have ranged between nine to 12 per cent with a few even higher.
"I don't think there's any question about the validity of that 14 per cent number, it's just straight out of Statistics Canada," said Stanford. "How much work was done in the sector, how much real value added was produced in that sector, and how did that change over time."
Stanford said he would welcome an opportunity to have a debate about the data and arguments contained in the paper.
"I think they're well documented. They're reasonable. And I think it's blaming the messenger. Workers didn't need a report to know that their real wages have gone virtually nowhere during an unprecedented boom in the industry, and are now shrinking rapidly."
Stanford's paper noted that across all trades, weighted-average hourly base wages saw an annual average increase in nominal terms of 1.9 per cent over the preceding five years.
With a 1.7 per cent recorded annual increase in consumer prices during that time, Stanford argued that construction wages had barely kept pace with inflation.
"Just imagine transplanting that to today when consumer price inflation is 7.7 per cent," he said. "You have an incredible rate reduction in the real purchasing power of wages."
Meanwhile, his report stated, "Growth of labour productivity in Ontario construction has been very healthy in recent years. Real value added per hour of labour in the provincial industry increased by 14 per cent from 2015 through 2020, rising at a very strong annual rate of close to three per cent."
Commented Stanford, "That wasn't 'fuzzy logic.' It's a conventional measure of labour productivity, and it comes straight out of Statistics Canada's data. So I'm very, very comfortable implying that the reputed gain was due to the workforce."
CECCO executive director Wayne Peterson declined to comment.
Then business manager of the Building Trades Patrick Dillon explained last October that he had commissioned the report to motivate union negotiators heading into this spring's round of contract negotiations. Three-year collective agreements expired April 30.
There were six strikes in the ICI sector this spring. Workers with several major unions rejected the first contract offers negotiated by their union leaders.
The CECCO newsletter stated, "A climate of entitlement and an unprecedented level of expectation appeared to permeate through the construction labour force."
Mike Yorke, president of the Carpenters' District Council of Ontario, said his negotiating team used the Stanford report during bargaining sessions.
"He called it. It was prophetic in the sense that what he said may happen, in fact, largely did happen in terms of workers stretching their power collectively," said Yorke. "He did a pretty good job on it."
Stanford argued that labour productivity is not totally attributable to the efforts of the workers, "but it is a measure of how much the industry is producing relative to the human effort that goes into it.
"I'm flattered that an employer thinks my research has whipped up the militants of a whole group of workers, but the reality is quite different. Those workers have been working hard. They've built an industry that is growing and incredibly successful, and yet they haven't seen their share of the benefits.
"That why construction workers are militant, not because of my report."
Follow the author on Twitter @DonWall_DCN.