Steel-price watchers are predicting that the red-hot price increases that shot world per ton prices to the $US 1,000 mark in fall of 2021 will ease going into late 2022  but the decline will be slight and there are only estimates of the trickle down impact on the Western Canadian construction market.
World steel prices impact a range of construction products from rebar to girders and beams.  
"Last November, we saw a 30-38 per cent increase in rebar," said Anoop Khosla, president of Midvalley Rebar.  Khosla said the before prices are lowered substantially, the world market needs to a see a slow-down in demand as well as new suppliers internationally emerging. Both could combine to create a world surplus and trigger falling prices.  
Fitch Solutions, a data analysis and research firm, estimates that world prices will decline to $US 750 per ton in late 2022 and move towards a more normal range of $US 500 going forward into 2023-2025.  Khosla sees a more modest decline. "Some see a complete reversal. I don't think we would go back but there will be at least a 10-16 per cent decrease by the end of the year," he predicts.
 The decrease hinges upon how much over-supply will be built up in the Far East markets, China's infrastructure needs which Fitch estimates will slacken going forward as major infrastructure projects have been completed, and how much suppliers can negotiate with steel producing countries that are not yet under any Canadian protectionist tariffs. Another factor is the strength of the Canadian dollar, Khosla said.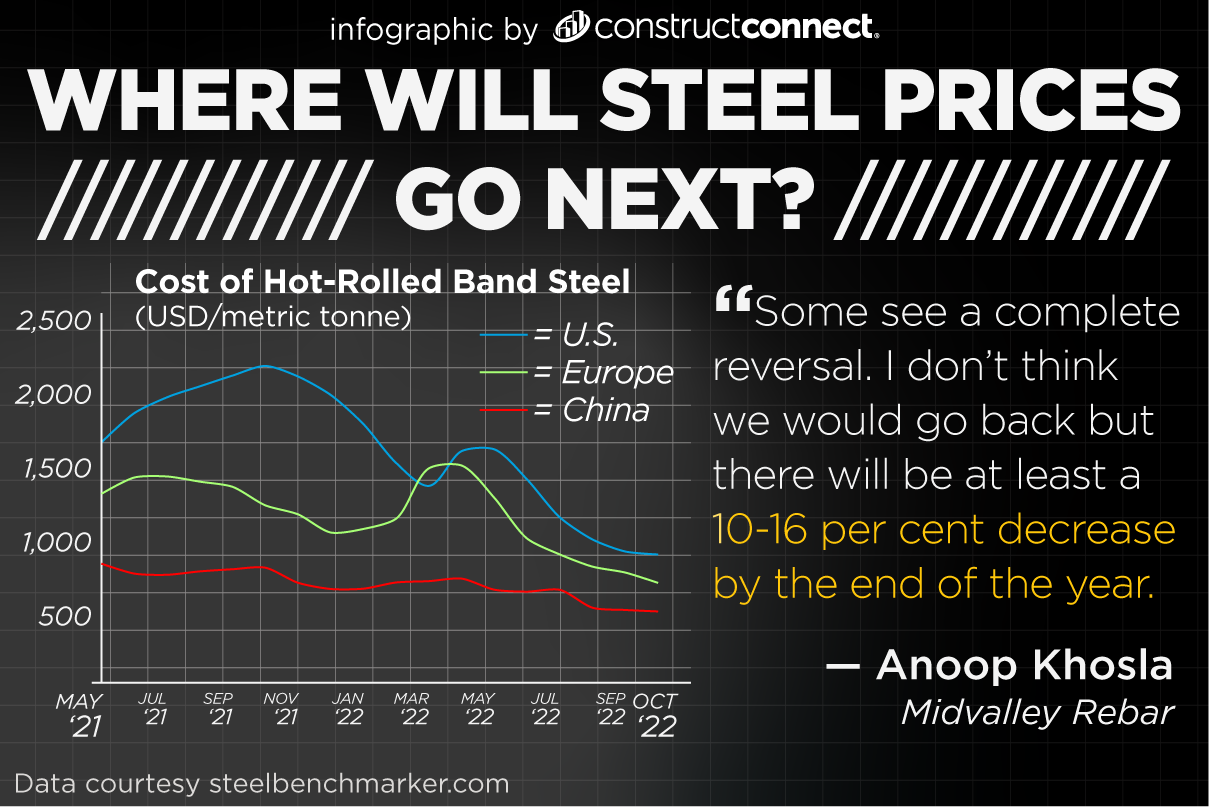 Imports of steel products into Canada are controlled under Canada's Export and Import Permits Act , which places tariffs or import quota tariffs which limiting the amounts that can be brought in. Both protectionist moves benefit the Eastern Canadian steel industry but places Western Canada steel users and distributors at a disadvantage as shipping from Eastern mills adds $180-$200 per ton in freight costs.
Western Canada has only one major steel manufacturer of construction steel components located in Alberta. Vulcraft, is one of the oldest operating divisions of Nucor Corporation, and produces steel joist and decks and other construction industry components. It supplies less than 25% of Western Canada's needs.
That figure is also diminishing as Western Canada's large infrastructure projects move ahead. In B.C., there are numerous large projects underway or proposed – all demanding construction steel, said Khosla. They include the mega-projects such as $16 billion Site C dam, the $2.8 billion Broadway Line, three major new hospitals, the $4.15 billion Massey Tunnel replacement, the $1.4 billion Pattulla Bridge, as well as government infrastructure projects and continued developments to stem a seemingly insatiable appetite for housing.  
When the Russian-Ukraine broke out, steel prices jumped 70% in March – a price hike that Ron McNeil, a veteran of the steel industry and CEO of Lower Mainland Steel (LMS) – has never seen.
He said that he will not even try to predict where prices will go in the latter half of 2022 as it will depend upon world supply and plus the ability of manufacturers to access needed scrap metal.
Khosla said the Ukrainian war has essentially disrupted traditional supply chains including scrap steel. Both Russia and Ukraine are major producers of steel. According to the World Steel Association, while China was the world's leading producer of steel in 2021, Russia was ranked in fifth spot, Ukraine in 14th position while Canada was ranked 19. Belarus, a Russian ally, is also a smaller producer.    
Sanctions and embargos now in place are hampering both the flow of steel and scrap. "The Russians are very active in shipping," said Khosla.  Dock workers internationally have refused to load and unload Russian ships, while container companies – with the exception of China's Cosco Shipping Co. – in May this year were refusing to book Russian cargo. Belarus has also been under sanctions regarding the shipment of steel products.
The higher prices are not the only burden carried by the industry. Khosla said there is a need for more trained rodmen who have the technical expertise to work in the rebar industry. Jagmeet Singh of 21RebarLtd., a contractor, said that shortage extends down to the labour pool. Ironworkers earn a unionized rate of $40 an hour but Singh cannot find enough unskilled labour to do tasks on site such as clean-up and assist ironworkers.
While Canada is the major importer of steel from the U.S., little price or supply relief as demand in the U.S. is ramping up. Fitch is predicting a strong demand over eight years within the U.S. domestic market for construction steel as President Joe Biden's $1 trillion infrastructure program continues and steel manufactures are benefiting from tight supply and growing demand. 
Biden's major infrastructure bill signed last year has already kick-started 5,000 new U.S. roads, bridges and airports and other energy reduction projects with $13 billion expected to be allocated in the 2022. 
One of the conditions placed on such U.S. federal projects has been the use of local sourced materials, said McNeil, whose company LMS is currently working in the U.S. as well as Canada. Biden set down the condition in spring 2022 in a bid to create more U.S. jobs.
U.S. steel mills are reaping the benefits.  Manufacturer Nucor (with Seattle and Alberta plants near Western Canadian steel users as well as throughout the U.S.) is posting record second quarter sales which "increased 44% compared with the second quarter of 2021."