Panellists at a recent construction forecast event expressed both short-term and long-term optimism about the prospects for the Canadian economy, with near-term recession concerns circulating in some economic circles dismissed as "overblown."
Canadian Construction Association (CCA) president Mary Van Buren said there is ample reason for positivity in the sector including continued infrastructure spending by the federal government and the stimulus that increasing numbers of immigrants will mean for construction.
She was followed by ConstructConnect chief economist Alex Carrick, who noted that poor residential construction numbers in the U.S. did not seem to be affecting Canadian starts much.
"We have seen some slowdown," said Van Buren, referring to data from the residential market in the second quarter of 2022. "That said, the sentiment and optimism in the sector remains high.
"While there has been some softening due to some of the economic issues like inflation, like workforce shortage, like supply chain overall, we're very confident that the sector will remain strong."
Carrick went further.
"I'm way more optimistic," he said. "I think all the talk about recession and so on is really overblown."
Van Buren and Carrick were panellists for a Jan. 31 presentation sponsored by Procore and held in Toronto, billed as the Canadian Construction Forecast 2023 Breakfast Seminar.
Not only will Canada's new annual immigration target of 500,000 mean heightened demand for housing, Van Buren said, but the infrastructure needs won't stop there.
"We're looking at about 500,000 immigrants every year to Canada, which is very welcome news," said Van Buren. "That said, affordable housing remains a deep concern, particularly in your market here, and Vancouver and other markets. When we build housing, it's not just the houses obviously, it's the roads. It's the sewers. It's the hospitals. It's the fire stations."
The CCA is calling for an extension of the federal government's Investing in Canada Plan, which commits to spending $180 billion over 12 years — the CCA wants a 25-year horizon.
But even with the existing commitment, she said, there remains about 30 per cent of the $180 billion that has not yet been committed, and only 40 per cent or so has been spent.
"There's a lot of pipeline. There a lot of projects still to be built," said Van Buren. "So I think that's really positive news."
Two other factors that will stimulate construction spending are the green transition and the need to repair decaying infrastructure, Van Buren said.
Carrick pointed to U.S. macroeconomic numbers as evidence there may not be a hard landing. The U.S. economy in the third and fourth quarters of last year experienced robust expansion, with overall economic growth of just over two per cent, the same as the average for the past 20 years, he said.
Initial jobless claims in the U.S. have been impacted by interest rates, Carrick said, which will lead to short-term stress.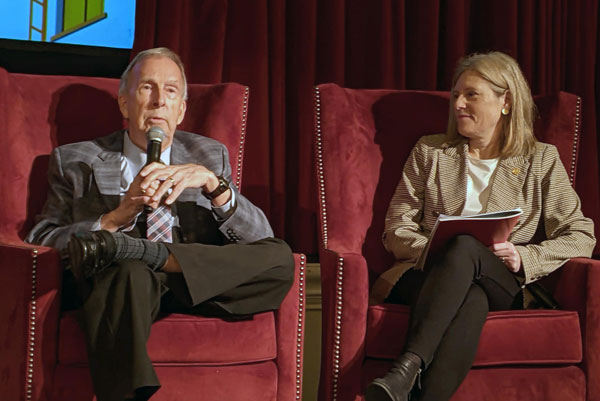 But in the bigger picture, he said, there is a new world economic order that has already been launched, and that's the transition to a green economy. The Joe Biden administration's Inflation Reduction Act includes significant incentives for American industry to move to cleaner energy.
"From now on, the whole world is working towards getting off fossil fuels and moving into other sources like electricity, and hydrogen, and so on," said Carrick. "In the last year, I've never seen anything like the number of mega construction projects that started in the United States."
The breadth of those projects is sweeping, Carrick said, mentioning wind, solar and hydrogen plants, charging stations, EV plants, battery plants, chip manufacturing and LNG projects, the last propelled in part by the geopolitical disruption in Ukraine.
Canada is lagging in megaproject spending compared to America, Carrick said, but it is certainly poised to reap the benefits of increased demand for minerals and metals.
"If you move towards electricity, you're going to need things like more copper, and nickel and alloys that go into steelmaking and the making of other products to make them lighter and stronger," said Carrick.
"Canada has tremendous opportunities in terms of commodities."
Follow the author on Twitter @DonWall_DCN