What's not to like about May's upbeat Employment Situation Report from the Bureau of Labor Statistics? No doubt, it depends upon one's point of view, with the Federal Reserve probably not comfortable with the results at all, but more on that in a moment.
The total number of employed positions in the U.S. economy rose by +339,000 in May, although that understates the true strength in jobs creation, since the previous month's gain was revised higher by +93,000. Therefore, the total number of jobs in May versus what was reported a month ago for April was +432,000 jobs.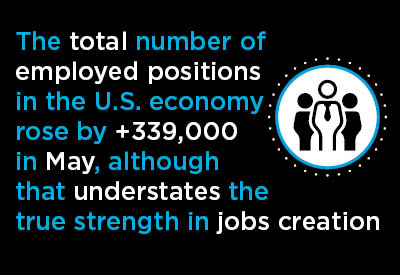 An uptick in the number of people participating in the labor force caused the seasonally adjusted (SA) unemployment rate in the latest month to move to 3.7% from 3.4% in April and 3.6% in May of last year. The not seasonally adjusted (NSA) unemployment rate was 3.4%, a bit looser than the 3.1% in April, but the same as in May of 2022.
The construction sector's NSA U rate in May was 3.5%, down from 4.1% in April and below May 2022's 3.8%. The 3.5% figure is not quite the low point for construction's unemployment rate this century, but it's pretty close. In May and September of 2019, construction's NSA U rate fell to just 3.2%.
The number of employed individuals in construction in the latest month rose by +25,000. That wasn't the only bit of good news for the building sector. Hiring within architectural, engineering, and related services was also stellar, +7,000 jobs.
The public sector money flowing into infrastructure projects is finally being reflected in the construction sector's total jobs count, with employment in heavy and civil engineering ahead by +11,000 jobs.
Construction workers are still making compensation gains that are above economy-wide earnings advances. In May, average hourly wages for construction workers, including supervisors, were +5.1% year over year, compared with the +4.3% advance for 'all jobs'. The weekly earnings comparison has construction workers at +4.8% versus 'all jobs' at +3.4%.
For production workers alone, leaving aside supervisors, the construction contingent was earning +6.0% y/y hourly in the latest month, one percentage point higher than the economy-wide step-up of +5.0% y/y. Weekly, construction personnel were at +5.2% y/y, beating the +4.0% for everyone on average.
While those earnings advances appear substantial, and well above the +2.0% to +2.5% year-over-year increases that used to prevail, it should be added that they are decelerations from a year or so ago, which offers encouragement concerning the fight to rein in inflation.
In what other corners of the economy were there significant employment increases in May? Jobs in transportation and warehousing were +24,000; in professional and business services, +64,000; in health care, +52,000 (with hospitals at +20,000); in leisure and hospitality, +48,000 (with bars and restaurants at +33,000); and government, +56,000 (with more than half of the gain occurring at the local level). 
The Federal Reserve wants to slow the economy as a means to dial back inflation. The Fed is achieving its goal on several fronts: credit has tightened; house prices are no longer skipping ahead in giant strides; and retail sales have flattened (see Graph 1). 
But it's also true that the Fed's intentions are being snubbed in numerous ways beyond robust staffing. Low initial jobless claims have barely budged (see Graph 2), stock markets are appearing unfazed by negativity expressed elsewhere, and monthly housing starts have ceased falling.
The odds of the Fed implementing another interest rate hike have just increased with May's banner jobs report. Some analysts would suggest that the Fed should leave well enough alone and see what develops. After all, it's rather strange that an economy that is performing so well for its labor force should need to keep looking over its shoulder, worried about what further restrictive actions may be thrown in its path.
Graph 1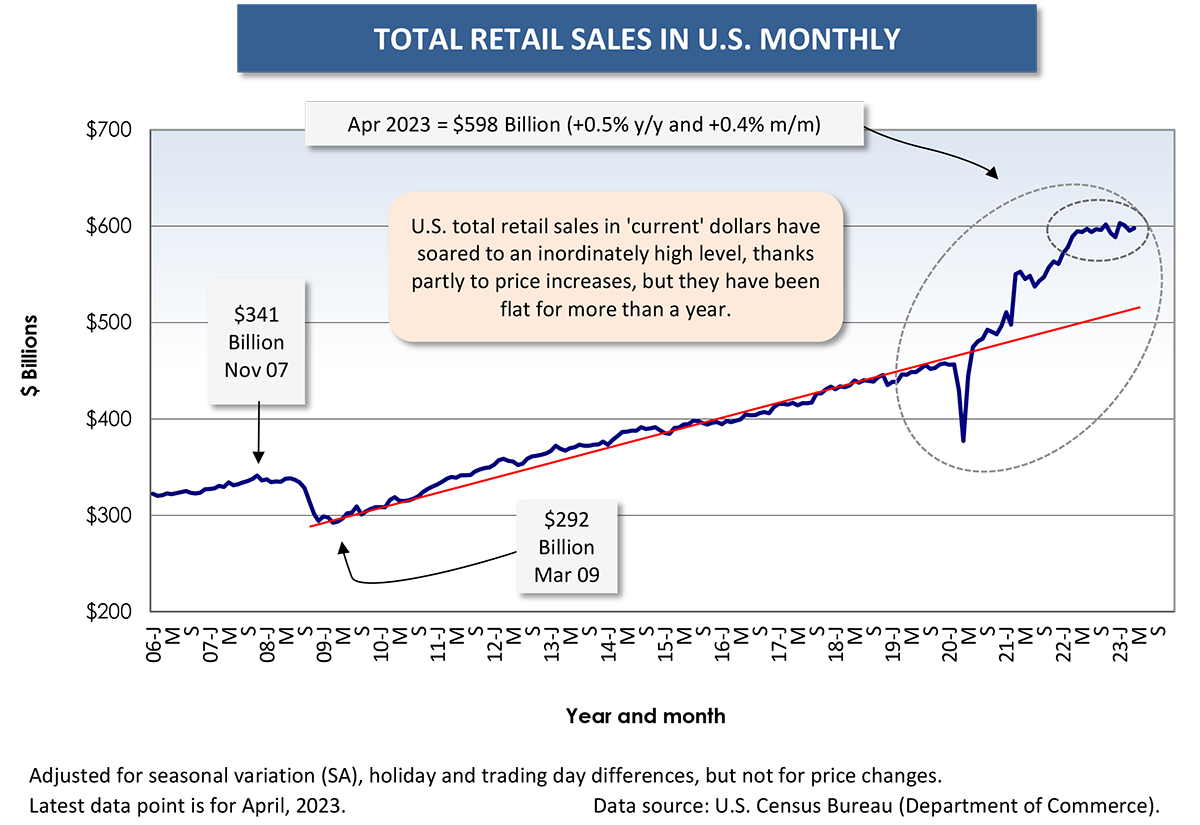 Graph 2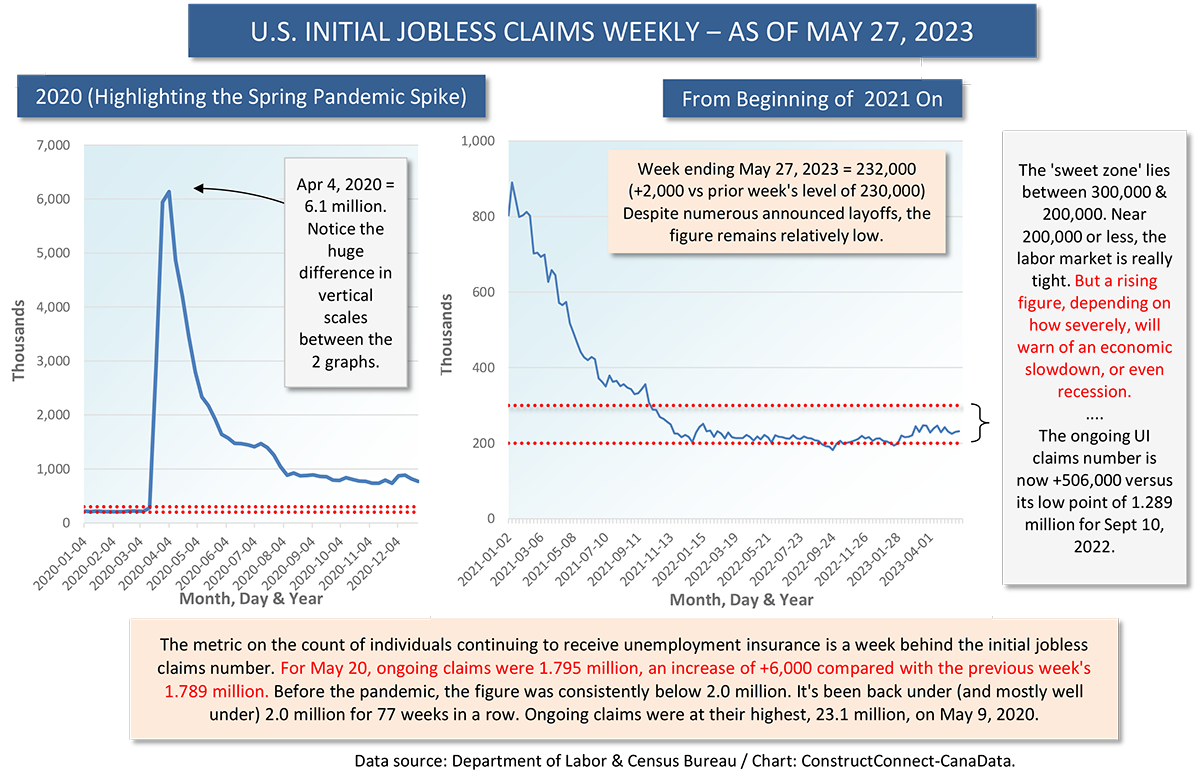 ---
Alex Carrick is Chief Economist for ConstructConnect. He has delivered presentations throughout North America on the U.S., Canadian and world construction outlooks. Mr. Carrick has been with the company since 1985. Links to his numerous articles are featured on Twitter @ConstructConnx, which has 50,000 followers.