Prime Minister Justin Trudeau chose a visit to the training centre of the College of Carpenters and Allied Trades in Woodbridge, Ont. three days after the release of Budget 2019 to highlight the federal government's proposed new Canada Training Benefit (CTB).
And in remarks to dozens of apprentice carpenters during the March 22 visit, Trudeau also indicated his government is with the Government of Ontario over how federal infrastructure dollars are being delivered.
The prime minister referred to a new source of funding for infrastructure projects, a top-up of $2.2 billion through the federal Gas Tax Fund effective for the 2018-19 fiscal year. The main federal infrastructure spending program is the 12-year, $180-billion Investing in Canada program.
"I am thanking you for stepping up in the trades. We've got billions of dollars in infrastructure investments right across the country and we need you to be at your very best," Trudeau said to the apprentices.
"We need the provincial government to step up and actually partner with the federal government and actually take the billions of dollars we are offering them to build the stronger cities but that's a discussion I am having with Premier (Doug) Ford and others.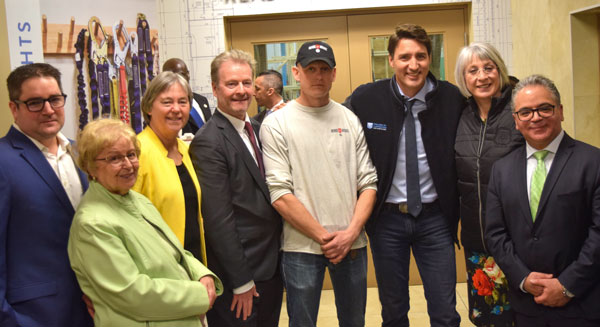 "We have also moved forward investing directly in municipalities by doubling up the municipal infrastructure transfer because getting things built now, regardless of the political games being played by the Ontario government, is something we really rely on."
The new CTB, which includes a Canada Training Credit of $250 for workers between the ages of 25 and 64 that accumulate each year up to a lifetime limit of $5,000, has already been the subject of criticism.
Critics such as the Progressive Contractors Association of Canada have suggested the new program will be of minimal value given that trades training towards journeyperson status often takes several years.
The government also launched a new Apprenticeship Strategy with the mandate to address barriers to entry and announced further funding to Skills Canada to develop a promotional program to attract young Canadians to the skilled trades in Budget 2019.
The Ontario General Contractors Association said post-budget the federal approach is scattershot and there needs to be a concerted skills training strategy adopted.
Other federal initiatives targeting skills training include the Indigenous Skills and Employment Training Program, the Women in Construction Fund, the Pre-Apprenticeship Program, enhanced Canada Apprenticeship loans affordability, Let's Talk Science, the Future Skills Initiative and the Apprenticeship Incentive Grant for Women.
Trudeau did not take questions at the event but Mike Yorke, the president and director of public affairs for the Carpenters' District Council of Ontario, who hosted Trudeau and Minister of Employment, Workforce Development and Labour Patty Hajdu on the visit, said in an interview the total effort to boost trades skills training ought to be considered rather than just one program such as the CTB.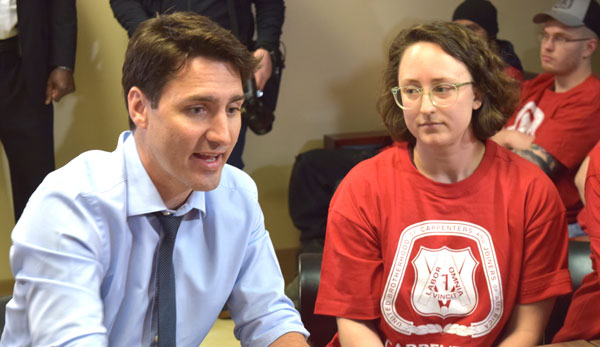 "There are concerns about whether it is enough, but it is a start. It is an important piece and it can be something that gets built upon as we go forward," said Yorke.
"We are an industry with a lot of aging individuals. We need new blood, individuals to come into the industry. So every mechanism we can use to bring people into our industry is important."
Trudeau sat next to second-term carpenter apprentice Christine Dewancker during one phase of the visit to the training centre. Dewancker commented during an interview that various incentives to participate in training were of value.
"The incentives that they list, I pay attention to those, such as grants for tools," she said. "And the big benefit is just being paid to learn your trade. That is something that you don't find in other areas of employment."
During the session Trudeau mentioned he was happy to see a few women including Dewancker in apprenticeship roles. The trainee, who has a fine arts degree from Queen's University, said she acts as an unofficial ambassador for her trade in conversations with other women.
"It's true, I am still one of the only women onsite typically," she said. "And it is challenging. Sometimes they have to take certain measures to accommodate me, and when you feel like you are the one sticking out, it is not the best feeling.
"But I have met really great people who encourage me to be there and support me. I recommend the trades to other women."