On day 18, the half-way point of the federal election campaign, Liberal Leader Justin Trudeau finally released his party's platform while the Conservatives under Leader Erin O'Toole expanded on his party's infrastructure plan.
Trudeau, speaking in Toronto Sept. 1 with Finance Minister Chrystia Freeland alongside, highlighted a half-dozen policies from the platform as priorities: recovery from the pandemic; building more affordable housing; supporting child care as a boost to women's participation in the economy; combating climate change; reconciliation with Indigenous people; and fighting systemic racism along with giving "everyone a real and fair chance at success."
O'Toole spoke an hour later from Ottawa, pledging to do better than the Liberals in getting infrastructure out the door.
"We need a sure-fire way to get the economy moving again, to create jobs, to help communities across Canada recover," said O'Toole. "That starts with investing in infrastructure and actually getting projects done. We need more transit, better roads, more rail, more broadband networks across this country."
Both the auditor general and the parliamentary budget officer (PBO) found the Liberals failed to deliver billions in promised project spending, he said.
"A Conservative government will get shovels in the ground on these projects through Canada's recovery plan. We will invest billions in key projects that will put Canadians to work, cut commute times and reduce emissions," O'Toole promised.
The Conservatives would also evaluate projects based on their contribution to economic recovery, as opposed to whether they fight climate change; they would scrap the Canada Infrastructure Bank and direct that funding to other projects; and they would review the Liberals Investing in Canada plan with a view to better aligning projects with municipal and First Nations priorities.
"Unlike the Liberals, we won't condition funding so narrowly as to whether the project can be described as green infrastructure," said O'Toole. "We will ensure infrastructure funding maximizes our economic recovery. That means targeting funding to projects that strengthen transit and trade, reduce congestion and gridlock and advanced economic reconciliation with First Nations, and as the last 18 months have made abundantly clear, we need to invest in broadband networks."
The Conservatives would ensure new 5G networks would be built by Canadians, O'Toole said, not Huawei.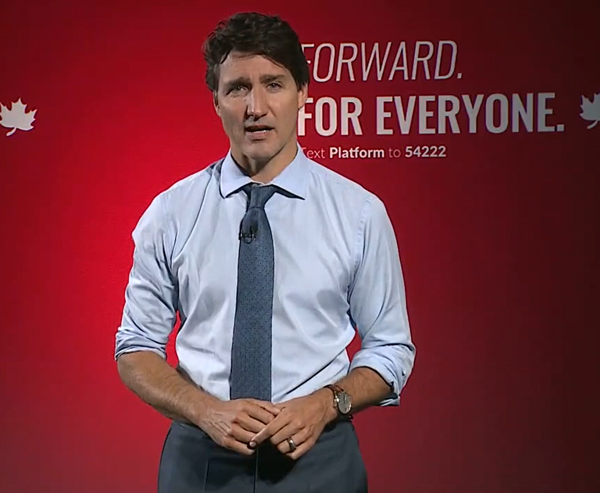 Freeland spoke first at the Liberal event, presenting the Liberals' $10-per-day child care promise as an issue that differentiates the parties. The Conservatives would dismantle the Liberals' program – which includes eight bilateral agreements negotiated with provinces and territories – and introduce a child care tax credit.
"Canadian women have been fighting for early learning and child care as an essential feminist policy," said Freeland. "The COVID recession has shown once and for all that it is also an essential economic policy."
The Liberal platform contains promises to build homes in urban centres for middle-class families, affordable housing for vulnerable people and co-developed housing for Indigenous people.
Under a green jobs plan, construction workers and tradespeople will build homes with new energy-efficient materials and methods and mill and smelter workers will continue making cleaner aluminum and steel.
"Let's talk about what real action on climate change means," said Trudeau. "Clean air for today and tomorrow; good jobs for years to come; Canada succeeding in a world where competition is increasingly green."
The plan for Indigenous reconciliation includes pledges on addressing the legacy of colonialism and residential schools, clean water, protecting the well-being of indigenous children and continuing progress towards self-determination.
Commenting on the Liberal plan, O'Toole said, "We see a number of recycled promises and some tweaks to a two-year budget released today, with not a complete plan for economic recovery as a country."
The Liberal platform also includes verification of its costing, reflecting consultation with the PBO on 10 of the party's major promises.
The package contains an additional $78 billion in spending over five years and estimates that the federal deficit will decline from $156.9 billion this year to $32 billion in 2025-26 with no timetable for its elimination. Federal debt as a share of GDP would be reduced from 49.2 per cent to 46.5 per cent in five years.
Trudeau took aim on the Conservatives' costing during a question-and-answer session.
"None of the other parties have shown their numbers, have shared their costings beyond a few projections that rely on magical thinking, like three-per-cent growth through the coming decade every year for Canada, which only happened once in our history," he said, referring to the Conservative pledge to balance the budget in 10 years with no cuts if growth was in that range.
"What we're seeing, with this ambitious and detailed and responsible and concrete platform, is a debt-to-GDP ratio, a portion of our debt in relation to the size of the economy, decreasing even faster than we had predicted only a few months ago in Budget 2021," said Trudeau of the Liberal plan. "This is the plan that is going to bring Canadians forward to end this pandemic, to invest in growth as we fight climate change and create jobs."
O'Toole explained during a media session that his party had submitted its platform to the PBO and was awaiting comments.
Also on Sept. 1, NDP Leader Jagmeet Singh committed to using federal lands to build more affordable homes. He used the Peel Basin in Montreal as an example of a suitable site.
"I'm not Justin Trudeau. I don't work for billionaires. I fight for regular families, and I'm committed to building more homes people can afford, including right here in the Peel Basin area," Singh said.
Follow the author on Twitter @DonWall_DCN.