Prime Minister Justin Trudeau put it simply when it comes to tackling the labour shortage: "We need more people" and we need to entice them now.
It was a message he delivered to members of the Carpenters' union who had a unique opportunity to ask Trudeau questions about training, immigration and how to remove the stigma to better promote careers in the trades during a recent a town hall meeting at the union's training centre in Woodbridge, Ont. Feb. 21.
"One of the big questions we get all the time is as our government is raising immigration levels to the highest levels it's ever been in a few years, we will be bringing in 500,000 people a year, we are already facing challenges in housing. Where are we going to house these 500,000 people?" he said. "All these people would be able to contribute in the building trades a lot, particularly now that we are targeting changes in our immigration system that allow us to target more specifically areas where there are still shortages or trades shortages."
Trudeau was also asked what the government is doing about undocumented workers.
"We need to do a better job of making sure that we are fully regulating the system, that there isn't as much black market work, not as much work done under the table," he said.
He pointed out there are a lot of pressures on the immigration system right now. The government looking at ways to bring in more people more easily, but some people are worried letting in too many immigrants may take jobs away from Canadians.
"The reality is when new Canadians come here they create jobs, they create growth, they create prosperity," he said. "But you do want to make sure you're demonstrating that in a responsible way, so we're busy trying to make that shift so that we can bring in more people.
"We have to make sure everybody knows we have a system that is based on rules and enforces those rules. People can't take shortcuts when other people have worked really hard and waited a long time to come here."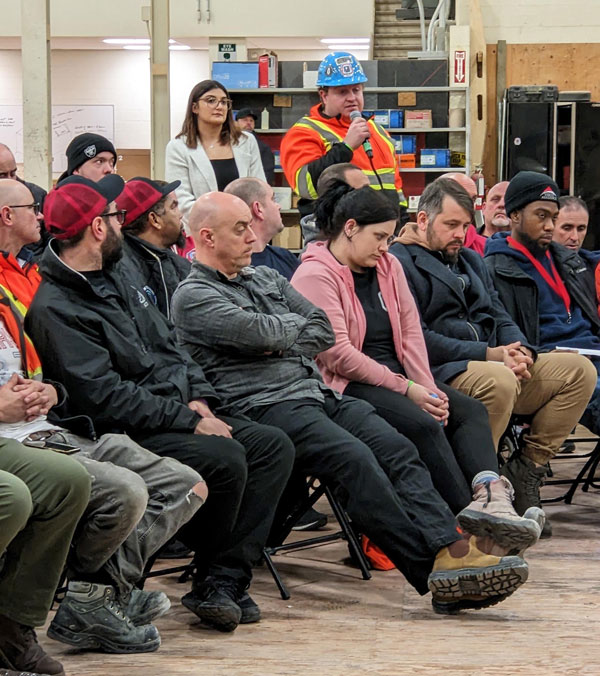 He also reiterated the importance of building a solid trades career, something that can't be replaced by technology.
"I'm standing here in this training centre that is proof positive that you will continue to be able to adapt to all the new technologies, all the new opportunities that come in with the world that is transforming," Trudeau told the crowd. "Everyone says the future is going to be all digital and the future is going to be all science and technology. Absolutely, yes, and the jobs you are going to be doing are going to continue to get more sophisticated, require more and more technology and computers to do it, but building a house is never going to be done by a robot. The skills you have are always going to be necessary and they can't be offshore."
Trudeau said there is always going to be a need for trade jobs as long as the country continues to grow.
"The conversation I had with some of your leadership was we have to let more people in, we've got more room, we've got more jobs for people to come in," Trudeau explained.
Many people with university degrees are working in retail right now but there are other options, Trudeau said.
"Yes, we're bringing more people in, but I think there is a shift that has to happen and honestly it's in the mindsets both of parents and of young people," said Trudeau. "When you think about it, the combination of creativity, some significant physical skill and some training and knowledge all together that is embodied in the trades, it's the kind of thing that gives you a satisfaction in work that feels realer than some of the other jobs out there."
A red deal carpenter who is also a high school construction teacher asked if the government has a plan to include a minimum number of apprentices on federal projects.
"One of the things we are looking at is a minimum threshold for apprentices on jobsites that have federal funding," said Trudeau.
"We need to be training that next generation every step of the way."
When asked about providing grants and incentives for women in the trades, Trudeau said the government will continue to do everything it can to support women and other groups like Indigenous people and new Canadians as well.
"We need more women in trades. We're also moving forward on increasing the grants for apprenticeships so people can afford to go and get training in the trades."