The consortium building Ottawa's $2.1-billion phase-one LRT line has confirmed it will hand over the project to the city in a state of operational readiness by March 31.
That means, said Michael Morgan, director of rail operations for the municipally run OC Transpo, writing in a memo, that the new 23-kilometre Confederation Line will be ready to accept its first passengers before the end of April, after a set of preparatory steps are taken.
The assurance of March 31 Revenue Service Availability (RSA) status by the Rideau Transit Group (RTG) came in a letter to the city dated Jan. 3.
RTG started work under a design, build, finance, maintain contract in February 2013. The firm will continue to maintain the system until 2038, with OC Transpo undertaking operations.
An original RSA date of Nov. 2, 2018 was missed, costing RTG $1 million in penalty fees.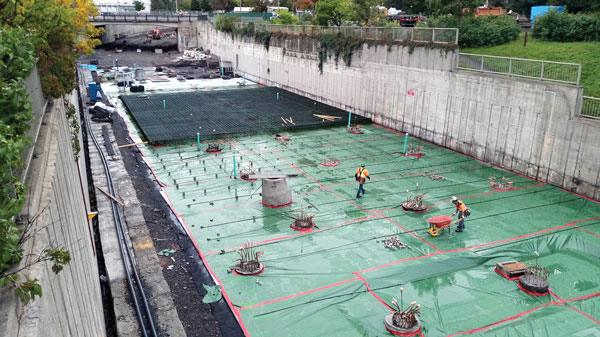 City representatives declined to comment on the latest development. Members of the city's Finance and Economic Development Committee heard a comprehensive update on construction and service readiness procedures from John Manconi, the city's manager of transportation services, in November. At that time, it was anticipated the system would be operational by March 31.
"In Ottawa we don't brag about some of the things we've done but I've been to New York City and Boston and Philadelphia and other large operations, and nobody has what we are building in Ottawa," said Manconi in that presentation. "A fully integrated multi-modal control system, all modes, train, electric, diesel, bus, para and security all integrated under one system."
The project agreement lays out a number of requirements for RTG to complete before the RSA date including all civil work; all mechanical and electrical systems; delivery of all light rail vehicles; all customer facing elements, signs, next train announcements, the public announcement system and wayfinding; commissioning and overall system performance verification and integration testing; safety certification of the integrated system; independent safety auditor compliance; and successful trial running.
Members of RTG include SNC-Lavalin, EllisDon, Dragados Canada, Alstom, Hatch Mott MacDonald, MMM Group and Fast + Epp. The procurement model is alternative financing and procurement.
Morgan said after the handover the next steps for OC Transpo will include "operational readiness activities required to ensure that the Confederation Line seamlessly integrates into the OC Transpo network prior to opening day, including additional City-led system practice, simulated system operations and staff training."
Manconi said RTG has been working with the city and numerous other agencies to meet readiness goals. On the night of Nov. 13, 2018 six trains were running with top speeds of 83 kilometres per hour reached. On another early morning, a full complement of emergency teams responded to a mock emergency situation to test emergency preparedness, he said. A "stress test" of the system was undertaken with 40 to 50 buses arriving to test interaction with the trains.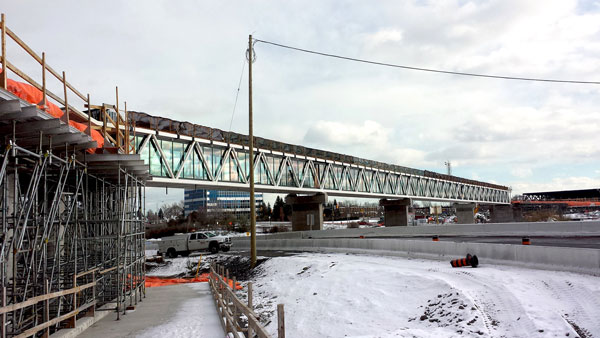 Hundreds of scenarios have been examined with police, paramedics and fire officials, he said.
"It's to ensure we are ready with what will potentially occur," he said. "There will always be an incident.
"To be candid, there are very good days of testing and commissioning and there are challenging days, but that's what you want. You want to find out where issues are and you want to deal with them."
Fifty-five train trips were taken on Nov. 13 to ensure, among other goals, the sophisticated communications-based control system (CBCS) was operational. All east-end stations were essentially complete, he said, with inspections finished and RTG applying for occupancy. Others, however, including the Rideau station, were lagging but RTG was working "24/7" to ensure completion. All fare gates and vending machines have been installed and tested, as has the operations control room.
The CBCS system "has been proven around the world," said Marconi. "It puts safety at the forefront."
The Pimisi station in the east end was a critical piece, said Marconi.
"Not only are we building an LRT station, we are building a multi-model transit system," he told the city councillors. "There are cycling lanes and MUPs (multi-use pathways) now incorporated."
Members of Ottawa's cycling community had been "highly critical" of the Pimisi connection, said Marconi, but "the OC Transpo team figured this one out."
Interfacing between multiple trains also has to be tested.
"Two trains connected together is another major milestone," he said. "We are looking for indicators of how we are moving into the end state of how this system needs to work."
The end goal, Marconi said, is clear — to execute a safe, reliable system that delivers on the $2.1-billion taxpayer investment.
"We want to give the customers and taxpayers exactly what they are paying for," he said.
The cost of the project is being shared by the three levels of government.
The $3-billion second phase will expand upon phase one and undertake other complementary transit projects.