Safety and recycling are priorities when it comes to the upcoming demolition of vacant Metrolinx-owned properties along the corridor for the future light rail transit (LRT) project that is getting under way in Hamilton.
Thirteen properties are slated to be demolished to make way for staging and construction areas. Most of the buildings are in close proximity to other structures and there is pedestrian and vehicle traffic near the site which makes the work challenging. Metrolinx has already demolished 23 buildings along the route.
"This is a dense urban corridor," explains Kris Jacobson, director, bus rapid transit at Metrolinx. "We're taking down buildings that are directly adjacent to other buildings so it's very tight. It's not like we are free on either side of the buildings and have a lot of land to work with so we're operating in very confined spaces.
"These are in urban areas with small footprints, so ensuring that the workers are safe and adjacent properties are safe, and that pedestrians or vehicles on adjacent roadways are shuttled away from the demolition site itself, is a priority."
Most of the buildings are along King Street East, Paisley Avenue South, Bond Street South, Main Street West and Main Street East in Hamilton's downtown. Properties along the route include a former bowling alley and optical store.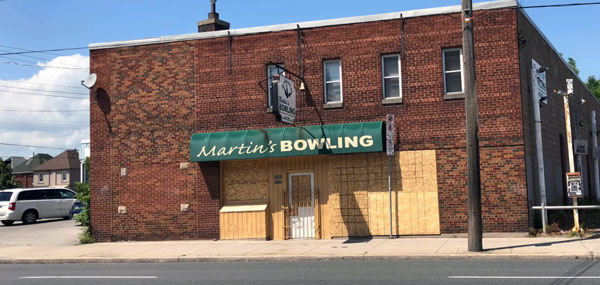 The demolition work is required to widen the right-of-way for infrastructure and tracks of the 17-stop LRT. Once the buildings are torn down, the sites will be secured with fencing and monitored by security.
Some pre-construction work has already started along the 14-kilometre corridor. Soon, crews will be doing a review of the surface features along the route, drilling boreholes to determine soil conditions and underground flows from nearby sites and properties, and identifying where existing utilities and lines are buried.
Metrolinx also intends to acquire additional properties along the route in the coming weeks and will be reaching out to landowners. The corporation identified 60 individual properties along the corridor that would need to be demolished, so roughly half of the demolitions have been completed or are under way.
The first batch of tear-downs was done by Budget Demolition. Tri-Phase has been retained to do the current round. How the buildings are demolished is left to the contractor and much depends on the individual site.
"In general, when you're looking at a building coming down, it's done with excavators," says Jacobson. "They would go in and have a demolition plan where the excavator would kind of tear the building down. But there's a lot of work that goes into demolition. It's not just show up on the site and start tearing down buildings."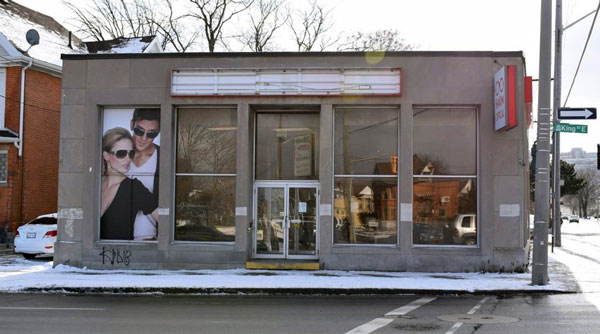 Metrolinx is working with the demolition contractors and City of Hamilton to make sure pedestrian, transit and vehicle access or detours are visible and easy to follow, says Jacobson, and residents and businesses near the sites receive advance notice of demolition activities.
"Anytime we're doing any work, whether it's demolition work or construction work or work in general, we definitely have a safety plan in place, making sure that safety is taken care of on all fronts."
For example, if there is a pedestrian walkway near a construction site, safety precautions will be put in place such as appropriate protective hoarding and measures to protect from falling objects or materials.
"There's a number of things that we can do to make a site safe," says Jacobson. "Every demolition project starts with a safety plan, 'Where are the hazards that interact with our zones?' and, 'How do we mitigate those hazards.'"
Demolition contractors are also recycling as much of the debris as they can.
"Recycling is a huge part of any demolition contract and for any demolition contractor," says Jacobson. "The goal is to have 100-per-cent recycled material if you can. It's hard to achieve sometimes, but with a lot of material you can do it. It's wood sometimes, steel, brick, and a lot of that material can be recycled."
The LRT project is critical to Hamilton and will connect McMaster University in the west to Eastgate in the east. It will be integrated with local bus service and connect with bike share and GO bus and rail service.
The venture was re-initiated in May 2021. Metrolinx is presently working with the City of Hamilton to establish a project team and work through the various procurement options to determine the best method to deliver the project and bring on a design builder. That process will take most of the current year.
"I think it's an exciting time for Hamilton," says Jacobson. "It's an exciting time for the province. We're having both the provincial government and the federal government committed to building higher-order transit in Hamilton and across the province and it's really great to see a great era for transit building, and not just in this community but across the province. We're excited to deliver this project along with our partners at the City of Hamilton. It's going to be very welcomed by future generations, for sure."