The amount of damage Fiona caused is difficult to fathom, says Sam Sanderson, general manager of the Construction Association of Prince Edward Island (CAPEI), let alone wrapping your head around the time it will take to rebuild.
"Our coastline has been forever changed. Some of the famous beaches have totally vanished. The damage to our small craft harbours and our fishing communities has been unprecedented and on top of that is the damage to residential and commercial buildings and infrastructure," Sanderson told the Daily Commercial News Sept. 26.
"It's just going to take time, and this is going to be a large process. We're seeing damage we've never seen before. It's going to take every member of our association and every member of the industry right across the board to restore services and restore infrastructure in the coming days weeks and months ahead."
In a statement posted on social media, the association said the industry will work with partners at all levels of government, private owners and the general public to "start the process of building P.E.I. back better."
The storm was one of the worst in Atlantic Canada's history. Many people are still without power. There are many trees and downed power lines lining the streets. Roads and bridges have been washed out and there has been significant damage to infrastructure, homes and businesses.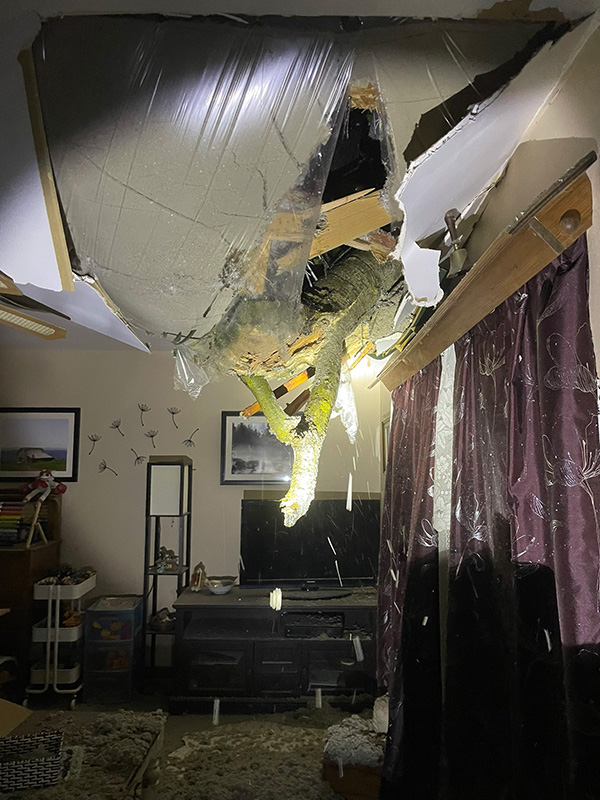 "I spent time yesterday (Sunday) afternoon and this morning touring around, looking at some of the damage," he said. "We've seen many new residential properties under construction, walls framed up and rafters up that are laying on the ground. One of my contractors had multiple projects on the go and said that three of the houses he was building were totally destroyed, flattened."
The extent of the damage varies, he added.
"We've seen one building on one side of the road be totally destroyed and a similar building on the other side of the road with zero damage whatsoever," Sanderson noted.
Last week was difficult for the construction industry in P.E.I., Sanderson explained. There was a statutory holiday on Monday, Sept.19, the National Day of Mourning in honour of Queen Elizabeth II, which shut down sites, followed by the inclement weather.
"Contractors worked very diligently on securing as much as they could as fast as they could," he said.
Following the storm, CAPEI members didn't waste any time in getting out to help as soon as it was safe.
"The phones started ringing at midnight Friday night," recalled Sanderson. "People were having issues then and it wasn't safe for anybody to get out at that time and do anything for anybody. As soon as the winds started subsiding a little bit and contractors felt it was safe they did their best to get out.
"At 3:15 Saturday morning I was on social media with a couple of our provincial ministers along with a couple of contractors talking about what we have available what the next steps are going to be."
Duncan Williams, president and CEO of the Construction Association of Nova Scotia, said the province is starting to assess the damage and deciding what to do next in terms of revitalizing critical infrastructure.
"We didn't see any cranes that I'm aware of come down in Halifax, so that's a good thing," Williams said. "There are clogged streets and trees and debris everywhere and a lot of damage done to homes."
The devastation on Cape Breton Island was severe, he noted.
"They've got major washouts, a lot of infrastructure was heavily damaged, especially power and telecommunications infrastructure and a lot of high tides and coastal damage," said Williams.
While many organizations are up and running, power is still out in the industrial park area and some CANS members located there are not up and running yet.
"Some of them are just not able to function but some of them were able to get in the yards and get materials out and get going and start hitting the sites again," Williams said, adding it also depends on worker availability and whether or not they have been impacted and are able to get to work.
"What's happening right now is most provincial organizations are doing their full assessments as fast as they can and crews at the city level, the provincial level and private contractors are being called in where necessary."
Follow the author on Twitter @DCN_Angela.