Mass timber, embodied carbon, environmental, social and governance (ESG) endeavours — all of these "hot topics" recently made their way into PCL Construction's 2021 Corporate Social Responsibility (CSR) report.
"It's a report that is a living document that evolves each year," said Scott Beckman, director of sustainability at PCL. "What we're trying to do is to incorporate some of the best practices that we see in ESG reporting, so we've adopted that and included more metrics and things that are quantifiable in our approach and in our outcomes for all three of those categories this year."
The report provides an update on the sustainability road map that includes reducing construction-related carbon emissions, building infrastructure with clean energy and leveraging renewable materials.
Some of the accomplishments cited in the report include 248 LEED-certified projects with a value of more than $18 billion; water and wastewater facilities that provide more than 20 billion gallons of treated water per day; more than $3 billion worth of renewable energy projects; more than $500 million worth of biofuel and biogas projects; and more than 3.2 gigawatts of solar projects.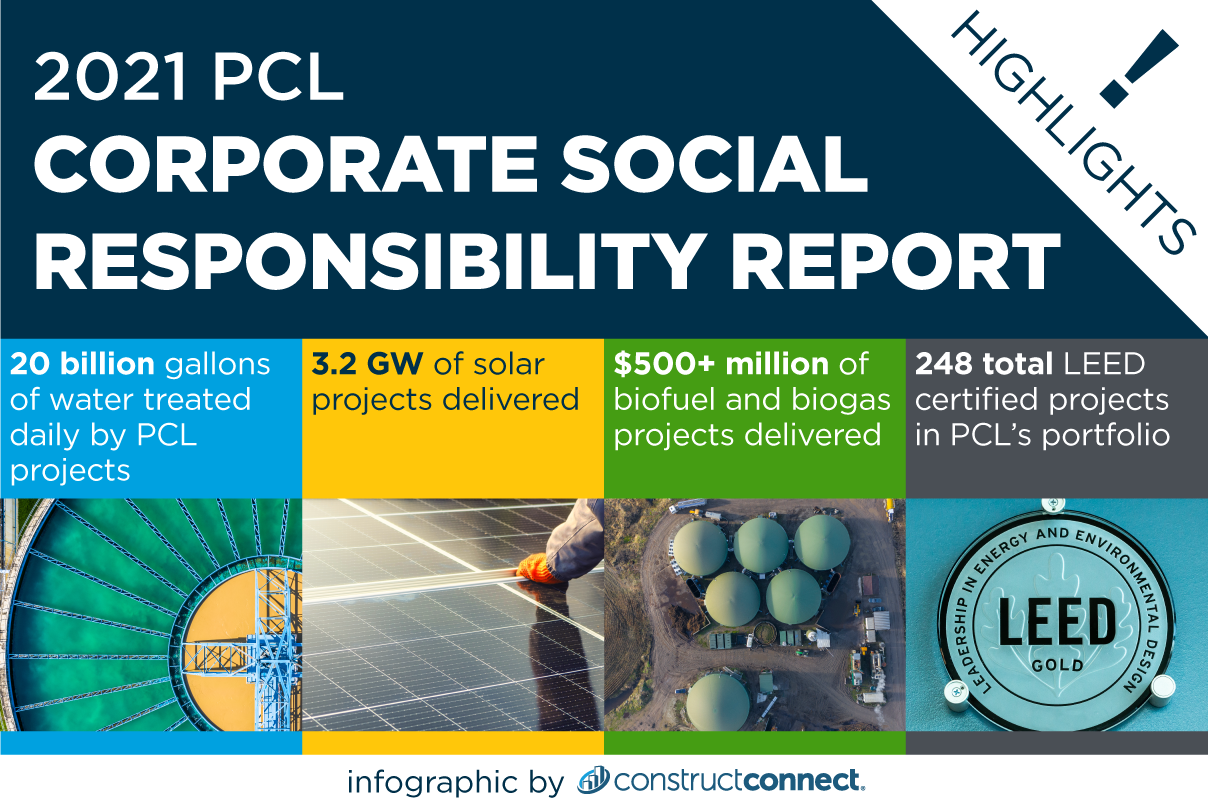 The report also explores how to reduce PCL's carbon footprint.
"We as a company have energy use and carbon emissions related to our offices and yards, our fleet vehicles and then also the ways in which we use energy on our jobsites. The report this year attempts to showcase how we are going about gathering that data and beginning to understand those impacts."
Diversity, equity and inclusion efforts across the company were also included in the report.
In terms of sustainable practices, last year PCL completed its first iteration of the idle reduction campaign.
"That was an internal effort to encourage our staff to be conscious and conscientious of idling of our fleet trucks and vehicles while on jobsites and out doing work and trying to reduce the amount of unnecessary idling, thereby reducing fuel usage and costs and also carbon emissions," said Beckman, adding other measures include using LED lighting on jobsites.
"We've also been transitioning our tools to electric and using battery generators where possible as opposed to gasoline or small diesel generators to reduce emissions. We continue to pilot solar jobsite trailers where feasible."
One of the firm's highest profile sustainable projects is the Ken Soble Tower at 500 MacNab, an 18-storey, 146-unit affordable seniors housing complex in Hamilton, Ont. The building, which was originally built in 1967, is the largest residential retrofit in the world to achieve certification under Passive House's internationally recognized EnerPHit program for buildings that meet ultra-low energy standards.
"We have engineers on staff who can support the envelope detailing and engineering necessary on a project like that where we have to meet very strict air flow reduction requirements across the building envelope," said Beckman. "That means being highly conscious of the details of the structure of the envelope, the materials, how the materials come together on the façade of the building to reduce unnecessary air infiltration to increase the energy efficiency."
Embodied carbon has also become a hot topic in recent years, Beckman noted.
"As the building code and standards have increased and we now have buildings that can operate very energy efficiently during their operation lifecycle, now we're starting to focus more on the embodied carbon related to the materials up front in the construction and processing," he said.
"One thing that we've been putting a lot of emphasis on is low carbon concrete solutions…that involves some additional planning up front for us to understand the properties of the concrete mixes that are available in local and regional areas and how we can then apply them to meet the performance, cost and schedule criteria associated with a specific project."
Mass timber also continues to gain attention both in Canada and the U.S.
"Owners are interested in mass timber for a number of reasons," said Beckman. "The environmental story is certainly a big piece of that but also the esthetic qualities of mass timber design. For us it can also come with schedule benefits. We can often erect a mass timber project structure much more quickly than other alternatives but there are cost and schedule tradeoffs that come with that."
For the full report visit Corporate Social Responsibility Report 2021 (pcl.com)
Follow the author on Twitter @DCN_Angela.