Designers, builders and architects need to pressure their communities, policy-makers and others to focus on negative emissions technology, renewables and electrification to wrestle climate change here and around the globe.
"This isn't a future solution, it needs to happen now," said Peter Halsall, the former president of the Halsall group of Companies.
"Everything we do has to change. The materials we use, how long they last, what it would take to change the use of that building…it has to start today," Halsall, who was the keynote speaker at the 16th Canadian Conference on Building Science and Technology (CCBST) recently in Woodbridge, Ont. told a packed auditorium at the Paramount Eventspace.
Research indicates the building community consumes 40 per cent of the world's energy, 65 per cent of its electricity, 40 per cent of its raw materials and of 25 per cent of all virgin wood.
Buildings are "a critical component" of the solution to climate change but the volume of data reported can be confusing, he said.
He told delegates at the conference that most countries are not meeting or fully committed to substantial green agendas.
"I know the system is against us as individuals…but you'd be surprised how effective public opinion is in getting to the people who are looking for your vote."
He said there needs to be "a common ground" on what buildings contribute, "whether we're talking about energy, electricity or carbon, as an end user, was it measured only produced at the building…all these different numbers complicate the message."
According to RBC Imagine, a global research initiative into disruptive forces transforming the world, electricity consumption is expected to rise by 50 per cent in a decade. Others project the demand tripling by 2050.
The utility companies, however, are not planning for the surge and regulators are not mandating grid expansion, Halsall said.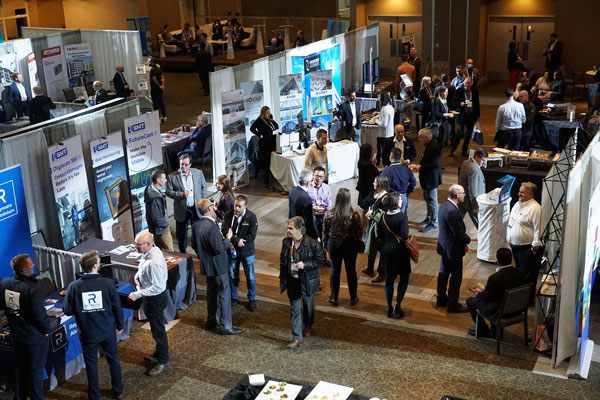 "If you guys are working on deep retrofits and converting to electric systems and the grid isn't going to be available, that's not going to help you, or your kids."
Still, he said renewable power will be "way less expensive" than energy from fossil fuels in the lifespan of buildings so don't use today's energy pricing as a reason to choose one solution over another.
Halsall, who co-founded Purpose Building with others from the Halsall Green Building team largely to shift away from relying on past technologies for future decisions, said Ontario's 800,000 condominium units (55 per cent of all homes planned for construction are condos) can't be decarbonized with the current reserve funds or construction standards and inflation is hampering progress on that front.
The cement industry, "a huge contributor" to climate change, is working on carbon footprint reductions. Pressures from competitors such as the relatively new mass timber movement and the steel manufacturing industry with its electric arc furnaces and high recyclable content are drivers, he pointed out.
Halsall argued too many retrofit projects involve unnecessary removal of materials, including building envelopes. He cited two projects his company has worked on where moisture infiltration in condo walls was caused by poorly installed windows and bad roof designs but "multiple opinions" suggested complete envelope removal as the solution.
"I think as an industry we need to stop throwing away good stuff. There is way too much of that going on from what I understand."
He advised the young designers in the audience to lobby for updated building codes because they are not keeping pace with today's green technological developments.
A staunch advocate of integrated solutions, Halsall said building systems fail when everyone is not on the same page.
"If you stick a grid envelope on a crappy mechanical system the building is going to suck."
Buildings that work in today's world but are also ready for the future must be designed with better envelopes, air control improvements, embodied carbon and wholescale electrification, he said.
On a positive note, Halsall pointed out population growth around the world, a key factor impacting climate change, is in "rapid decline."
Data indicates one factor is that women are increasingly better educated.
Ironically, reduced infant mortality is another factor because women are having fewer children as the infant survival rates climb.
A third important reason for the population decline is simply that it is getting "really expensive to have kids."
Presented by the Ontario Building Envelope Council, the two-day convention featured a number of seminars and a trade show with 30 exhibitors.