WoodGreen Community Services, Toronto's largest non-municipal affordable housing provider, is knocking on every door possible in search of partnerships as it moves aggressively towards its goal of creating 2,000 new affordable units by 2030.
The agency has been working with such diverse partners as Daniels, Sun Life, Castlepoint Numa, the Canada Mortgage and Housing Corporation (CMHC), Danforth Baptist Church, Newmarket Funds, the Sprott Foundation, R-Hauz and the City of Toronto to cobble together deals to reach its 2030 target, building on the original inventory of 1,000 units.
WoodGreen executive director Teresa Vasilopoulos explained a major advantage the agency has as it works with developers on social housing projects is that once a residence is up and running, WoodGreen can provide the wraparound supports the residents will need — builders do not have that expertise.
The projects will provide supports and roofs over the heads of seniors, homeless people, women in transition from shelters and others.
"They can worry about their line of business, which is constructing communities," said Vasilopoulos. "And then WoodGreen can worry about the human side of the business, which is supporting the people to be successful in their tenancy."
Vasilopoulos said WoodGreen also has experience in obtaining early-project philanthropic contributions. It might be a feasibility study that demonstrates that a project can work financially; or, it's funding from a family foundation like Sprott that supports the purchase of a property.
"Then we can work with the developers and the city. Then we unlock all of the other affordable elements that are eligible for the not-for-profit sector," she said.
Vasilopoulos said two recent initiatives that have also supported WoodGreen's housing outreach have been the federal Rapid Housing Initiative (RHI) and the City of Toronto's inclusionary zoning rules, which require developers to set aside a certain percentage of residential units for affordable housing.
Every WoodGreen project over the past few years has its own origin story, with different sources of funding, development models and construction partners, Vasilopoulos explained.
For one 350-unit project by Daniels on Nicholas Avenue, Sun Life wanted to work with WoodGreen to support affordable leasing of 10 per cent of the units. Sun Life's contribution enabled a deal with longer-term fees that led to 35 units set aside as affordable.
Last April at 1117 Gerrard St. E., WoodGreen officially opened 36 units of seniors housing that were supported by the CMHC, Toronto's Open Door program and Newmarket Funds, a social impact fund. The project was an adaptive reuse of the Riverdale United Church.
In 2021 WoodGreen announced a strategic partnership with values-based developer Castlepoint Numa to deliver and manage 300 to 400 new affordable housing units in Toronto.
The partnership will see four projects built in the next eight years including a 108-unit rental building with 10 to 15 affordable apartments at 72 Perth Ave. The supported residents will be from the entertainment industry.
Additionally, WoodGreen is taking advantage of the RHI for two other projects — one at 1080 Queen St. E. that will add nine units to be delivered using WoodGreen's seniors cluster care model, and another at 60 Bowden St. that will add 50 affordable units for seniors.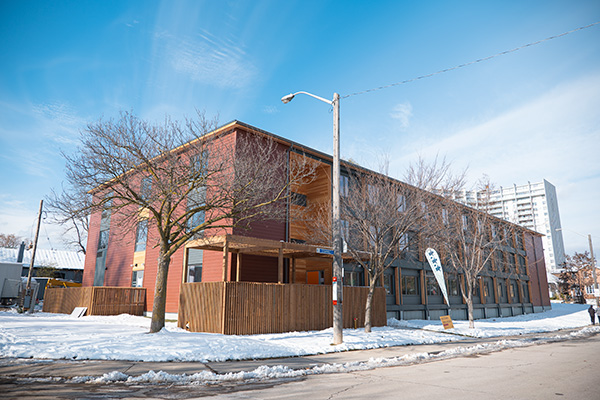 The eight-storey Bowden Street project meshes with WoodGreen's announcement of its $25-million Unmet Needs fundraising campaign. Of its goal, $5 million will be slated for affordable housing and community care supports for seniors.
Bowden Street will include two clusters of nine units that will provide meal services and 24/7 staff supports to residents who may require assistance with daily activities.  The remaining units will be a combination of studio and one-bedroom apartments.
The project, on the site of the Danforth Baptist Church, is another adaptive reuse and will feature mass timber over the retained church basement in the northern half of the facility. 
WoodGreen has contracted with R-Hauz as the builder, manufacturer and developer.
The demolition phase is expected to take place in May/June 2023, construction will begin soon after and the projected timeline for completion is approximately 12 months, with the urgency dictated by the RHI funding conditions.
R-Hauz will engage in "tilt" construction with the mass timber pieces, Vasilopolous said.
"They bring in the pieces and then tilt them into place on each of the floors, which made the construction on that site doable," she said.
"It's environmentally friendly, energy efficient and accelerated construction times are available."
In total, the tally of new homes launched since WoodGreen's 2030 target was announced two years ago is 500, meaning the agency is halfway to its goal.
"I think we're very confident that we can reach that goal, because we've already seen the tremendous support through the developer partners," said Vasilopoulos.
"I think it's only through this kind of effort that we're actually going to be able to even get close to the Toronto goal of 40,000 affordable housing units, and even that isn't going to be enough."
Follow the author on Twitter @DonWall_DCN