Enwave Energy Corporation has broken ground on a new low-carbon heating facility that will enable a significant expansion of its downtown Toronto district energy program.
The new Green Heat system at Enwave's Pearl Street Energy Centre will recycle district waste heat to produce hot water via electrification, as opposed to typical natural gas applications, using dual-use heat pumps, electric feeds and generators.
The project received extensive support through a grant from the federal government's Low Carbon Economy Fund and a $600-million loan commitment from the Canada Infrastructure Bank (CIB) to boost the scale and build-out the project.
It is a significant milestone for Enwave's district energy program in that it provides decarbonization at scale, explained Enwave CEO Carlyle Coutinho, enabling numerous downtown customers to make progress towards their sustainability goals.
"Our original plan was to have a facility that wasn't as big, with a smaller capacity due obviously to the upfront cost of putting this infrastructure in place," Coutinho explained after the May 9 groundbreaking ceremony. "Then when the CIB came in, we started engaging with them. We had the opportunity to do this once and do this right and do it at scale, so we increased the size of the facility so that we can service what we have here today plus an additional amount to grow."
The CIB announced the investment in November 2021 along with a contribution to a similar Enwave project in Mississauga.
CIB managing director of investments Sashen Guneratna explained one of the bank's primary objectives is to help decarbonize Canada through various strategies, one of which is to de-risk projects to get them off the ground in the first place or to accelerate and upscale projects where traditional funding sources are reluctant to participate.
"A city like Toronto, where growth is happening all around us, if they can put in an asset that people can plug into in five or 10 years, as opposed to putting boilers and chillers in new buildings, is a win for us," said Guneratna. "We're sharing risk with the private sector on that development happening and those emissions savings being realized."
Eventually, when Enwave has signed up enough new customers, the commercial market will take over, said Guneratna.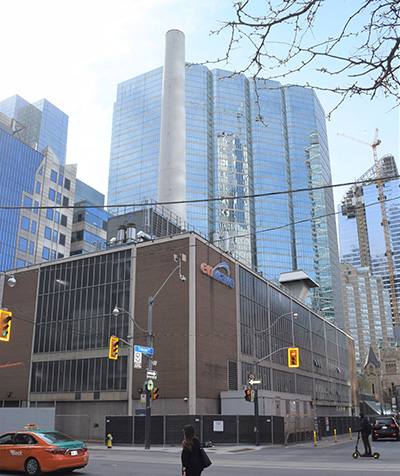 "Those investors will replace us," he said. "We are here to fit a gap that actually exists. And once that gap is filled, and the revenue is there, we don't need to be here anymore and we're out of the transaction."
When in full operation, Enwave's low carbon heating facility will provide enough low-carbon heating to reduce emissions in Toronto by approximately 11,600 tonnes of CO2, which is the equivalent of converting over 10 million square feet of office space to net-zero — or, said Minister of Energy Todd Smith, equal to four times the Empire State Building.
In addition to erecting the new three-storey facility, Enwave will be updating its existing 60-year-old building at 120 Pearl St. with a recladding of the facade and other improvements.
Enwave said the new project represents the start of a transition for the firm towards a broader low-carbon energy program in Ontario.
For nearly 20 years, Enwave has provided district energy to downtown customers through its Deep Lake Water Cooling system. Next will come new district systems that use other technologies such as wastewater heat recovery and geoexchange.
Enwave recently launched Enwave GeoCommunities, which uses the earth as a battery to store thermal energy and provide low-carbon energy to buildings that are outside of their existing districts. Enwave has also installed a thermal battery at The Well project on Front Street in Toronto.
Contributors to the Pearl Street project include the provincial and municipal governments, H.H. Angus, Hanson + Jung Architects, Sprint Mechanical, Stantec, TriVolt and BTY. The new facility at Pearl and Simcoe streets is anticipated to be completed and in service by late 2024.
Follow the author on Twitter @DonWall_DCN