The journey for families whose children are receiving medical care is often difficult and exhausting, but a new space has been created as a place of refuge on the inside and escape on the outside.
The new Ronald McDonald House Atlantic in Halifax is designed with a human-centred approach to create an environment that promotes wellness, healing and a sense of community.
"It comes back to creating a sanctuary," said Eugene Pieczonka, principal at Lydon Lynch Architects, who collaborated with Montgomery Sisam Architects and Ronald McDonald House Atlantic to design the new, expanded building.
For years, the organization has been offering accommodations to families from outside the Halifax area whose kids need specialized medical care at the IWK Health Centre. The need for accommodation has become greater over the last few years and building a larger, more modern facility was the natural next step.
The new home increases the number of family rooms from 18 to 35 and introduces four larger suites which include two-bedroom apartments with a kitchen space for the families who have to stay long-term or for children who are particularly immunocompromised.
The existing facility in Halifax was an old house that was converted but the capacity and space was very limited.
"You want to have a sense of a front entry and a porch. You want to have a foyer. You want to have a living area. You want to have kitchen and dining areas. You want to have a family room. You want to have a room maybe where kids can come and play. You want to have a space where families can get some exercise," said Pieczonka.
"There are all these spaces that to a large extent replicate some of the spaces you find in your home but of course they're designed to accommodate multiple families and create shared experiences which can be very important in a family's journey when their children are at the hospital."
The building is designed like a university residence.
"The ground floor is devoted to all of the common spaces, so there's the refectory which is like the dining hall and then there are various lounges. Because there are children, there are various play areas and craft rooms and activity rooms," explained Robert Davies, director and principal with Montgomery Sisam Architects.
"Then upstairs is where all the families' rooms are, so like the dorm rooms…The site we have is a very unique site right across the street from the hospital so it's very convenient."
The inside of the building is warm and inviting to provide a home-away-from-home feeling.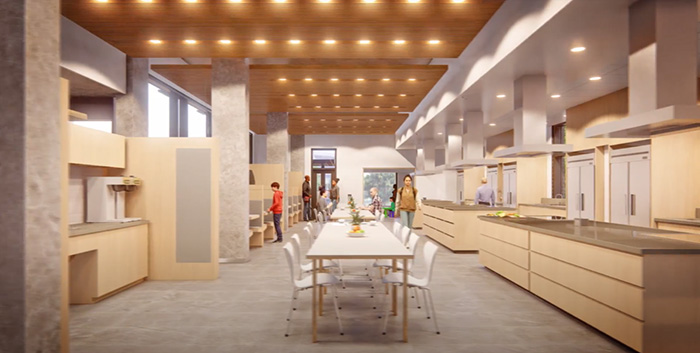 "There is a lot of wood but there is also a lot of windows to bring in daylight and offer views either to the courtyard or to the greenspaces beyond," said Pieczonka. "The use of colours is also important so that it further provides a sense of warmth and comfort for families. On the outside, it's predominantly a brick building…using residential type materials so that there is this sense of familiarity and comfort and welcoming. There is nothing sterile in its appearance, it's very warm and welcoming."
The building, which is five storeys and 4,000 square metres, is wrapped around an exterior courtyard. The outdoor space is especially important because the site is constrained, said Pieczonka. The goal is to offer a respite from the hospital and the city.
"The courtyard actually becomes our primary outdoor space for families and children to use," he said. "That's where we'll have some play structures for children. There will be an outdoor barbecue and dining area.
"The other nice thing about it too is towards the back of the property, because there is an elementary and a junior high school close by and they are surrounded by very large play areas and greenspaces…so from the courtyard and from a lot of the family suites they'll actually be able to overlook all these wonderful greenspaces."
The building is also anticipated to be net-zero-energy and net-zero carbon.
Pieczonka said creating a clean and healthy environment is important for healing.
"Some of the things that we are doing towards a net-zero carbon building is we have geothermal, so we're going to have 20 geothermal wells on the property that will be going about 500 feet deep which will then provide energy towards the heating and cooling systems and in floor heating on the main floor," he said.
"The roof is going to be built with solar panels which will hopefully provide as much as 20 per cent of the electrical requirements for the building. Further to that as well we're also looking at getting certified with the Rick Hansen Foundation Accessibility Standards."
Follow the author on Twitter @DCN_Angela