The stars appear to be aligned for a swift transformation of the Pickering Town Centre Mall and surrounding property in Pickering, Ont. into a new 55-acre multi-use city centre with thousands of new housing units.
The developer CentreCourt secured the purchase of the mall from the Ontario Pension Board earlier this year, a zoning bylaw and draft plan of subdivision were approved in January, CentreCourt's vision for the Pickering City Centre was unveiled Aug. 2, residential sales could be kicked off this fall and first shovels could be in the ground by 2024.
The political will to expedite the project was in full view during the Aug. 2 kickoff. Pickering Mayor Kevin Ashe stated, "As the mayor of Pickering, I'm thrilled to help launch this transformative project that will be a major step forward towards reimagining and revitalizing our downtown."
"We think it'll be a story of growth but also a story of renewal when it comes to commercial assets," said CentreCourt managing partner Gavin Cheung in an interview.
"Without a doubt the City of Pickering has been an incredible part of this project and has done an incredible job of collaborating and moving things forward. And I think that's part of a broader trend, city planners that recognize that it's paramount that we bring additional housing options on board, given where we are right now in terms of affordability."
Besides revitalizing the 700,000-square-foot shopping centre with its existing commercial, retail and institutional uses and delivering 6,000 units of high-density housing in 10-plus towers, CentreCourt plans to develop extensive green spaces, pedestrian pathways, a new roads system, gathering spaces and a "virtual clinic" operated by the Cleveland Clinic.
Highway 401, Kingston Road and GO Transit are all handy, and Cheung pointed out the City of Pickering will fully integrate a new community library and performing arts centre and a senior and youth centre, enabling, he said, the creation of a true new downtown core.
"Your ability to create a sense of community is a function of the vision that you have for the site, but it's also a function of what exists day one when you start to put shovels in the ground," said Cheung. "I think when we were first introduced to the Pickering City Centre project, on that front, we had to pinch ourselves.
"Where else in the GTA can you find in place an entire centralized downtown location in an area that's showing remarkable growth, that outpaces just about anywhere else, including the city of Toronto, 55 acres all in one location where you can have ball control with one vision and one developer? I think that's an enormous opportunity."
Cheung said project designer Diamond Schmitt led by principal Donald Schmitt designed Pickering City Centre to include a network of large open green spaces, wide streets, parks, midblock landscaped courts and urban piazzas that would bring people together.
"The beautiful thing about the way that Diamond Schmitt has designed the master plan is that the residential density will not only support the growth that's inevitably coming from a population perspective to Pickering, the residential density will support the mall. It will make it more enduring," said Cheung.
CentreCourt has extensive experience as a highrise developer in the GTA with 19 highrise residential projects collectively representing over 10,000 homes and $5.6 billion of development value.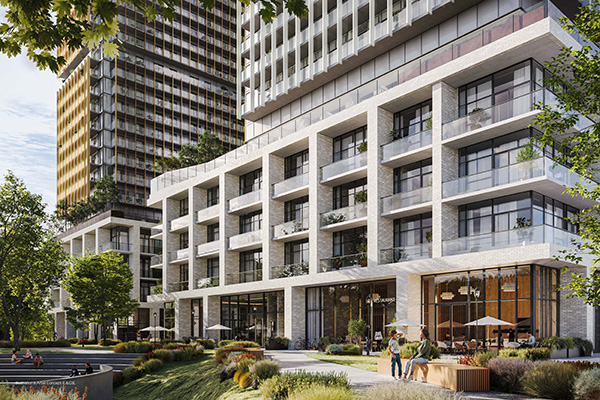 Cheung said the Pickering City Centre project is the firm's largest undertaking so far and builds on the others, including the sprawling Vaughan Transit City project.
The housing program is still being developed, Cheung said, but the first phase will be revealed in a matter of months. Amenities will include a 20,000-square-foot fitness centre that will feature yoga rooms, spin rooms, saunas and high-end fitness equipment, a rooftop pool, outdoor lounge areas and grilling stations, co-working and social areas, and a golf simulator lounge. 
Cheung said the creation of a sustainable community was "top of mind," with a special focus on making the commercial assets as energy efficient as possible.
At a time when high interest rates and other headwinds are causing some developers to think twice about new projects, Cheung said the region has all the right fundamentals including population and economic growth, city leadership, good infrastructure and the appetite for residential density.
"All of the things are there today," he said. "And, you know, those were critical in giving us that confidence level to put meaningful capital behind this initiative and this vision."
Follow the author on Twitter @DonWall_DCN