In the male-dominated construction industry, a carpenters' apprenticeship training centre in suburban Toronto is proving you don't need testosterone to get in the game.
Of the 20 to 25 full- and part-time instructors at the College of Carpenters and Allied Trades (CCAT), five are women, teaching classes ranging from basic carpentry to health and safety. And those women come with experience in the industry.
Two instructors have extensive work histories in scaffolding and formwork — fields regarded as the most physically demanding.
Alexandra Kelloway, one of the first Ontario Youth Apprenticeship Program (OYAP) students to train in the field, instructs scaffolding — a field she worked in for about a decade.
"She's a great role model because she has been successful in a male-dominated (scaffolding) trade," says Cristina Selva, CCAT's executive director.
Kerry Hill also breaks the mould. Among the classes she teaches is one on formwork, notes Selva.
"She started her apprenticeship with us through the formwork apprenticeship program, which, like scaffolding, is the trade you would least expect to see women."
But Hill, who might be one of the first women in formwork won't be among the last and, Selva says, others have been successful in the trade.
Men and women are like right and left hands: It doesn't make sense not to use them both
— Cristina Selva
College of Carpenters and Allied Trades
Jane Davis, who teaches health and safety courses at the training centre, recently got a technology teaching certificate through Brock University, qualifying her to teach in high schools.
Kathryn Trickett is one of the longest reigning female instructors, having taught at the training centre since 2012.
Selva paraphrases an American politician who saw how essential women can be to an industry like construction.
"Men and women are like right and left hands: It doesn't make sense not to use them both."
But does having more female instructors translate to improving the odds that women will see the trade as a viable career option? Probably, says Selva.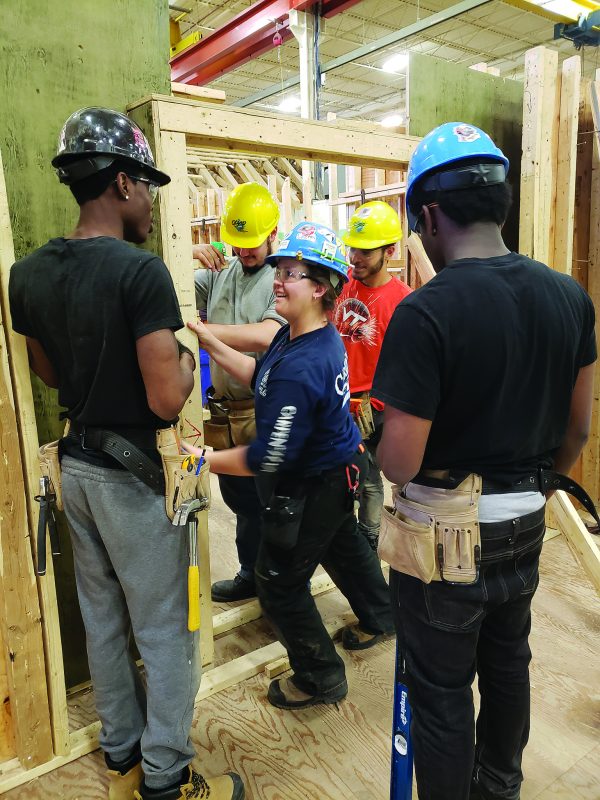 Female instructors can be the difference in a young female apprentice's desire to stick to the trade. She points out that female instructors play a significant support role and that is important when the ratio of women to men is tiny in classes or on the job.
A few years ago the CCAT established a mentorship program which helps struggling female apprentices in class or at a jobsite move past their troubles.
Selva says male instructors also play a vital role in mentoring female students but there are some challenges women face that a female instructor will better understand.
The CCAT has been building a case for more women in the trades for over a decade in part because the traditional male labour pool is drying up.
"One of those ways was to seek out potential instructors from, at that time (a decade or so ago), our very small pool of female apprentices and carpenters," she says.
The five CCAT instructors were hired based on merit and Selva says there is always room for more women on staff.
The CCAT's executive director is not aware of any other carpenters union training centre with as much female representation on staff. Lots of centres talk the talk but few walk the walk, she says.
The industry can't ignore the recruitment of any demographic group that has traditionally been under-represented (women and various ethnic/racial groups) because skilled labour shortages are surging, says Selva.
"They are going to be the source of our future carpenters, floor covering installers and workers."
She says it is any training centre's social responsibility to be welcoming all people into the fold.
Selva says Tony Currie, program director of the CCAT, has been instrumental in getting more women into jobs teaching at the centre.
She adds retention is often more challenging than recruitment. To meet that end it can start with something as simple as hiring an apprentice as a peer tutor to students having trouble with classes.
As young apprentices move through the program towards Red Seal certification, the CCAT keeps an eye on any male or female with an aptitude for instruction.
"When we see that (through class time and work experience) we offer them opportunities to maybe do (teach) some part-time courses."
The best ones take further steps to become full-time instructors. Each instructor receives training at the United Brotherhood of Carpenters training facility in Las Vegas to meet requirements for various levels of instruction.