A new colouring and story book features children sharing stories about people they know who work in the skilled trades with the goal of teaching youth about the career opportunities that exist in the construction sector.
All the Kids on Builder Street is the first in a five-part series that aims to educate and promote the importance of skilled trades to students from kindergarten to Grade 8.
"The book has kids talking about all their family members and friends who work in the different trades," explained Jamie McMillan, co-author of the book and founder of KickAss Careers, in an email to the Daily Commercial News. "The message is that knowing all these people helps them understand how everything is made."
KickAss Careers raises awareness and promotes careers in the mechanical, industrial, technology and construction sectors through school and community outreach. It touches on everything from the tools to "white hat" positions.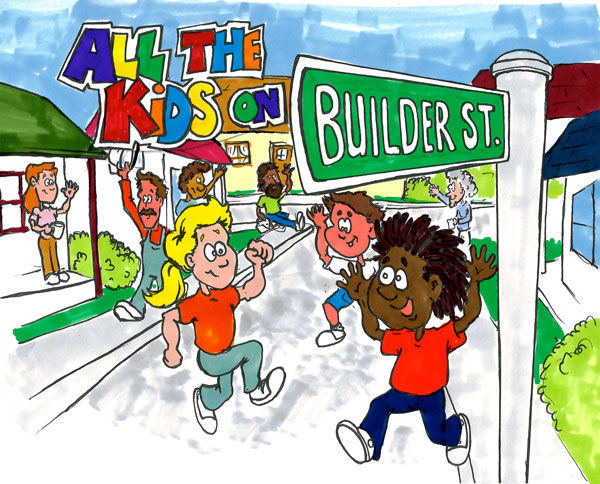 "As a professional speaker and advocate, it is important to have a book or information available for your audience," said McMillan. "Through KickAss Careers we have postcard flyers and hard hat stickers but we wanted something that would engage the younger generations when promoting pathways in skilled trades and tech."
Finn Pette wrote the first draft of the book and McMillan and Pat Williams, McMillan's business partner at KickAss Careers, finalized the "script."
When McMillan and Williams began working together in 2014, they spoke about her idea of a colouring book. In 2016 they asked Pette, a professional artist who is also a millwright, if he would be interested in helping out. They each came up with a few different ideas but Pette's script was "hands down the best of all," McMillan noted.
"Our purpose is to have the book recognized by educators and industry across North America as a great resource/education material for children to learn about the vast career opportunities in the building and construction industry," said McMillan, adding skilled trades need to be taught in schools.
The book is written in English, Spanish and French.
"Our goal is to sell and partner with educators and industry to have our book and its upcoming editions reach the hands of every young student across North America over the next five years."
The team wanted to present the information in a modern way that would be appealing to young people.
"I wanted to do an updated version of the 1986 book published by Tradeswomen Inc. for many years to advocate to younger children the importance of skilled trades and teach them some basics about what we do through fun cartoon-type images," added Williams in an email to the Daily Commercial News. "By interacting with the pictures in a positive way it will help give children a positive feeling of skilled trades. It should also encourage dialog with adults about the positive aspects of skilled trades including the tasks, apprenticeship-style education and monetary gains."
When asked what some of the challenges were in putting together the book McMillan said, "Choosing which trades to use and finding an artist who is familiar with those trades and tasks so the cartoons are authentic. We also had our own life circumstances over the past two years that at times made it difficult to meet deadlines."
In total, 18 trades are recognized in the book. It can be ordered for $5 plus shipping through patjwillimas4@aol.com in the U.S. and jiw.life@gmail.com in Canada. The group is also hoping to have it available in an online store on its website, www.kickasscareers.org, in the near future.