New technology continues to redefine the way buildings are engineered and designed but finding ways of recruiting and training a stable workforce to meet future construction demands remains a big hurdle.
Statistics indicate that currently 548,000 jobs in Canada are unfilled. The majority of small to medium-sized businesses have a limited investment in labour shortages, resulting in business managers doing work like shop floor management rather than putting the time into "growing their business," said Patricia Hajdu, federal minister of Employment, Workforce Development and Labour.
At a recent luncheon panel hosted by the Economic Club of Canada in downtown Toronto recently, Hajdu highlighted the federally funded Futures Skills Centre — a research vehicle preparing workers for jobs of the future. The centre is a partnership of Ryerson University, working with 31 other partner agencies in Canada, she said, noting that new models of delivery of skills training are key to providing better long-term outcomes for employers and workers.
Hajdu told the packed luncheon it is important to invest in unions and union training programs to ensure training addresses the latest technologies and equipment. Equally important is tapping underused indigenous peoples, women, immigrants and various minorities for workers.
That might seem obvious but the many white male dominated industries show that the skilled trades workplace "is not very diverse right now."
Hajdu said getting minorities into the trades is one challenge; the other is keeping them there.
Mandy Rennehan, moderator of the luncheon panel, said that of the women in the trades — about four per cent of the total workforce — only two per cent stay in the field. She challenges employers, building associations and others to think about what they can do to make women a better long-term fit.
Rennehan, known as the Blue-Collar CEO, is founder of Freshco. She said workplace efficiencies are often inadequate, resulting in workers leaving the job.
She added that the old way of doing things — a class system which directs "smart kids" to university and "dumb kids" to trade school or community college — has to stop.
Hajdu called destigmatizing the trades "an economic imperative. If we expect to continue to grow we are going to have to make sure…that everybody sees a way to reach their full potential."
Panellist at the luncheon Jamie McMillan has been a journeyperson ironworker for 17 years and the founder of KickAss Careers, which aims to "engage, educate and encourage" young people to consider careers in the mechanical, industrial, technology, construction and advanced manufacturing industries.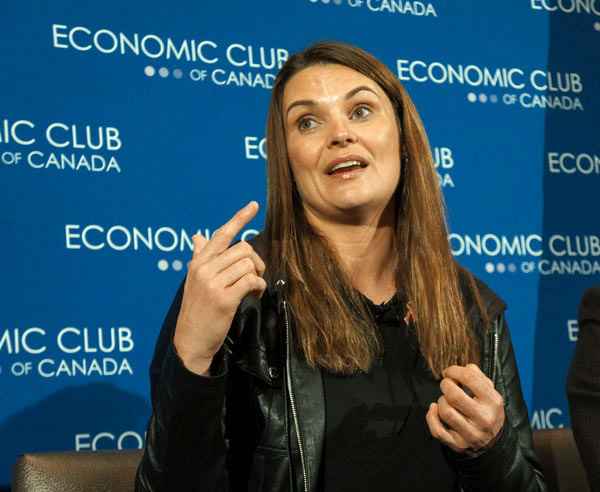 McMillan said while some employers don't believe issues such as harassment happen on their sites, they are often mistaken. Solving problems starts with stringent company policies and procedures that support women and minorities overall.
Panelist Joe Vaccaro, president and CEO of Ontario Home Builders Association, said employers have to be more flexible, accommodating and welcoming to all workers.
While the culture of work is changing in positive ways, Vaccaro said reforms aren't happening fast enough.
Panelist Ian Howcroft, CEO of Skills Ontario, which promotes the skilled trades and technologies in that province, agrees with Vaccaro.
Howcroft said quality training is paramount but he also emphasized the importance of making sure workers find fulfilling and lasting work and that employers have access to reaching appropriate job candidates. Right now, "the system is very fragmented; it is bureaucratic."
Rennehan said on the whole the building industry's marketing efforts to draw a diversified workforce "suck. This industry has always been about the guy in the pickup truck, so when you look at the millennials today…how (why) will they relate to this industry and see themselves in it?"
Along with a massive infrastructure renewal agenda, Canada faces an increasingly big renewal and renovation tab resulting from the impact of global warming — such as weather disasters like flooding, said Rennehan. Two good reasons for why training and recruitment can't be taken lightly.