When carpenter and active military reservist Dimitrij Berdnikov was asked by the Canadian Armed Forces to volunteer in the military's initiative Operation LASER to assist in a troubled long-term care home during the pandemic in the Greater Toronto Area, the 28-year-old was quick to sign up.
"I didn't have any real (health) concerns or any apprehension about doing it.  I thought this was the time to help out. Nothing like this pandemic had ever happened before," says Berdnikov who is in the Governor General's Horse Guards, a regiment in the reserves of the Canadian Armed Forces.
Assigned to an outside crew to support military personnel working inside a Toronto long-term care centre, Berdnikov supplied clean laundry, food and other needs for more than two months.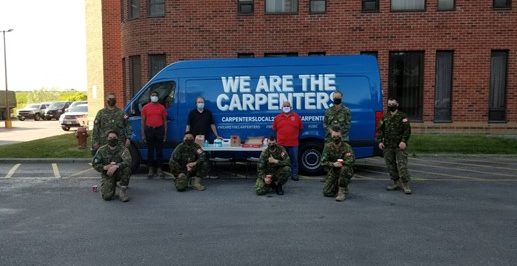 That is a radical shift in duties and a cut in pay for the soon-to-be fourth-year apprentice who took a leave from his job as a carpenter with Eastern Construction, building a community centre in North York. 
Berdnikov is a member of Carpenters' Local 27 in Toronto.
In 2016, after four years in the military reserves, he was looking at career options and the building trades was on his list.
Through the Helmets to Hardhats (H2H) program, he met carpenter Mike Humphries, a Local 27 business representative and its liaison to the H2H.
"I didn't know anything about carpentry at the time but thought I'd give it a try and I have liked it ever since," says Berdnikov.
Recently, Humphries and fellow business representative Sean Blake supplied the troops working in GTA long-term care homes with coffee and donuts, a gesture of gratitude on behalf of Local 27.
"We wanted to pay tribute to all those reservists and military personnel who were deployed to help our elderly through the COVID crisis," says Humphries, a military veteran himself.
Canadian Armed Forces Lt. Erika Palakovic says support personnel include medical staff for patient care and general duties staff to prepare food for patients plus clean and disinfect the homes. To date, the military has been deployed in five long-term care centres in Ontario.  
Berdnikov recommends the experience to any of his fellow carpenters in the H2H program.
"It was rewarding," he says. "My advice is to reach out to Mike (Humphries). He can help you find a spot."