The Provincial Building and Construction Trades Council of Ontario celebrated the official launch of a new committee, the Ontario Building and Construction Tradeswomen (OBCT), at the council's annual convention held Oct. 16.
The new committee is said to be a "partner" of the Building Trades council and its new chair Karen Pullen, an IBEW Local 353 executive, will serve on the Building Trades Executive Board as a resource person for the OBCT.
The OBCT has already secured $200,000 in funding from the Ministry of Labour, Training and Skills Development's new Ontario Skills Catalyst Fund. It received founding organizational and financial support coming out of the Building Trades' women's conference last year. 
At last year's Building Trades conference, ironworker Keira Liberte read a summary of grievances taken from a survey of women's conference delegates. This year, speaking at a podium in a Toronto hotel with only trades executive board members present in person but more watching online, she had a different message.
A platform to share experiences
"In order to start working towards a better, more inclusive future, Pat and the other leaders of the union building trades came together to give us a platform," said Liberte, referring to Patrick Dillon, business manager of the Building Trades.
"It has not been an easy process. It has been a process where we have had to learn to take our experiences and translate them into a language that allows us to share the full impact with people who have no idea what those issues are; a process where we were given the tools to build with but we have had to learn how these tools work."
Dillon noted that OBCT committee members present at the conference including Pullen, Liberte and another speaker, Desiree Thelma Smith, a floor installer with Carpenters' Local 27, have had to organize the new committee while working full-time at their trades.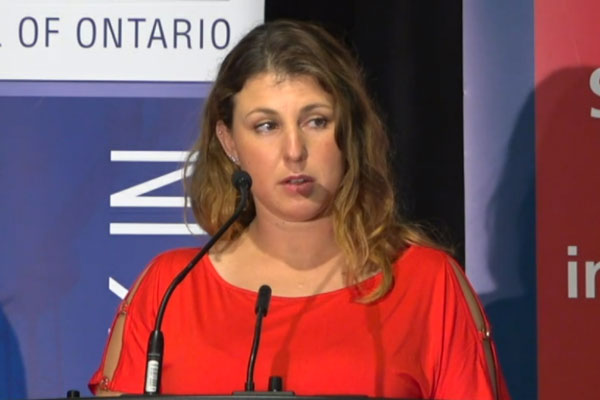 "You can't undo history. It should have been done a long time ago, but you are doing it today and we look forward to working together with you as the organization moves on to a very successful future," said Dillon.
Consultant Lindsay Maskell, who does government relations work for the Ironworkers union, was also credited with supporting the launch of the committee by writing the successful Ontario Skills Catalyst Fund grant proposal.
OBCT aims to improve conditions in the trades
Pullen explained in an article published in the conference yearbook that the main goal of the OBCT is to improve conditions and outcomes for women, and everyone, working in the skilled trades.
"The under-representation of women in the building and construction trades is believed to hurt the economy, diminish work culture within the industry and impact overall health and safety outcomes in the province," stated Pullen. "The OBCT believes that strengthening the gender balance within Ontario's construction industry will not only meet growing labour market demand but will positively transform overall work culture."
The OBCT is open to all tradeswomen in Ontario.
"We want to provide women in the trades with the skills they need to be successful," Pullen wrote. "This means connecting women and having them benefit from leadership training including skills such as public speaking, organization, equity and diversity leadership in the workplace, and mental health training."
Survey of all workers and employers to be undertaken
First-year priorities, Liberte said, will include leadership training and programming, and the OBCT will undertake a survey of workers and employers to "give all sides the opportunity to share their perspectives and to produce a set of recommendations to lead to better outcomes for all in the trades."
There will also be outreach to invite women in the trades to join the new committee and to solicit support from employers and unions. Smith issued a membership plea at the convention.
"Ladies, look at what is falling into our laps," she said. "Can we build a diverse and inclusive sisterhood within the trades? Sure we can. Do we want fairness in the workplace? Sure we do. Do we want female retention in the trades community? Sure we do. Do we need an organization that advocates for us and stands beside us? Sure we do.
"The OBCT needs every one of you to sign up and get on board in order to get access to its programming, and all are welcome."
Follow the author on Twitter @DonWall_DCN.