In 1998, when Maggie Horne was 21 and fed up with a dead-end telemarketing job, her father Murray, an ironworker by trade, proposed a test which, if she passed with his guidance, would lead to her first job opportunity in the high-flying building trade he loved and she longed to do.
That test involved using an old and difficult welding machine in the family's garage to run welding beads along the edge of a block of steel, increasing its size while maintaining square.
"He would check every week to see how I was doing — to see if my welds were good…clean, if there was slag.
"He told me, 'If you want to do this work, I really need to know you are serious.' "
She met his challenge and he helped her land an ironworking job at the casino under construction on Halifax's waterfront, a jobsite that saw few, if any, women workers.
Grinding galvanized sections off steel plates to start was hard and unglamorous, but with her father's guidance she eventually got "on steel beams in the air," work that is not for the fainthearted.
Walking on a beam on terra firma is one thing, doing it at heights is "totally different."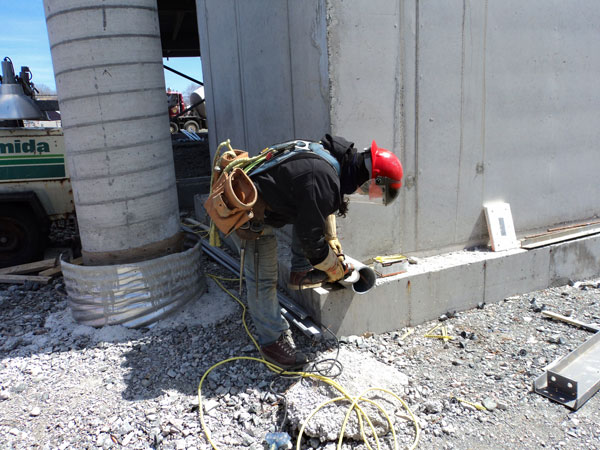 She stuck with the trade though and by 2003 had completed her apprenticeship to become the first Red Seal certified female iron-worker in Canada, a significant feat in a physically difficult field where women are often not readily accepted.
After work dried up in Atlantic Canada, Horne moved west to the oilpatch where she rose through the ranks in the field quickly to management posts, often overseeing sizable crews of men.
While employed by PCL in Saskatchewan she met and married Chris Budden, a pipefitter, and the two returned to their roots in Cape Breton. The couple had two children, Maggie and Annie, and Horne took on her husband's name, Budden.
She eventually went back to ironwork and spent several years employed at a local bank, but when the Office to Advance Women Apprentices (OAWA) opened a branch in Cape Breton earlier this spring, Budden was quick to apply.
The idea of helping women find careers in the trades was her calling. Along with connecting OAWA registrants to training and job opportunities, Budden, hired as a project co-ordinator, offers sup-port for women facing struggles and barriers in the field.
Women tell her stories of sex-ism today that are similar to the issues she experienced 20 years ago.
"They shouldn't still face those road blocks," she says, noting on some jobs she had to work "10 times harder" than her male counterparts just to prove worthy.
"I want to change that. I want women to go onto a jobsite and work equally (from the outset)."
In Budden's experience women are most apt to be accepted by their male colleagues when their numbers significantly increase on construction sites and also when contractors establish solid gender equity policies.
OAWA, which has offices throughout Atlantic Canada and two Prairie provinces, was established in Newfoundland in 2009. At the time the percentage of women in trades was less than five per cent. Today that number is about 14 per cent, 10 per cent higher than the Canadian average.
Budden says construction work can offer women good pay, secure employment and ultimately independence.
"Independence and financial stability changes your life. I really truly believe that we can change things and do believe they are changing. I just want to be there so that somebody doesn't have to work 10 times harder to prove themselves like I did. I think that is not a big ask. It shouldn't matter if you are a man or a woman if you can do the work."