Nominated for a 2022 Canada's Most Powerful Women: Top 100 Award, and the recipient of Conestoga College's Alumni of Distinction this past May, Brandi Ferenc is a trailblazer who has achieved a number of "firsts".
Those milestones include being the first female HVAC instructor at Georgian College, where she still teaches part-time, the first female journey person mentor at Support Ontario Youth and the first female apprentice hired at Johnson Controls' London branch.
But the road to success wasn't easy.
"It has been a long journey for me," says Ferenc, who didn't start her refrigeration apprenticeship until she was 34 and already a third-year plumbing apprentice.
In relating that journey, Ferenc says she enrolled in a business economics program in university, largely on the advice and encouragement of her parents.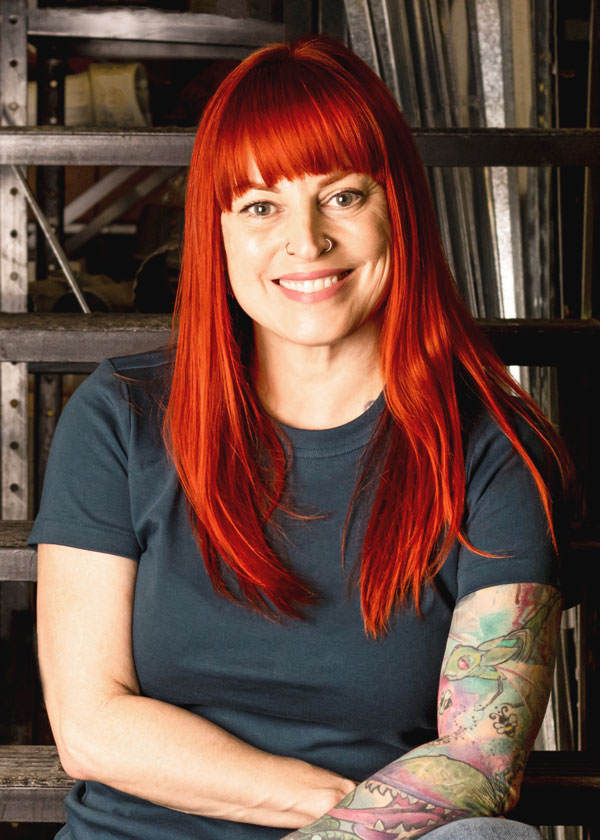 "Although I was a great student, I was miserable and took my university credits and transferred to an advertising program at St. Clair College. During my internship I quickly learned I was not suited to sit at a desk all day. But had no idea what I wanted to do."
She then spent a decade in the hospitality industry, working as a bartender and server, before finally trying to get into the skilled trades in 2000. In large part, that decision was sparked by the fact that her grandfather was a carpenter and her father is a master electrician.'
"I loved being active and working with my hands. I loved hearing the stories of the jobs my dad worked on and it just finally clicked that I wanted to do I this (skilled trades)."
Her goal was to become an apprentice electrician, but faced roadblocks based on her gender. "That was evident in some of the questions that I was asked in interviews."
In a persistent effort to break into construction she enrolled in the Women in Skill Trades (WIST) Pre-Apprenticeship Carpenter program at the age of 32. "I had no intentions of being a carpenter, but I hoped that, by taking the course, employers would take me more seriously."
Following the completion of the program she was hired as a labourer by a residential renovator, while taking night classes to obtain a Gasfitter 3 Licence. "It (the licence) is a good ticket to have and I thought it would help me get my foot in the (trades) door."
Later, she was hired as a plumbing apprentice by a plumbing company, working in the Kitchener-Waterloo area. She juggled that work with weekend studies to further her education to achieve her Gasfitter 2 Certification.
It was her instructor who submitted her name to compete in the 2007 Skills Ontario Competition in the Gasfitter 2 category. Not only was Ferenc the first female to enter that competition division, she placed third. The results changed her career direction and possibly her life.
"It certainly launched my career in HVAC."
As a result of that strong performance, a Johnson Controls recruiter offered her a 313a Refrigeration Apprenticeship at its London Ontario branch. As she was 34 at the time and a third year plumbing apprentice, accepting the offer required a lot of careful consideration.
"I was on the fence and had to think hard about what I wanted to do. But I figure I've put in all this time (in the trades), what's a few more years."
So, she "packed up her life," made the move to that city and became first female apprentice hired at the London branch. After finishing the apprenticeship and writing the certificate of qualification, she became a fully licensed 313a Refrigeration Mechanic. By that time she had also obtained her Gas Fitter 1 license.
In her 13 years with Johnson Controls, Ferenc serviced commercial and industrial HVAC equipment in nuclear facilities, data centers, central energy plants, food processing facilities and automotive plants, alternating based in London, Hamilton, and Richmond Hill. It was a demanding position which required being "on call" at certain periods.
Five years ago she changed employers and became the first and only female journeyperson to join the facilities department at Southlake Regional Health Center in Newmarket.
The more regular work schedule allowed her to resume a part-time HVAC instructor's position at Georgian College where she had taught previously. It also gave her the freedom to become the first female journey person mentor at Support Ontario Youth.
"Over the past 17 years (and counting) I can honestly say my career path has never been easy. But I have been determined to keep pushing forward. Otherwise, all of the hard times would have been for not," says Ferenc, in reviewing that progression.
Especially gratifying are the numerous messages she has received from young women telling her they look up to her. In turn, she encourages them to pursue their career goals and answers her phone "at any time of day" for any of them in a crisis situation or having a bad day.
Support is critical to the recruitment and retention of women in the skilled trades, says Ferenc.
"As we face a devastating shortage of skilled trades labour, it's long overdue that the other 50 per cent of the population is welcomed into these industries."