The Carpenters' Union in Ontario is pulling out all stops to help Ukrainians whose lives were turned upside down by the Russian invasion in February.
A series of supports has been put in place for the displaced Ukrainians by the Carpenters' District Council of Ontario (CDCO), Local 27 and numerous allies to help them find shelter, food and clothing, living support and jobs.
As of a month ago, about 300 new Canadians from Ukraine were working on Carpenters' projects with many others employed elsewhere.
"It's what the Carpenters' have always done," said Cristina Selva, executive director of the College of Carpenters and Allied Trades (CCAT) training centre in Woodbridge, Ont.
"When things come up in the industry that need to be addressed, we do it very quickly and competently. This is no different."
Early on Local 27 member Frank Slywka took on the role of point person. His grandparents were from Ukraine and Slywka speaks the language. When he heard the call that Ukrainians were massing at a designated hotel in the GTA he reached out to them, taking families over to the union hall to inquire whether they were interested in pursuing an apprenticeship or a career.
"It became evident that this was going to be more than just entry into a job," said Selva. "They needed training to start with, they would need the very basic health and safety training courses that are mandatory in the province of Ontario."
The CCAT started with specialized health and safety training classes but most of the refugees had very limited English skills. Slywka is now employed full time in a support position. He never hesitated taking on the new job.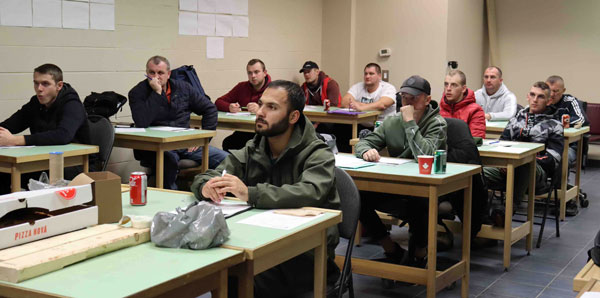 "We have airplane loads of people coming over, and people asking, 'What can we do? How can we do this?'" he said.
"Our answer is always 'yes, we're willing to help.'"
The effort, including supplying PPE such as workboots, is proving to be costly and there has been no backup from governments but Carpenters' executives such as Mark Lewis, Mike Yorke, Paul Daly and Jason Rowe have all thrown their support behind the effort.
Selva said Rowe was on the receiving end of an email in the early days when the lack of available PPE looked to be a stumbling block. Rowe swiftly gave the go-ahead.
"This is the fellow that's running the Carpenters' Union for the entire country," said Selva. "He responded immediately and said, 'it's the least we can do.'"
CDCO director of public affairs and innovation Mike Yorke said the effort is clearly a win-win, with Carpenters', traditionally active in supporting human rights, helping people in need, and also there is a workforce recruitment angle.
"It's completely the right thing to do. You've got the context of an illegal, brutal war launched by Russia on Ukraine, and it just been devastating," said Yorke. "It's in the past history and the legacy of Canadians to stand up for what is right and we're doing so and as an organization."
The workers need homes, jobs and income and the Carpenters' need to recruit thousands to the industry.
"It's a total two-way street," said Yorke.
Employers in great numbers have stepped forward, from construction and beyond. WZMH Architects under principal Zenon Radewych is employing three architects from Ukraine, they are welcoming help in administration and IT, and the firm has hired an IT/software group in Ukraine that is developing a software platform that uses flying drones to help with lifting and aligning construction materials in place.
"The Ukrainians we recently hired are also working on many data centre projects for us in Canada, which is an exploding sector that is growing like crazy," said Radewych via email.
Slywka has seen innumerable inspiring scenes over the months. One Ukrainian female concert violinist jumped into her training with such spirit, he said, she ended up at the head of the class. The outpouring from the local Ukrainian community, gathering used furnishings and finding shelter in any space available in a home, it keeps Slywka going each day.
"We reassure them that we are here to help and obviously they can see that by the effort that Local 27 is putting up," he said.
Follow the author on Twitch @DonWall_DCN.