The mass timber construction course held recently at the College of Carpenters and Allied Trades (CCAT) training centre in Vaughan, Ont. was surprising in terms of who signed up to take the four-week program.
"For me, one of the big differences between this course and previous ones is that we are starting to see buy-in from the formwork sector," says Tony Currie, program director of the CCAT, noting almost half of the 12 students were from concrete formwork contractors.
"Major concrete companies sent their people to the course. They are looking at a way to expand their businesses and mass timber is in their sights."
Currie says a supervisor, a handful of foremen and an experienced carpenter from Alliance Forming Ltd. and Premform Concrete, two major formwork contractors in the Greater Toronto Area, were among the corps of students.
The four-week, full-time course is a comprehensive overview of mass timber assembly. Students learn on two-storey mockups of structures of four mass timber building types, ranging from simple residential structures to complex commercial and tall building structures.
It is the first time the course has included a mockup of a six- to 12-storey building.
"It's substantially more complicated than the others," says Currie, pointing out the structure requires multiple connection points.
"All those connections are done in a factory and if they don't line up onsite than you have a problem."
Having one contractor, instead of two, responsible for both the concrete and the timber erection eliminates potential errors such as misalignment of anchor bolts that can result in big headaches.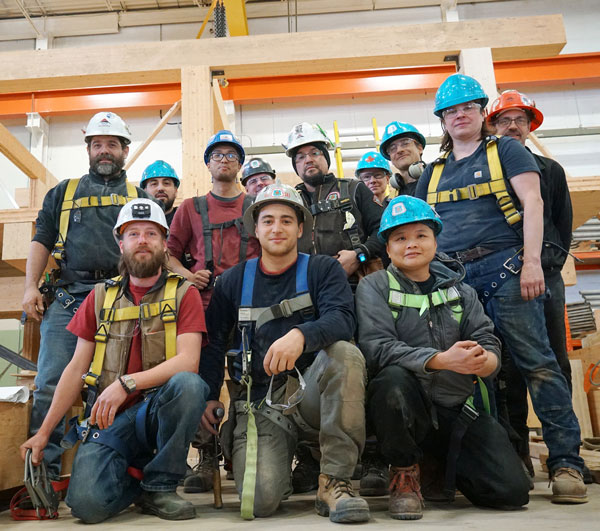 "You just can't move or bend the bolts to fit," Currie says. "When you are doing the whole job you are more apt to know exactly where those anchor bolts have to go."
Horacio Leal, business representative for Carpenters' Local 27, sees the day coming when many formwork contractors will be bidding not just on concrete work but also on mass timber assembly.
"They want to do work from the ground to the top of the building to deliver what the generals need. To me that is exciting, not just for them but also for Carpenters' Local 27 and the (CCAT) training centre. It shows the world we are prepared for this new work," says Leal.
Mike Yorke, director of public affairs for the Carpenters' Regional Council, says the council has heard from the buyers of construction that they see advantages to retaining one contractor for foundations and mass timber work.
The benefits include "control of the crane, expertise at moving heavy materials and maintaining high health and safety standards on the jobsite."
"People like Horacio Leal and others with the Carpenters' Union have been advocating this with our contractor base largely because of the inherent efficiencies of using one contractor," Yorke adds.
Helder Pereira, a supervisor for Alliance Forming Ltd., says the course has helped him and three foremen from Alliance understand the complexities of timber fastening and bracing systems and how to work with wood components.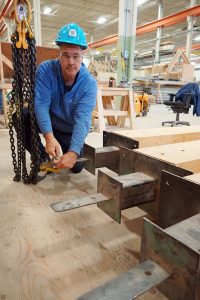 He believes mass timber is gaining credibility among building owners and the general public.
"With the technology it has right now, it is going to be more affordable and quicker to do with better results than it used to be," Pereira says. "It's not going to skyrocket right away but in time I'm pretty sure we're going to have a good market for this type of construction."
Currie was pleased to see formwork contractors sending some of their top people to the course.
"Once foremen and supervisors are trained and understand how to use mass timber, it will be easy for them to trickle down that knowledge to workers in their companies."
The CCAT received a grant from the Ontario Ministry of Natural Resources for the acquisition of mass timber and various supplies for the course. Quebec-based Nordic Structures and Timmerman Timberworks Inc. supplied materials. Moses Structural Engineers supplied drawings for the four mockups.
"It was truly a collaborative effort that we couldn't have done without all these partners," Currie says.