The first Industry Summit hosted by Skilled Trades Ontario featured the unveiling of STO's new strategic plan along with ample anecdotal evidence that the second-year government agency has its work cut out for it as it overhauls the administration of the province's skilled trades workforce.
The jurisdictional and ideological squabbles of the Ontario College of Trades era appear to be in the rearview mirror but STO CEO and registrar Melissa Young acknowledged STO is still very much a work in progress.
The May 3 summit held in Toronto featured numerous opportunities for stakeholders to weigh in on problems and identify gaps, especially at a facilitated workshop in the afternoon with the theme Building STO's Future Begins.
"It's been quite a ride," said Young in opening the proceedings, referring to the flurry of administrative changes and the challenging mandate.
During subsequent sessions, the delegates heard from one mother whose college-educated child could not obtain an apprenticeship position after much time spent trying; that Ontario did not have the processes in place to accommodate an apprentice New Brunswicker looking to complete his training as a instrumentation technician (he ended up flying to Alberta); that the one-size-fits-all approach won't work in a province such as Ontario with different needs in the north, south and elsewhere; and that the apprenticeship application process is mystifying, especially compared with the simple steps it takes to apply to university in Ontario.
Board member Ron Kelusky summed up the challenges STO faces during a break: there are barriers to creating interest in the trades, barriers to entry, barriers to completion and barriers to certification.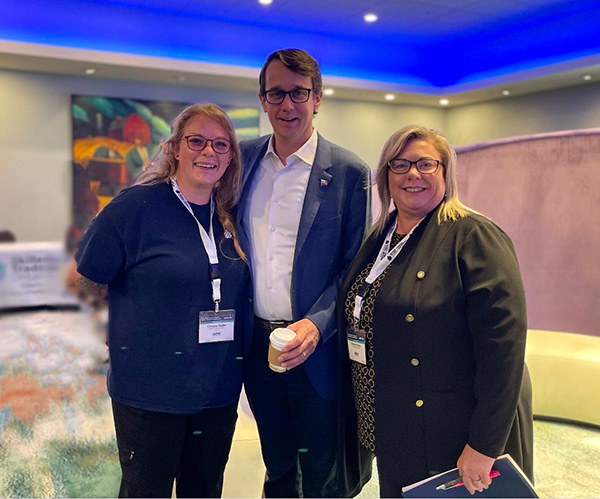 "If you graduate but it's eight months before you write the exam, that's a barrier of completion," said Kelusky. "We need to focus on trying to understand why these things are happening."
Addressing various issues raised during the morning's proceedings, Young said, "They actually fit into all the four pillars (of the strategic plan) that we unveiled this morning.
"The lady that spoke, she was very emotional. Her son, she's having difficulty getting him into an apprenticeship program, for him to find an employer. That's a major issue. We got half of a roomful of employers that are crying for people.
"How are we not able to connect these people? Where's the gap in that connection? We need to figure out how to do that."
The four pillars of the strategic plan are:
Support an innovative apprenticeship and certification model. For Skilled Trades Ontario that means "clearly communicating Ontario's apprenticeship model"; simplifying and streamlining the apprenticeship pathway to support entry and success for employers and prospective apprentices; and enhancing certification and examination processes.
Promote and advance the skilled trades. Minister of Labour Monte McNaughton said during his address it was essential to deal with the "stigma" of a career in the skilled trades. The strategic plan stated STO must ensure the skilled trades workforce is "robust, trained to the highest standard, and that skilled trades professionals can take pride in their career choice and the services they provide."
Facilitate research in the skilled trades. STO will take a "data-driven approach to decision-making to improve operational efficiency, customer satisfaction and the overall performance of the skilled trades sector." A hub for research on skilled trades will be established.
Build a diverse, equitable, and inclusive skilled trades sector.
Young said with STO's "one-stop shop" approach, "Hopefully we will have a much more simplified process in the near future so communication will be vastly different than it has been in the past."
Young told the delegates, "The minister provided STO a very clear mandate to make life easier for skilled trades professionals, promote skilled trades and address the labour shortage. In just 15 months of operation, I'm proud to say we've made some great strides forward, and bringing more services online is one of those."
During its first year one of STO's major accomplishments was its implementation of career fairs across the province, said Young.
"We reached over 13,000 students, parents and educators in Mississauga, London, southern Ottawa and Thunder Bay," she said. "It was amazing to see kids put down their phones and really focus on the demonstrations."
Follow the author on Twitter @DonWall_DCN