Limberlost Place, George Brown College's 10-storey mass timber building at its Toronto waterfront campus, is not spare of innovation.
When the 182,000-square-foot home to architectural students and others opens next year it will be Ontario's first institutional building in mass timber with a net-zero emissions rating.
Smart technology, a rooftop solar array and an eight-storey solar chimney for natural ventilation are part of the package.
Like any precedent-setting building, however, Limberlost has not been without its challenges.
To prevent moisture woes, the prefabricated envelope (siding and glazing) was planned to rise with the erection of the mass timber structure but supply chain issues, transportation limitations and other obstacles delayed the envelope's installation, Carol Phillips, a principal with Moriyama Teshima Architects, told a seminar audience at the Mass Timber Seminar Conference held recently at George Brown College in Toronto.
"It is why it is partially covered in black tarps now."
That type of organization "only happens if you have a highly collaborative and communicative team with nobody pointing figures at anybody."
Moriyama Teshima and Acton Ostry Architects are the building's architects. Fast + Epp is the structural engineer and PCL Construction is heading up construction.
Water trapped in mass timber structures can result in mold, fungus and even rot. It is also a vector for dirt that can travel throughout an unprotected structure, resulting in streaks and stains on the wood that require cleaning or possibly sanding, said Simon Gallagher of Nordic Structures, the mass timber manufacturer for Limberlost.
While covering water penetration areas is essential, the wear and tear from workers and equipment can undermine protected areas.
Moisture can also hamper the construction schedule because wood must be dry, typically within a 16 to 22 degree range of relative humidity, before concrete toppings can be poured, said Phillips.
"On the slab ends it is fine but the splines stay wet for longer. It's one of the reasons we wanted to close the building up as soon as we could."
The building structure includes three, three-storey mass timber columns, which are among the largest in North America.
Phillips, who said Limberlost Place is the most awarded project Moriyama Teshima Architects has worked on it its 65-year history, pointed out the 9-by-7.2-metre module of the building allows for column-free classrooms of up to 60 students.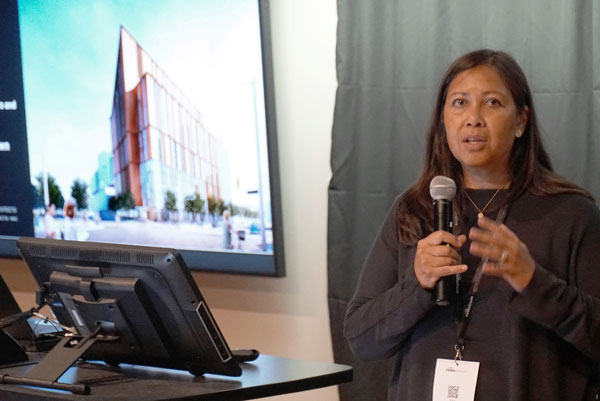 A driver to meeting net-zero carbon emissions target is the natural ventilation system that includes the solar chimney. The upper two floors are served by cross ventilation, said Phillips.
The building has a decentralized "modulated" mechanical system that consists of two mechanical systems on each floor to supply "the right amount of cooling and heating to optimize the building's performance."
Phillips said the international design competition for the building was important because it helped spur design innovation.
She added the early partnership with consultants and contractors was important to troubleshooting details such as the slab end, shoring and the use of steel in the building.
Engaging the city prior to refining design was paramount to getting key officials on side, Phillips added.
"Design assist and early procurement," she added, "is a must with these higher performance buildings and mass timber buildings."
While the upfront costs of mass timber construction can be higher than conventional construction methods, Phillips said over the long-term the tables are often reversed.
Nerys Rau, George Brown College's project leader on Limberlost Place, told the seminar audience the numerous sensors on the building site record data on construction that will be used as a teaching tool in the architectural studies curriculum at the college. That data includes leak detection, vibration, moisture, humidity and other issues.
"The students moving into this building will learn about every aspect of what happened during construction and then learn about what is happening ongoing in the building," Rau told the audience.
The seminar was organized by George Brown College in conjunction with its Brookfield Sustainability Institute and Rothoblaas.