The website for Welland, Ont.'s Kit Steel features photos of fully-completed projects where the supplier's product is entirely invisible. Scroll down a little further and you'll see progress photos of buildings currently under construction, steel rebar fully exposed.
"We're very proud of these projects, even though our rebar is invisible," says Mike Kubes, general manager and co-owner of Kit Steel. "Those photos are a reminder to us of the way we worked with our customers to see these projects through and to celebrate their completion."
Kubes and his brother Andy come from a steel family three generations deep. Their grandfather was a blacksmith who emigrated from Europe. Together with their father, Joe, he established a family business fabricating residential ornamental steel railings in the Hamilton area in the 1970s. That business became Kubes Steel, a supplier of custom-fabricated steel in Stoney Creek.
Founded in 2010, Kit Steel supplied rebar to local precast manufacturers, primarily producers of concrete wastewater pipe and concrete road barriers.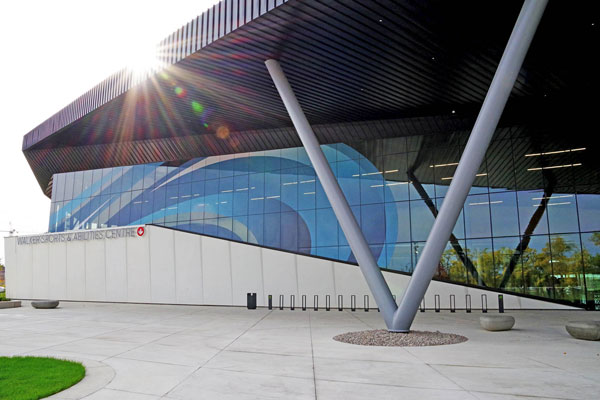 "It was owned by family friends who were retiring, and my brother and I were at that point in our lives where we wanted to do something a little different," Kubes says.
They purchased the company in 2018 and quickly worked to modernize the shop. Bringing in a new shear line from CRS Specialties in Welland, the machinery replaced an order system based on paper forms and Excel spreadsheets with one that scanned instructions via QR code.
"That allowed us to run the rebar shop more like a fast food company," Kubes says.
"We've become well-known for getting projects out the door on schedule and on budget, so our customers can make their pour on time."
As the new guys in town, contractors began asking the brothers if they wanted to upsize their game. The company soon began to bid on larger and larger tenders and outgrew the small facility.
Looking at available shops in the area, they realized it made more sense to build a customized shop that would get rebar orders out the door even faster.
"In 2020, right in the middle of the pandemic, we put on our masks and broke ground on a 13,000-square-foot rebar fabrication facility," Kubes says. "That gave us the additional capacity we were looking for."
One of Kit Steel's largest projects was the Walker Sports and Abilities Centre at Brock University, completed in support of the Niagara 2022 Canada Summer Games. A multi-use sports facility, the project included rebar support for a 200-metre indoor track, and an NHL-sized twin-pad arena.
Kitchener's GloveBox, also completed in 2022, was a historic adaptation office development.
"That was a real challenge, because when we first started our deliveries, we had a narrow alleyway to park our truck and the crane would lift the rebar, spin it around and feed it in through a tiny window," Kubes recalls. "It was the perfect job for us, producing smaller orders more often and sending them out as frequent on-time deliveries."
The company currently employs 15 workers, including welders who work on custom rebar assemblies. Business is good, although the industry faces some supply chain issues.
Ukraine is traditionally the number-two exporter of rebar, second to Turkey, and taking much of that supply off the market has caused prices to spike.
Continuing to search for new sources of revenue, Kit Steel's newest enterprise is Quick Bar, an online marketplace that's become the first Shopify site to sell rebar directly to the public.
"If you're a small general contractor who needs a small order for a house, or a landscaper looking to build a concrete wall or sidewalk, you can send us your drawings, order from the site, and we'll deliver it," Kubes says.
As to having their rebar work remain invisible to the general public, Kubes remains content.
"It's still a point of pride to drive through a city and point out your project, even if our work is buried," he says. "We know that our rebar made the concrete stronger and that these structures are probably going to be standing longer than we will."