TimberFever, the annual design-build competition in Toronto that teams up architectural and civil engineering students from various universities, celebrated its ninth edition with a project theme relevant to the times in the city: an accessible transit shelter connected to a protected bicycle storage space.
Held recently at Toronto Metropolitan University (TMU), the three-day competition saw students from 10 Canadian universities in 14 teams race against the clock to design and then construct their projects, each designed for a specific street intersection in Toronto.
A prime objective was to get engineering and architectural students working together on a practical project, something that doesn't happen often in the working world, says David Moses, principal of Moses Structural Engineers, the Toronto-based engineering firm and organizer of the annual event.
Tamoy Hibbert, architectural chair at TMU, calls it an invaluable learning experience.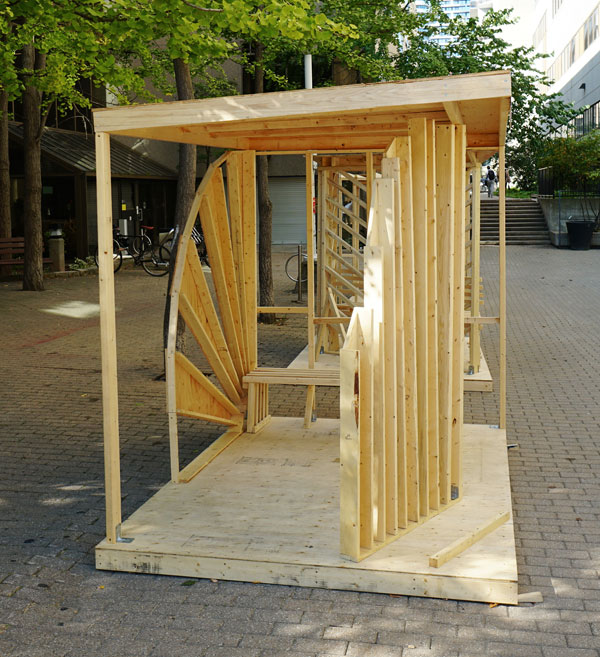 "It gives architecture students a taste of how design translates from the conceptual and schematic phase to construction of the physical form. I believe the insight provided by their engineering peers regarding practicality and constructability will help ground their future designs in reality," she adds.
Jim Koester, chair of civil engineering for the event, agrees.
He appreciates the organizers specified the projects to be built entirely of wood.
"It's promoting sustainability, which is greatly needed. Timber construction has been increasingly more common as new sustainable ways have been discovered."
Koester says the competition is as much about communication as it is about design and construction.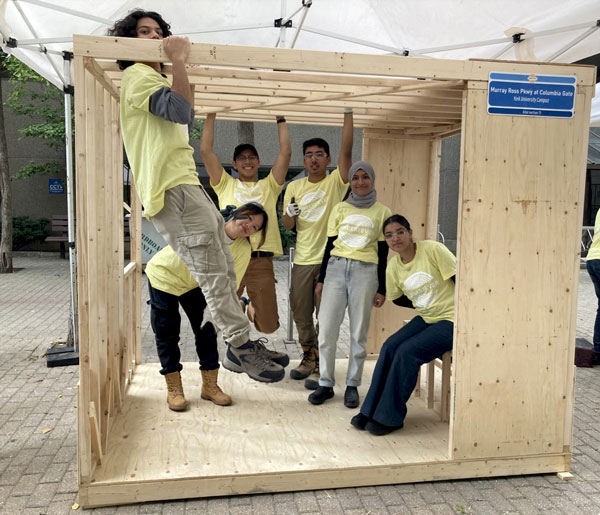 "Working with other fields during your academic career helps you prepare for your future," he says.
The students were assisted by members of Carpenters' Local 27 in safe and proper use of tools and construction. Many participants came to the event with no carpentry experience.
On the first day of the competition, participants faced many hurdles and both disciplines "appeared confused at times about each other's approach to the design brief," says Hibbert, pointing out architects and engineers were on hand for guidance.
Design-build competitions like TimberFever are unusual at universities in Canada but Hibbert says many of the participants suggest the learning experience is invaluable.
"I definitely hope that this is something that will spread."
Koester, a participant in last year's competition, adds the experience can be a factor in landing a job in their field. He included his TimberFever experience on his resume and an employer asked about it in an interview.
"I believe the ensuing conversation we had helped me get a job at the company," he adds.
Moses says he had no idea TimberFever would take off when he came up with the concept nine years ago.
"I'm encouraged that we have had so much support and the students continue to take to it."
He believes students are increasingly looking for hands-on events like TimberFever to take their classroom learning into the field.
"They want these kinds of events but there are not a lot out there."
He says the challenge for organizers is to keep future competitors interested, while staying true to TimberFever's roots.
"Getting architects and engineers to work together, giving them hands-on experience in communication and learning to design and build in wood are what it has to continue to be all about," he states.