TORONTO — Uncertainty continues to swirl around the legalization of cannabis and how exactly it will be rolled out across Canada.
With today marking the official day of legalization, the Daily Commercial News has compiled a list of prominent themes and suggestions that were made in the months and years leading up to the announcement by industry experts at various events and conferences.
The following are some words of wisdom for employers and employees on how they can be prepared.
Both employers and all workers onsite should know the signs of impairment.
It is an employers' duty to do everything possible to maintain a safe workplace.
Employers should have a solid drug and alcohol policy to stand behind. Educate your management and safety teams and make sure people in your organization understand the policy.
In some instances, there should be separate plans for safety sensitive and non-safety sensitive workers.
Testing is not a magic bullet. One industry expert highlighted alcohol testing has been around for ages, and employers do not often walk around the site with a breathalyzer. Being proactive with educational materials and discussions is often more effective. 
Regardless of the substance, impairment is impairment. An employer is prohibited from allowing the worker to do safety-sensitive work if they are under the influence of anything that would impair their fitness or duty.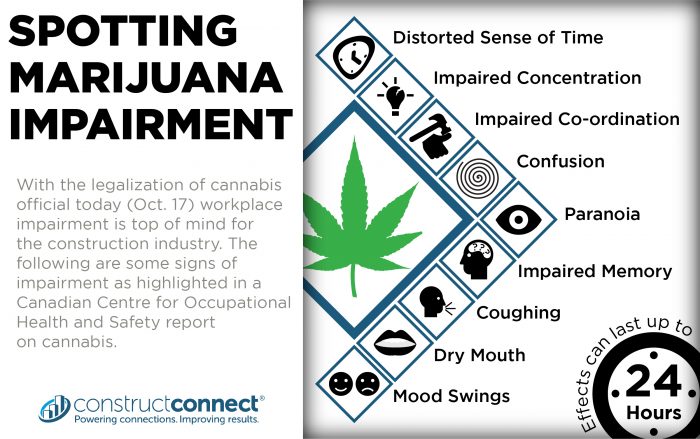 For more in depth coverage on these suggestions, check out the links below for a breakdown of 10 stories in relation to the legalization of cannabis.
Speakers discuss dealing with workplace impairment post cannabis legalization
Fitness for Duty Summit highlights cannabis impairment tests and tools
Many Canadians are driving high on cannabis, according to new national survey