A Black men's health organization in the Greater Toronto Area is reaching out to the construction sector to extend its outreach on prostate health.
Anthony Henry, first vice-president of the Walnut Foundation, says the male-dominated construction sector is a logical target for outreach given that in Canada, one out of nine men will be diagnosed with prostate cancer in their lifetime. Prostate cancer is the third leading cause of death from cancer in men in Canada.
Henry said the recruitment of International Union of Painters and Allied Trades (IUPAT) business representative Ivan Dawns, who has been named honorary chairperson for the foundation's annual Walk the Path Walkathon, is also a great fit given his prominence in the Black community.
Black men are disproportionally impacted by prostate cancer and enlarged prostates and they often are afflicted at an earlier age.
"We're trying a multi-pronged effort, reaching out to allies who believe in what we do and we've been working with the community, with churches, community groups, that type of thing," said Henry.
"But we need to expand our outreach beyond that, sending the message to different places, in different formats. So we certainly welcome any kind of support from the construction sector behind what we're trying to do, and pitching Ivan was a stroke of genius."
Research has shown that Black men of West African or Caribbean ancestry have almost double the risk of developing prostate cancer compared to non-Black men, and the mortality rate among Black men is higher than non-Blacks.
Black men have a 76 per cent higher rate of prostate cancer and are 2.2 times more likely to die from it.
While regular screening to detect prostate cancer or an enlarged prostate is recommended for most men starting at age 50, the Walnut Foundation recommends Black men start at age 40.
Dawns, a prominent community activist supported by the Painters who last year was honoured by the Ontario Black History Society with a High Achievement Award, said he has been exposed to the ravages of prostate cancer throughout his family, with four close family members affected.
And the realities of the disease further hit close to home when a IUPAT member succumbs and he has to comfort family members at a funeral.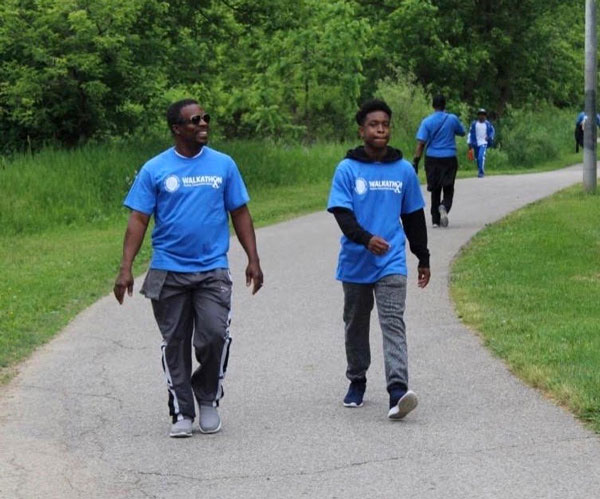 "The longer you wait to get tested, the worse it becomes and the less chance of survival," said Dawns. "When I speak to surviving members at a funeral, the common theme amongst everyone, the wife and the kids, they'll be crying and they say, 'my husband didn't have to die, if he had just got tested.'"
Over 90 per cent of construction workers in the field are men, and Dawns said there is an additional factor at play in that they often try to tough out illnesses and refuse to seek medical treatment.
One member of the Painters union who died last year found out he had prostate cancer but was reluctant to get surgery.
"This macho thing about us, we need to put that aside and say, 'listen guys, our life depends on it,'" said Dawns.
"We are in this together and we all need to be a part of this conversation."
The Walk the Path Walkathon is in its ninth year and is the main fundraiser for the foundation. The event takes place on June 3 along the Etobicoke Creek Trail in Brampton and Dawns urges the broader construction sector to walk in teams to raise money.
"I have had members from different construction unions reach out to me telling me that they want to be a part of it because they know someone who has been affected," he said.
Henry's father was diagnosed with prostate cancer at age 64 and died at 68, his brother and uncle are surviving after cancer diagnoses and Henry himself was diagnosed with prostate cancer in 2016 but "I am still here today."
"Too often we, as men, don't talk about it, then we don't go seek help for it. We sit there suffering in silence.
"The message we want to put out is about ending the cycle of secrecy."
Listen to The Construction Record podcast for more on this initiative.
Follow the author on Twitter @DonWall_DCN