At community colleges with programs specifically oriented towards skilled trades careers there is as much emphasis on safety and occupational health as there is on construction jobsites.
That is certainly the case at Mohawk College's Marshall School of Skilled Trades in Hamilton, Ont.
"Health and safety has never been more critical for industry and employers and Mohawk is preparing future-ready graduates with exposure to health and safety throughout their Mohawk experience," says its associate dean of construction and building systems, Samara Young.
With the significant amount of lab and shop classes students and apprentices participate in, orientation to safety training starts at day one to ensure students and apprentices understand the requirements of being safe in the classroom and how that translates on the jobsite, she says.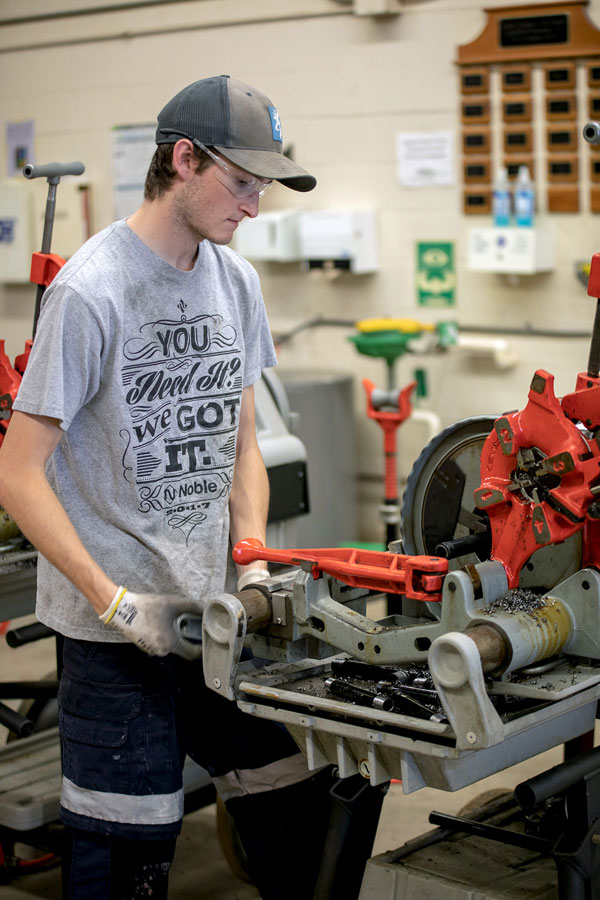 Mohawk is also working with safety trainee deliverer OSG on a program which, if fully rolled out, will provide its current students with access to more than 200 health and safety courses before they graduate.
This pilot program began this January in two post-secondary courses, welding and plumbing, with the intention of further expansion. Faculty identifies the specific health and safety courses that relate to their specific programs. However, students have the option of completing as many courses as are available before they graduate, she says.
Under the OSG delivery model system, students in the Mechanical Techniques Welding Fabrication program can easily access the seven mandatory online safety courses they require to graduate, as well as optional courses.
That training is reinforced with in-class and in-shop instruction, says welding co-ordinator (post-secondary and apprenticeship) Justin Decosemo.
Successfully completing those courses provides students with the "tickets" which they can show to employers or future employers and eliminates the need to take that specific training on the job. Some of the tickets are valid for as long as three years, he says.
"We have received positive feedback from both faculty and students," says Decosemo, explaining both groups feel the OSC program is more comprehensive and user friendly than the previously used trainee delivery program.
As well as the pilot program initiative, the campus is gearing up, and completing the final touches, for its annual health and safety week. This year's event will be held from Feb. 13 to 17 and the title is Future Leaders in Health and Safety.
More than 500 post-secondary and apprenticeship students and a number of high school student guests will be able to speak and interact with motivational speakers, construction industry leaders, and safety representatives, says Kristy Hurley, program manager with the college's skilled trades and apprenticeship hub.
One of the speakers will be Charlie Hendershott, senior leadership development specialist at ArcelorMittal Dofasco. The title of his talk will be Fostering Young Leaders in Health and Safety and it will be an opportunity for students to consider potential roles as young leaders, says Hurley.
Another highlight will be a Women in Technology and Trades: Safe. Supported. Connected symposium. It will be held on the evening of Wednesday, Feb. 15. Sponsored by Mohawk's Women in Technology and Trades groups, it will feature a panel of construction industry leaders who will be speaking on, and answering questions about, their respective organizations' role in creating a safe environment for women and gender-diverse individuals, she says.
Completing the week's activities will be a forum led by Rob Ellis of MySafeWork. Ellis founded the non-profit organization after his 18-year-old son David was killed in a workplace incident. It was his second day on the job. The purpose of the forum is to encourage Mohawk students to become advocates of health and safety in their future workplaces, says Hurley.