A new reality show on the History channel featuring Ontario's Priestly Demolition gives viewers an inside glimpse of a little-known function of the demolition sector, highlighting the work of a salvage crew as it hunts for treasure with the demolition team just a step behind.
The firm's president Ryan Priestly explains that the show, Salvage Kings, represents an opportunity for the firm to show the world, literally, how its crews work with exceptional planning, precision and innovation.
"Everybody is a bit star-struck, they are enthusiastic that they are going to be on TV," said Priestly, who plays a significant on-air role himself.
"I think this should be good for the construction industry in Toronto and beyond. It will be good to show that us guys and girls in construction are people too. We all want to go to work in the morning and go home at night and have a little fun along the way so we are showing that on the show as well."
Salvage Kings airs at 10 p.m. Sunday nights on the History channel.
The show focuses on four core employees: head of salvage Ted Finch, foreman Justin Fortin, junior salvager Julien Savage and the president, Priestly. Show notes describe Finch as the zealous treasure hunter, a professional in the field with an encyclopedic knowledge of the value of all sorts of salvaged items including steel, copper, oak doors, raised commercial lettering, clocks, audio equipment, old vaults, even dental chairs and barn board — all recovered in the first episode.
The goods are then sold out of the company's storage facility north of Toronto.
"A perfect day for me is saving stuff and earning a buck," Finch says in the pilot.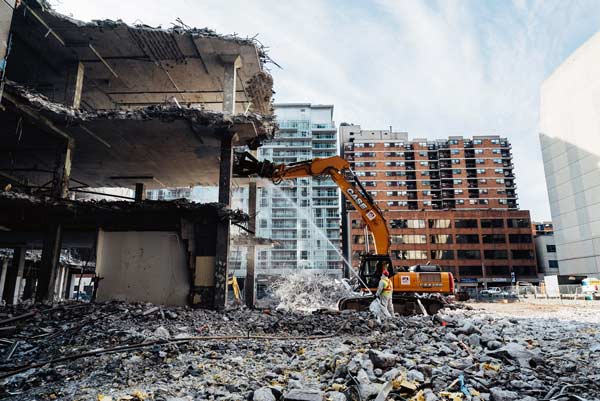 Finch, in the head salvage role, has inherited the position company founder Vic Priestly had.
"Ever since he was a kid dad was salvaging things and that has worked its way down through the organization and we are all doing it," Ryan Priestly said.
Priestly can be seen checking on the other three, asking about the value of possible reclaimed items and ensuring the work schedule is adhered to. Sometimes his technical expertise is needed, with touch needed to pull a valuable door off a vault with an excavator and straps, and at other times his love of the demolition craft is on display.
"Ryan's a smasher from way back," Finch says in episode one as Priestly operates heavy machinery. "He's like a machine."
Finch answers the property rights question early in the first show.
"It's not complicated. When Priestly secures a contract for demolition, we own everything on the site," he says.
Priestly offered a preview of the series just before the first episode aired Sept. 15 so he was unable to gauge what the response from peers and the general public would be but he already anticipated the firm would enjoy rewards from the exposure — internally and externally.
"Overall I think it is going to be great for the company. It will be good for team-building," said Priestly. "One thing about this series, some workers don't see what others are doing, they don't get to meet other people in the company, so it is a nice way for people to get to know each other."
And by showcasing how Priestly goes about its business, it will help recruiting.
"We really have a strong focus on buying good equipment for our company and hiring good people and as we keep going in that direction and trying to find ways to stay at the top of our game, this show may be another benefit," the boss said.
Priestly's biggest take from salvaging? The huge stainless steel industrial tanks found at some jobs. The most unique? A boat in pristine condition, dug up at the old Air Canada Centre site.
Making the show is not excessively time consuming, with an hour or two of Priestly's time required some mornings and afternoons. "It is painless for us I would say," said the manager.
Priestly has been approached before to do a series and turned the offers down but this time they took the leap.
There is some remuneration from Corus, owners of the History channel, but Priestly says a greater payday could come if the show is a success. Right now they are putting the finishes touches on the 10th and last episode of season one.
"Generally speaking, we are taking a flyer on season one and if it gets picked up and sold around the globe then you can start to see some significant revenue out of it but right now we are just trying season one and seeing how it goes," he said.
Follow Don Wall on Twitter @DonWall_DCN.