For the third year in a row, a George Brown College (GBC) team has qualified for the Chartered Institute of Building's (CIOB) Global Student Challenge finals, but this year's competition will be a little different due to the COVID-19 emergency.
The DGC Toronto team comprised of Jonathan Isenegger, Philip Jager, Kristopher Turnbull-Poulin and Maxim Sokolicz are part of the Angelo DelZotto School of Construction Management at GBC.
Hosted by the CIOB in the U.K., the Global Student Challenge offers students the virtual equivalent of managing a large construction company. Students use the MERIT simulation software to enter weekly bids on projects as they compete against teams from around the world.
When it came to qualifying, the Toronto team came second to Chongqing University of China out of 52 universities from around the world. Other finalists include schools from Australia, the U.S., Hong Kong, Indonesia and the U.K.
DGC Toronto is mentored by Andrew Gordon, a principal at Gordon + Gordon Group and graduate Nicholas Lourenco, of Mattamy Homes, who were both involved in the 2018 competition where the GBC team won a gold medal.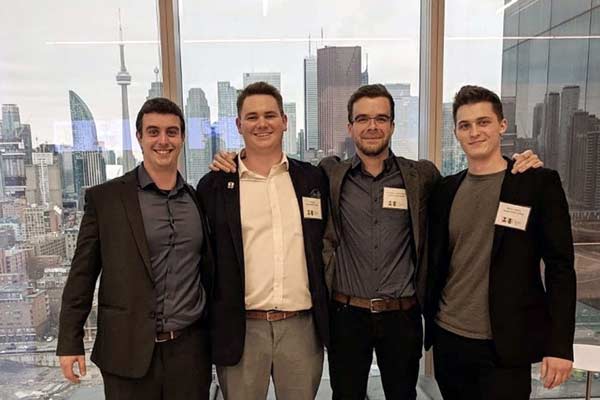 "Our students learn how to apply their knowledge and think critically to analyze the situation in order to solve problems as a senior level construction professional," stated Dr. Elmira NezamiFar, who teaches the MERIT simulation software in the Bachelor of Technology (Construction Management) program at GBC, in an email to the Daily Commercial News.
In qualifying, DGC Toronto had a week to prepare their submission for each round. However, in the finals, the team will have less than an hour per round.
One of the big challenges was to be organized and have the ability to balance personal life, work, school and the competition.
"Our week would begin with us discussing our last submission, trying to see where we went wrong or where we could have improved," explained Jager. "Then we usually grab all the information we can from our new data file and start to sort through our decisions for the current round. Once we have had time to look at this, we consult with our mentors and make some final adjustments to our decision."
DGC Toronto team members have been working as a group since their first year at George Brown. They also have experience in the industry working with current employers such as Antamex Industries, Fernbrook Homes, Torque Building Corp. and Maple Reinders Constructors.
"We work extremely well together and rely heavily on each other's opinions, interpretations and insights to help us develop an effective strategy to put in place," Isenegger said.
"We trust in each other's individual abilities to make decisions and feed off of each other's strengths when we discuss the decisions as a group," added Jager.
In terms of the challenges that lie ahead, a big one is the time limit on bid preparation in the finals, NezamiFar noted.
"This intense experience will serve them well in their future careers in construction," said Gordon. "Realizing that in order to compete, they need to be organized and to consider that decisions they make have a lasting impact. The value of a team rather than an individual is vital in competing successfully in the business environment."
Due to COVID-19, the competition finals will take place remotely in June.
"The biggest difference from previous years is that Jonathan, Phil, Kris and Max won't be able to travel to Sydney, Aus., where the finals were originally scheduled to take place," said NezamiFar. "It is a pity that these four very strong Canadian students will miss out on a trip of a lifetime, but they can still win gold, which comes with global publicity, networking and winning their prize."
Follow the author on Twitter @DCN_Angela.