Skilled trades professional Jamie McMillan has traded in her hard hat for a face mask, working as a relief worker on the frontlines to help YWCA Hamilton provide programs and essential services during the COVID-19 pandemic.
McMillan, an iron worker, boilermaker and founder of KickAss Careers, said the experience has been eye-opening so far. She is happy she is able put the training and experience from her first career in the health care sector to good use.
"Although the experience is very different, the fundamental values and basic principles are the same," McMillan said in an email to the Daily Commercial News.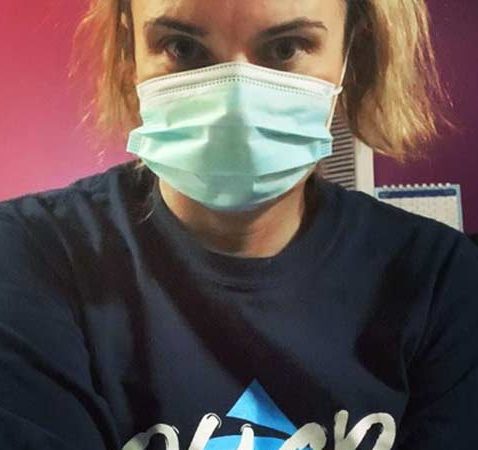 "Before I became a skilled trades professional, I was a personal support worker and had experience working in nursing homes, home care and also worked at community centres supporting individuals with developmental disabilities.
"I am currently on a list waiting to be sent back to a construction job but in the meantime will remain at the YWCA until I get the call," she added. "I plan to remain an employee as an on-call relief staff to support essential YWCA Hamilton services when and if I am available."
YWCA Hamilton, in Hamilton, Ont., offers programs and services for women, girls and their families.
After finishing a 14-day self-quarantine and returning from travelling abroad, McMillan was on social media and noticed a shout out to YWCA Hamilton volunteers. She has volunteered with the women in skilled trades programs and sits on their Equitable Pathways to Technical Fields and Skilled Trades Committee and decided to reach out to CEO Denise Christopherson to see if they could use her help.
"I reached out to her personally to let her know I had a past career in health care and I'd be more than happy to come help out with relief effort," said McMillan, adding she is grateful for the opportunity and that it has been a privilege to be part of the team. "I just felt under the circumstances it was the right thing to do."
In her role, she works with staff to help facilitate some of the programs offered by the YWCA.
"Through the Transitional Living program and Carole Anne's Place, a drop in homeless shelter, we make sure that the residents and visitors are treated with respect as we provide essential services to support women in keeping safe and healthy," said McMillan.
"I originally began as a volunteer but with the strong support from the government for essential workers it has become a paid position. I have a special place in my heart for the YWCA. They do incredible things in the community that many people don't realize. I'm still learning more every day. Through the years they have been good to me and have always supported my efforts as a skilled trade advocate in the community."
YWCA Hamilton provided her with training to help prepare for the role. She has been working alongside staff and learning about the many individuals that live in Transitional Living or those who visit Carole Anne's Place.
"As I get to know some of the women and learn their stories, I am realizing that many of these women are beautiful humans who have become victims of sad circumstances. It is a reminder that everyone has a story," McMillan pointed out.
"This experience has opened my eyes to a whole world I had not been exposed to before. There are so many wonderful people that live out on the streets or are struggling with things that sometimes, we cannot understand. I feel that through this experience I have become a better person myself."
McMillan won the YWCA Hamilton Women of Distinction award in 2019 for supporting women to find their career path in skilled trades.
"This recognition helped spread my name and efforts in other communities bringing more opportunities for me to help others," McMillan said. "I felt working for them through the pandemic would be a great way to pay it forward for all they have done for me."
YWCA Hamilton is not-for-profit organization and is always looking for donations to ensure that they can continue to meet the needs of the community, McMillan said. For more information visit, www.ywcahamilton.org.
Follow the author on Twitter @DCN_Angela.