Within a few months several London, Ont. residents will have an affordable and safe place to live thanks to a municipal fast-tracking approval process, a special federal government housing grant program, and the intense efforts of design builder EllisDon and its project partner Canam Group.
A four-storey, 61-unit affordable apartment, known as 122 Baseline Rd. W. after its street address, will be ready for occupancy by the end of December.
The building had to be designed and constructed within a 12-month window to meet the strict deadlines of Canada Mortgage and Housing Corporation's Rapid Housing Initiative. The building will have 41 one-bedroom, 16 two-bedroom and four three-bedroom units, an outdoor amenity area and 61 parking spaces.
First launched in October 2020 to address the housing needs of vulnerable Canadians, a key condition of the Rapid Housing Initiative is that approved projects have to be delivered through prefabricated modular construction.
And that is why EllisDon, which was prequalified last fall, selected Canam Group and is using its Hambro panelized modular system to meet those conditions.
Speed and cost were factors in that selection decision, says EllisDon's director of pre-construction services for Southwestern Ontario, Mike Stewart.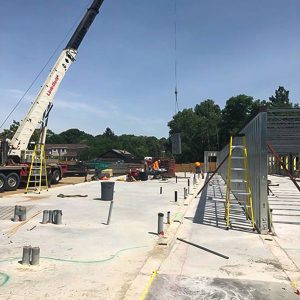 "Speed because the project needed to be completed by the end of this year and Canam offers a more aggressive delivery date and shorter overall schedule."
Canam is essentially a one-stop shop. So, as a single source for design-build projects, they do the design for their system as well as the foundations required and are the engineer of record. That minimizes job site issues and extras during the build, he says.
Design by locally-based Architects Tillmann Ruth Robinson Inc. started in January of this year and Canam was "working right behind them to finalize the design."
Another London-based firm, Intelligent Engineering Design Ltd. is the structural engineer of record, and also designed the foundation and the lateral design.
However, an in-house Canam team designed the building's structural system, which is comprised of loadbearing steel stud walls using Hambro composite joists and concrete slabs, says Sebastien Wagner, preconstruction coordinator for Canam Buildings.
A full set of architectural and engineering drawings was submitted to the City of London in early April. After all the building permit approvals were given, fabrication of the steel began in early May and by July 21 Canam was on site erecting the various sections with the use of a mobile crane, says Wagner.
Meeting the demands of the project meant sourcing components from three different plants. The floor Hambro joists and structural steel were produced at the company's headquarters in Saint-Gedeon-de-Beauce, Que., while the load bearing steel stud wall panels and shearwall forms assembly were fabricated at its Cornwall, Ont. plant. The roof tapered joists and steel deck was manufactured at its Mississauga, Ont. plant, he says.
In a Zoom interview conducted in early August, Wagner predicted Canam would be finished its work and be off site by the end of the month.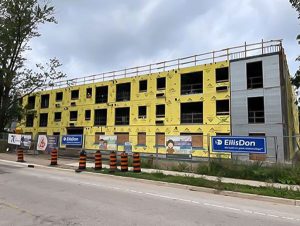 In reflecting on what was accomplished in such a short time, both Wagner and EllisDon's Mike Stewart say completing the design by April was the real challenge rather than the fabrication or construction phases.
"That accelerated design was achieved in about half the time a similar design project of this scope would normally take. We (EllisDon) couldn't have done it without Canam," says Stewart.
A fast tracking approval process by the City of London also expedited the project, he points out.
Construction continues at 122 Baseline Rd. W. and some of the work still left to be completed by EllisDon's own 60-member workforce includes apartment unit fit outs and the erection of the building envelope which will consist of brick veneer, says Stewart. EllisDon is also working with Housing Development Corporation London on the planning and design of similar affordable housing, he says.
Housing Development Corporation London, a non-profit agency whose mission is to provide housing for low income and vulnerable residents, was able to access just over $7.5 million in federal funding to offset the $17.5 million cost of constructing the building on municipal surplus land which the City of London had transferred to the corporation a few years ago.