Craig Lesurf, president of Gillam Group, has been advocating for men's health and supporting the Movember cause for years, not just because it's the right thing to do, but because he knows firsthand how important it is to be aware of your own health.
Lesurf is a testicular cancer survivor and is now 10-plus years cancer free.
"In most cases, the outcome for men with testicular cancer is positive, but one in 20 won't make it. I'm one of the 19 lucky ones," reads Lesurf's Movember page, adding his main driver is to stop men from dying too young. "It's something that's not talked about very often and it's often ignored. Guys tend to just put it under the carpet and don't bring it to the surface. People have lost brothers, husbands, fathers, sons, partners and it's about bringing awareness."
Held during the month of November, Movember raises awareness and funds for men's health, which includes mental health and suicide prevention, prostate cancer and testicular cancer.
While many grow moustaches to raise money, there are many ways to support the movement, explained Lesurf, who is in his fifth year taking part.
He challenges other companies to join in the cause.
"If you are not on a team, get on a team. If not support someone on a team," he added. "Find a way to make a difference."
Lesurf is the captain of the Great Group of Guys & Gals at Gillam (5Gs) team which, so far, has raised $5,450 of its $32,000 goal. Last year the team raised $41,800.
Lesurf raised $30,500 himself and was one of the top 10 fundraisers in Canada. Since 2017 he has raised $79,739 for the cause.
"I've always had the philosophy of finding ways to try and give back," Lesurf noted. "What I can do is put my face out there and help raise some money. I've been doing that for the last number of years and have had a tremendous amount of support from other industry people."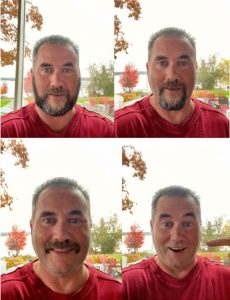 The Movember rules stipulate anyone with facial hair needed to be clean shaven as of Nov. 1 to participate. Lesurf shaved his facial hair off on Halloween and will grow just a moustache throughout the month of November.
"It's going to take me a while to get it into a proper looking moustache. I am not a fast facial hair grower, so I struggle a bit," he said with a laugh.
For those who are wondering, he does plan to grow his beard back eventually.
"My wife will make me grow it back, that's a given," said Lesurf. "That's the first thing she says as soon as I shave it, 'you're growing it back right?' "
To illustrate the dramatic change, Lesurf took a series of pictures going from full beard to bare face. He said some people don't even recognize him.
"You're seeing people now sporting these moustaches and sometimes it's the awkwardness that causes the conversation," said Lesurf. "Not everybody looks good in a moustache and so it can look funny. It's just all about drawing attention to men's health and that's the bottom line."
Lesurf has been heading up the challenge at various companies over the years.
"I've joined it, I've organized it at various companies, I got different people to join. I've gone out to industry to ask for support, gone to family and friends. I've put down challenges to people, I've donated to other peoples' campaigns and in turn they donate to mine," said Lesurf, adding he has enjoyed a lot of support from family, friends, the industry and Mo Bros and Sisters.
Last year was the first year he organized the initiative at Gillam and the team joined the construction challenge.
"Last year we managed to come first amongst construction companies in Canada, which is pretty good for our size," said Lesurf.
While the movement raises money for men's health, women can also participate, by taking part in a fitness challenge or supporting others.
Follow the author on Twitter @DCN_Angela.