During his 40 years as an architect, Nova Scotian Brian MacKay-Lyons has worked on numerous prestigious projects and won over 100 awards.
He's been featured in over 300 publications, his work has been the subject of seven monographs and he's earned recognition from the Royal Architectural Institute of Canada, the Governor General's Medals program (six times) and the American Institute of Architects (twice).
But even with those accomplishments, he admits he feels extra pressure to perform at a master's level as he serves as the design architect on the Queen's Marque, the Armour Group's new $200-million mixed-use complex that will occupy a central place on the Halifax waterfront.
"It is a chance to make a difference in the public life of the town," MacKay-Lyons said recently. "It is a very important project, it will have big impact on Halifax for a long time. It is a bit scary to be given that opportunity because you want it to be your best work."
Three public spaces at the five-acre site "all have to be amazing," he said.
"You want this to be a master work, a chance to contribute to the city, but it remains to be seen."
Shovels went into the ground to launch construction of the Queen's Marque last year and the build is expected to be complete in 2020.
The architect said he has had a shared vision with Armour Group CEO Scott McCrea as the project has developed and it's expected the intensity will continue until the job is done.
At stake, they believe, is an opportunity to help resurrect Halifax as an urban power, symbolized by one designed space that carries the theme "Rise Again." Maritime music fans will recognize the line from Stan Rogers and the Rankin Family.
"He is very passionate, as am I, that we can do it here in the Maritimes," MacKay-Lyons said, referring to McCrea. "Halifax has a very proud history, it was the wealthiest place in Canada by far, so we have lost a lot, and we have to believe in ourselves again."
"Basically what Scott has said, he wants us to be involved in everything that happens with the project. Choosing artists, helping with the design of the landscape, with the lighting, helping do the interiors."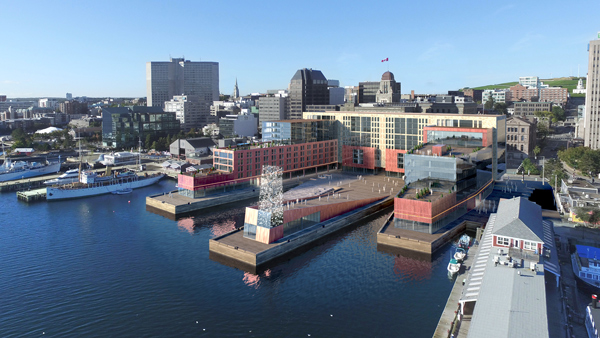 The Queen's Marque is being built in a foundational Halifax space, Queen's Landing, with a rich military, marine and industrial history, east of Lower Water Street. The U-shaped development will feature a shipping motif, with north and south wharf buildings shaped like hulls and clad in glass and a copper alloy and abutting a sandstone bar that will be elevated above the ground simulating a cargo space.
Most of the site will be open to the public. The 450,000-square-foot built complex will include 120,000 square feet of AAA office space, 135 luxury rental residences, 110 boutique hotel rooms, 45,000 square feet of retail, cultural, and restaurant space and 300 parking spaces in two storeys.
Sustainability features will include chilled beams using ocean water, passive heating and cooling-minimized solar heat gain. There will be high-efficiency glass, LED lighting and a grey-water recovery system.
Working alongside MacKay-Lyons Sweetapple Architects is the project architect FBM Architecture.
While MacKay-Lyons is known for his intimate, poetic rural projects, such as the Upper Kingsburg community, the designer said it's all urban design.
"Even a cabin on a rock over the ocean is closet urban design," he said.
"In an urban environment like Queen's Marque, it is still the idea of context, the idea that is contextualist, and another word is place-based architecture.
"My reference point is this idea of context. The landscape, the cityscape, the climate, the material of the region, in that critical regional way."
The materials are important elements of creating the place, he said. Every attempt should be made to use local resources. Steel was originally considered for cladding but finally an alloy of copper called Muntz metal, from Ontario, was used. Wallace sandstone from local quarries has been used on numerous public buildings and was a good fit for the Queen's Marque.
"Muntz metal has a lot of the characteristics of copper but doesn't turn green," he explained. "It has the waterfront shipyard grit of weathering steel but with the sophistication of Muntz.
"That brassy element is carried over right into the doorknobs. There is a continuation of that kind of jewellery."
MacKay-Lyons said this project has the opportunity to become a major new people place for Haligonians.
"It will be a great public gathering place on the waterfront, which doesn't really exist," he said.